Historic Preservation Laws Are Stopping This Historic Church From Preserving Itself
Montreal's heritage laws could prevent the financially troubled St. John the Evangelist church from converting its little-used parish hall into a much-needed, revenue-generating asset.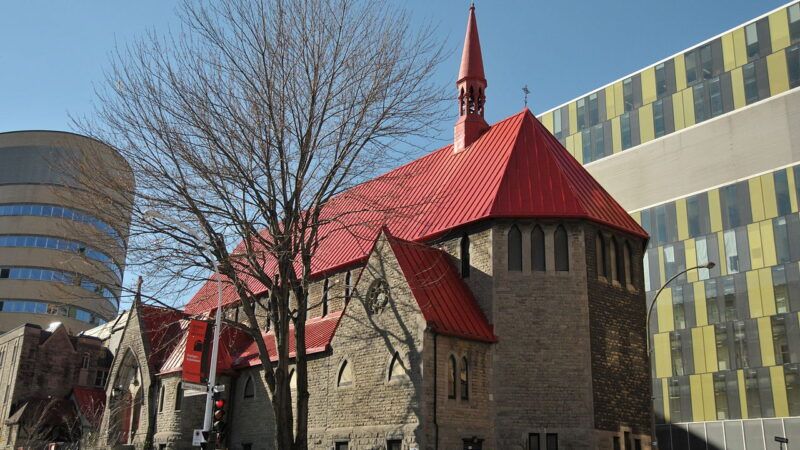 Montreal's historic preservation laws may force one of its historic churches to close its doors.
Since 1878, St. John the Evangelist parish has operated out of its existing church building in Montreal's downtown, where it's earned the status of the mother church of Anglo-Catholicism in Canada. A few decades ago, needed repairs gave it the characteristic metal red roof it's known for today.
"It's a slum gothic style, it's a very beautiful space inside," says St. John's pastor, Father Keith Schmidt.
The same can't be said for the adjacent parish hall, which has seen better days. Once a school, the building is little-used now and in need of some desperate repairs.
The St. John's congregation has also seen better days. Schmidt says that the parish hasn't been immune to the general decline in church attendance in Quebec. With fewer active parishioners, the church has struggled financially.
That's in contrast to the surrounding neighborhood, which has seen a boom of new development in recent years.
For that reason, St John's has been toying with the idea of redeveloping its hall into a new building that could then be rented out on a long-term basis and the revenue used to support the church's continued operations.
"It's more staircase than anything else," says Schmidt of the parish hall. "Everyone agrees that it doesn't make any sense anymore, but trying to change it isn't easy."
Standing in the way of this plan is the Montreal city government.
The city's zoning code requires that church-zoned properties be used for church-like activities. That would require St. John to get a variance in order to redevelop its hall.
Schmidt says that obtaining a variance is a minor issue, all things considered. The real trouble is the city's historic preservation laws, which place extreme restrictions on how much of the parish hall can be demolished.
A few years ago, the church hired a real estate firm to prepare drawings and plans for a potential redevelopment of the site. They then approached the city to see what could be done. He says that the city required them to produce a heritage report on their building but generally seemed receptive to the idea of redeveloping the hall.
That changed late last year when Schmidt claims the city said any construction on the hall would have to preserve the building's rear and side walls.
"That would add greatly to the costs of construction, [having to] take these walls down and rebuild them," he says. If the city had told the church about this condition from the beginning, Schmidt says that they likely would have just dropped their development plans altogether.
The Montreal city government did not respond to Reason's request for comment in English. It did tell the Canadian news channel CTV (which first reported on the story) that St. John's proposal "is being analyzed, each request is studied according to the regulations in place and integration into its environment. The city is aware of the financial burden involved in the maintenance of churches, which is why our teams assist and support owners for this type of request."
Schmidt tells Reason that his church has done what it can with its existing buildings to support its operations, including renting out its hall to musical performers and the church itself to movie film crews. But neither has done anything to change the long-term structural financial challenges it faces. The money it spent on studying redevelopment of its parish hall has only added to that strain.
"That's left us in an extreme bind; our resources are dwindling by the month. It's not clear how we're going to get out of this," he says.