The Government Shouldn't Stop College Athletes From Making Money
States are putting unfair restrictions on college athletes from profiting off their names, images, and likenesses.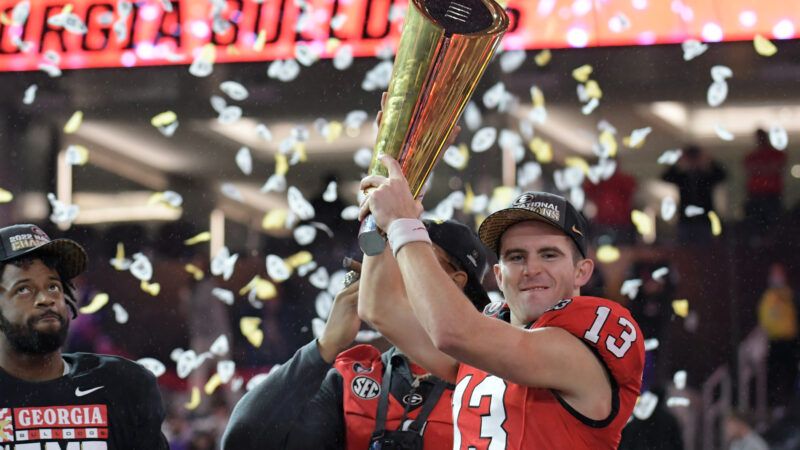 (Jeffrey Vest/Icon Sportswire CCR/Jeffrey Vest/Icon Sportswire/Newscom)
I love football. Like millions of Americans, I watched the Georgia Bulldogs claim college football immortality by leaping over the Texas Christian University (TCU) Horned Frogs to win their second straight College Football Playoff National Championship. But the injustice of college football has made it hard for me to enjoy in recent years as college administrators, television networks, and companies from Duke's Mayo to Bad Boy Mowers make billions of dollars while the players remain unpaid. 
Only 1.6 percent of college football players make it to the NFL. And even if they do make it, the average NFL career is just over three years. Given the incredibly limited amount of time college athletes have to earn money based on their hard work and natural talents, it is both unconstitutional and unethical for states to restrict their earning potential. 
But that's exactly what they do.
In 2021, the Supreme Court made some progress for college athletes in NCAA v. Alston by striking down NCAA regulations limiting the education-related benefits that schools may offer to student-athletes, such as scholarships or internships. Following the decision, the NCAA began dismantling restrictions on athletes making money off their names, images, and likenesses, commonly referred to as "NIL." 
Allowing college athletes to begin receiving NIL money was a much-needed first step in creating a better environment for college athletes. But as is often the case, this modest step forward was almost immediately met with two steps back in the form of state regulation. 
According to law firm Saul Ewing's NIL Legislation Tracker, 32 states have passed laws restricting student-athletes' ability to enter into NIL deals. For example, Florida legislators passed a law prohibiting athletes from receiving a NIL deal "​​in exchange for athletic performance or attendance at a particular institution." This means that a fan of the University of Miami cannot give a NIL deal to a high school prospect in exchange for the athlete playing for the Hurricanes.

Although some companies surely want to give NIL deals to athletes for commercial purposes only, it is much more likely that fans who own companies will give NIL deals to top athletes to secure their services. Indeed, billionaire and noted Hurricanes benefactor John Ruiz has already reportedly spent over $7 million on NIL deals for over 100 athletes. Florida's law is placing an unconstitutional prior restraint on Ruiz's fandom. 
Georgia permits colleges to force players to put a portion of their NIL money into a "fund for the benefit of individuals previously enrolled as student athletes" at their institution. That means that the Georgia champions won't receive a dime from the revenue generated by the game—but they can be forced to give up their own NIL money to pay athletes who used to play at Georgia (robbing Stetson Bennett to pay Herschel Walker)! 
A Texas law prohibits athletes from endorsing any product containing alcohol, even if the athlete is 21 years old. So, Texas Christian University quarterback Max Duggan cannot receive money from an alcohol company—but his school sure can. Considering that the Big 12 Conference has had two hard seltzer sponsors during Duggan's four years at TCU, there's no reason why Duggan himself should not have the same opportunity. Even the College Football Playoff has an official beer sponsor. 
None of these restrictions were inevitable. Instead of rushing to place nonsensical restrictions on student-athletes' ability to make money off their own likenesses or outright steal players' NIL money to pay previous players, legislators should have come up with a way to share revenue with the players. 
No one should be surprised that states chose the path of unconstitutional restrictions over reasonable regulations. NIL restrictions ought to be challenged because they place unconstitutionally vague and overly broad restrictions on athletes and fans alike. Florida, for example, asserts that its restriction on fandom is necessary to "maintain a clear separation between amateur intercollegiate athletics and professional sports." However, as Justice Brett Kavanaugh observed in his concurrence in Alston, invoking the "spirit of amateurism" as a justification for restraining an otherwise lawful commercial transaction between two individuals hardly seems to pass constitutional muster. 
Moreover, laws like the one in Georgia authorize state institutions, like the University of Georgia, to take a portion of a player's private contract money without compensation in order to pay former players that attended those public institutions in violation of the Fifth Amendment's taking clause. 
Athletes cannot stand on the sidelines while states trample on their constitutional rights. The unconstitutional and unethical restrictions on college athletes must end.