It's Far Past Time To Decriminalize Fentanyl Test Strips
Plus: Lawmakers "demanding action" against slurs on Twitter, FTC sues to stop Microsoft from buying Activision Blizzard, and more...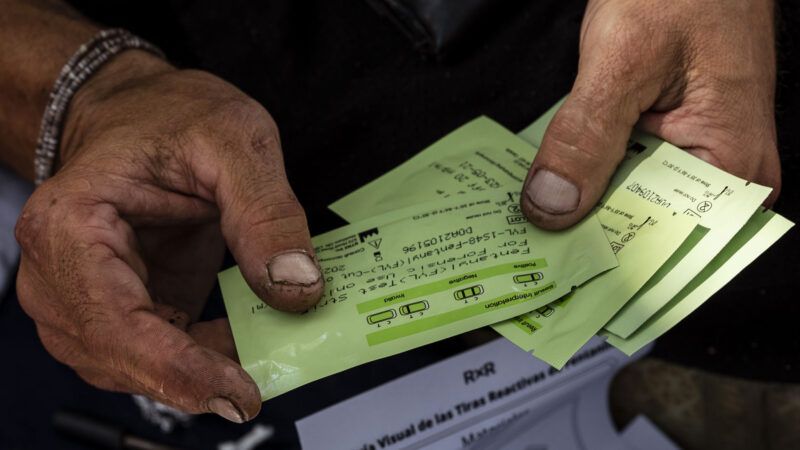 (Albuquerque Journal/ZUMAPRESS/Newscom)
Politicians frequently pay lip service to stopping fentanyl overdoses while continuing to prohibit things that could actually stop them or implement policies to make them less likely. The latest example comes from Iowa, where harm reduction kits can't contain fentanyl test strips. The reason: State law classifies fentanyl test strips as drug paraphernalia, which is illegal.
Fentanyl test strips are exactly what they sound like—they can be used to test drugs for the presence of fentanyl, a highly potent synthetic substance often cut into other drugs unbeknownst to their users. Fentanyl began showing up largely in heroin and other opioids, but now is routinely found in cocaine and other drugs. Not knowing fentanyl is present in drugs can lead to dosage miscalculations, overdoses, and fatalities.
Fentanyl has been the key driver in the increase in drug overdose deaths in recent years. So fentanyl test strips could be a very important part of harm reduction.
But state governments are getting in the way.
In Iowa, "the Polk County Health Department added harm reduction boxes to its building and urgent care locations throughout Dem Moines, but the kits will not include fentanyl testing strips as a result of a state law that classifies the tests as drug paraphernalia," reports Fox News.
And it's not just Iowa. A number of states consider test strips to be illegal drug paraphernalia, or did until recently. But there are efforts to change this, as Kaiser Health News reported earlier this year:
Governors in New Mexico and Wisconsin this year signed bills allowing test strips in those states, and legislatures in Tennessee and Alabama recently passed similar legislation. In Pennsylvania, although a state law prohibits test strips, the mayors of Philadelphia and Pittsburgh have ordered bans on prosecuting people possessing them. The state's attorney general said he won't charge people for having the test strips.
Pennsylvania officially decriminalized fentanyl test strips last month. Georgia did so beginning in July. And an Ohio bill to decriminalize them just passed the state's House of Representatives.
But Florida failed to advance a similar bill earlier this year. So did Kansas.
And fentanyl testing devices remain illegal in 19 states, according to Stat.
The reason for these bans can be traced back to the Drug Enforcement Administration (DEA), Stat explains. Fentanyl test strips are largely illegal "thanks to a bill that most states passed in the late 1970s at the urging of the [DEA]. The law criminalized drug paraphernalia, and included devices that test the contents of illicit substances in that category."
For more on this issue, see this policy analysis from the Cato Institute's Jeffrey A. Singer and the R Street Institute's Sophia Heimowitz.
As Singer and Heimowitz point out, it's not just drug testing devices banned under anti-paraphernalia laws but a number of other harm reduction tools, as well. "Some paraphernalia laws restrict people from purchasing or possessing clean needles and syringes, increasing the risk of infection from sharing and reusing those items," they write. "People risk incarceration if they give out or obtain clean needles and syringes, test strips to check for dangerous additives or contaminants in drugs obtained on the black market, or materials to clean drug use equipment."
---
FREE MINDS
Rep. Adam Schiff (D–Calif.) doesn't understand the First Amendment. The California congressman and chairman of the House Intelligence Committee is demanding that Twitter take "action" against an alleged increase in offensive speech. Without providing sources, Schiff asserts that slurs against black people, women, Jewish people, and gay men on Twitter have skyrocketed since Elon Musk took over the company. "Today, @RepMarkTakano and I are demanding action," Schiff tweeted.
But even if the statistics Schiff shared are true (and I'm skeptical), Schiff and Takano's demand crosses a line. It's not the government's role to police speech, even offensive speech. And demanding that a private actor like Twitter censor certain words or comments runs counter to the First Amendment.

In other Twitter news: Musk says Twitter will be more transparent about account restrictions. His comment comes in conjunction with the release of information he provided to Bari Weiss and other journalists about previous policies related to suppressing certain tweets and accounts (a.k.a. "shadowbanning").
Twitter is working on a software update that will show your true account status, so you know clearly if you've been shadowbanned, the reason why and how to appeal

— Elon Musk (@elonmusk) December 9, 2022
---
FREE MARKETS
The Federal Trade Commission (FTC) is suing to stop Microsoft from acquiring Activision Blizzard, which makes popular video games including Call of Duty. You can read the FTC press release about it here. But who needs FTC press releases when major news outlets are basically putting out press releases for the commission? Article leads in the likes of The Washington Post and The New York Times bake in the idea that tech companies have too much power, implicitly accepting the framing that the Biden-era FTC (and a lot of lawmakers) have used to describe antitrust actions against tech companies.
"The Federal Trade Commission on Thursday took its most aggressive actions since Lina Khan became chair to rein in the power of Big Tech, pursuing a lawsuit to block Microsoft's acquisition of a game developer on the same day it opened arguments in another case against Meta's purchase of a virtual reality start-up," states the Post.
"The Federal Trade Commission, in one of the most aggressive actions taken by federal regulators in decades to check the power of the tech industry's giants, on Thursday sued to block Microsoft's $69 billion acquisition of the video game maker Activision Blizzard," reads the Times.
In both cases, the language used frames the government as taking necessary action against unchecked corporate behemoths. That's certainly a framing that many on the left (and some on the right) support—but it shouldn't be the way allegedly neutral coverage tackles this topic.
---
QUICK HITS
This is going to create a HUGE mess. People insist lots of stuff is "inaccurate" and now they get to demand Google remove it? Google is going to get flooded with bogus speech suppression requests. https://t.co/6JrD9qGziy

— Mike Masnick (@mmasnick) December 8, 2022
• "There's a disconnect between what everyday Americans want and deserve from our politics, and what political parties are offering," writes Arizona Sen. Kyrsten Sinema in an op-ed announcing that she's changing her party affiliation from Democrat to Independent.
• Brittney Griner is free! After being incarcerated in Russia for months, the WNBA star was released as part of a prisoner swap.
• Andrew Doyle's new book, New Puritans: How the Religion of Social Justice Captured the Western World, "highlights the absurdities and excesses of the contemporary left wing in the U.K. and the U.S," but "his account of the new puritans and their power is too simplistic and exaggerated to be of much use," writes Ursinus College politics professor Jonathan Marks.
• A woman from Idaho is fighting for the right to live in a tiny home.
• Indiana is suing TikTok, alleging that the video-sharing app engages in deceptive practices aimed at addicting minors. "But despite the seriousness of the accusations, there is little evidence to back up the state's claims," notes Reason's Joe Lancaster.
• The Free Press (the new name for Weiss' outlet, which was called Common Sense) explores the politics driving decisions at the American Academy of Pediatrics.
• "U.S. lawmakers have dropped an effort to permit spy agencies to hire former marijuana users over opposition from at least a pair of Republican senators," The Wall Street Journal reports.
• "Research says that school choice works just fine well outside city limits," writes J.D. Tuccille for Reason.