With Just 10 Signatures, This Gas Station Owner Could Kill a Ban on Pumping Your Own Gas
Legislators in New Jersey and Oregon keep failing to repeal their states' bans on self-service gas stations. Is Massachusetts' small town direct democracy the solution?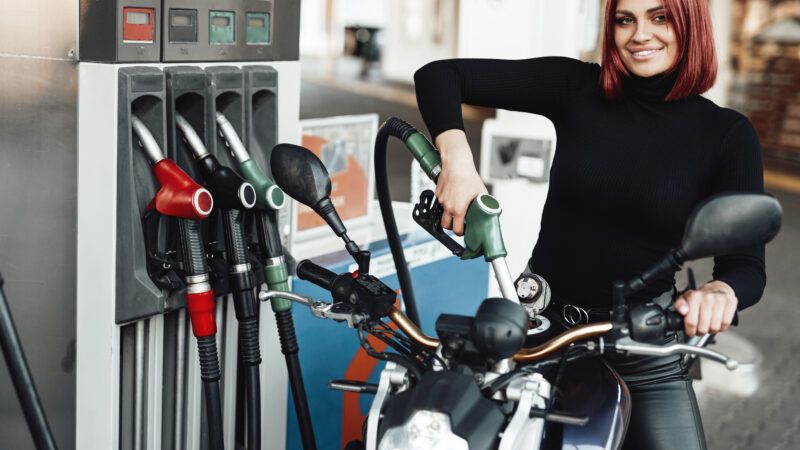 ( Vladimirs Poplavskis/Dreamstime.com)
Despite bipartisan support, a sufficiently compromised bill, and a crisp, professionally crafted public relations campaign to back it up, Oregon lawmakers have once again failed to legalize self-service gas stations statewide.
The state legislature adjourned earlier this week without passing H.B. 4151. That bill would have let full-grown adults fuel up their own cars, provided gas stations also kept a prescribed number of full-service pumps for motorists who weren't quite ready to handle their own nozzles.
The death blow, reports Portland's Willamette Week, was an estimate from the state fire marshal that it would cost nearly $550,000 to regulate "consumer pumping."
"We didn't see this coming," Gabriel Zirkle, of the Oregon Fuel Association, told the Willamette Week earlier this month. "Now, we have to come up with a fee to answer the question of how do we pay for the fire marshal."
The defeat of what appeared to be a promising bill is obviously disappointing for advocates of self-service gas stations. Supporters of the freedom to fuel shouldn't completely despair, however.
While Oregon's Legislature-led effort might have spun out, a "gas"-roots movement to legalize self-service is revving up in the small community of Arlington, Massachusetts.
The 40,000-person Boston suburb is one of the few communities in the country to still maintain a prohibition on self-service gas. A few other Massachusetts towns, including Weymouth, bans self-service gas stations as well, as does the whole state of New Jersey.
The requirement that pumps be manned by an attendant has been a major thorn in the side of Elias Elkhaouli, an Arlington resident and gas station owner, who says it's increasingly difficult to find people willing to work the pumps.
"It's very hard to find employees to work seven, eight hours in the sun or in the cold," he tells Reason. "The young generation don't accept those jobs. They want to drive Uber, drive Amazon." His customers also often have health concerns about interacting directly with a gas station attendant, he says.
Fortunately for Elkhaouli, Massachusetts' tradition of small-town near-direct democracy lets him do something about Arlington's crushing self-service mandate. Most of the smaller towns in the state are governed by town meetings—annual assemblies of eligible voters that set a town's budget and vote on local bylaws.
Some town meetings are pure direct democracy, where every eligible voter in the town gets to vote at the meeting. Others are more like mass legislatures where only elected town meeting members get a vote. Arlington's town meeting is made up of 252 elected representatives.
Crucially, these town meetings also allow any resident who can get ten signatures from fellow residents to place an item for consideration on the warrant (a.k.a. agenda) of the upcoming meeting, where it will be discussed and voted on.
This is exactly what Elkhaouli did. By talking with neighbors and customers, he says he was quickly able to gather the ten signatures needed to place a citizen article allowing self-service gas stations on the upcoming town meeting warrant.
With the help of a local attorney, he drafted up the language for the proposed bylaw change.
Thus far, things look promising for Elkhaouli's reform. He says the town's select board—its standing city council—voted to support the legalization of self-service gas stations at their Monday meeting.
That vote is purely advisory. It will still have to be approved by the full town meeting in late April. But Elkhaouli is bullish about his article's chances.
"People want change in the town," he says, noting that recent town meetings have approved such liberalizing measures as legalizing LED signs and liquor sales. "You cannot live back in the 1800s anymore."
John Leone, the moderator of the upcoming Arlington town meeting also tells Reason he thinks self-service gas is likely to pass in Arlington.
If the article does get approved, Leone says it's then sent to the state attorney who will review it to make sure it doesn't violate state law or isn't too vague to be unenforceable. Provided it passes both those tests, it will go into effect, and Arlington motorists will be liberated to pump as much gas their cars can hold.
The upshot is that these low barriers to average citizens reforming their community's laws at the local level allow self-service advocates like Elkhaouli to avoid the machinations of state legislatures that have proven so deadly to reforms in Oregon and New Jersey.
As mentioned, Oregon's reform was killed by its surprisingly high implementation costs. Those implementation costs were a result of legislators' efforts to craft an initiative that would please everybody.
To satisfy concerns from unions that it would cost jobs and concerns from disability advocates that gas station attendants would no longer be provided for those who needed them, reform-minded legislators included provisions requiring that a certain number of pumps remain full-service. To mollify consumers' worries that they'd be gouged for continuing to use the full-service pumps, lawmakers also banned gas stations from charging higher prices at attendant-manned pumps.
All these politically practical compromise regulations need to be enforced. That's why the state's fire marshal said the agency would need almost $550,000 to hire new staff to enforce the new law and respond to complaints. With no time to find additional money in the budget, Oregon's reform failed.
Politics could also get in the way of reform passing in New Jersey, where another bill ending the state's ban on self-service gas pumps is being considered.
Like in Oregon, the reform effort has the backing of a bipartisan group of legislators and a snazzy, industry-backed campaign, Fuel Your Own Way NJ. The bill in question would let small gas stations go totally self-service. Stations with more than four pumps would have to have a full-service option, reports Politico.
But the measure still needs support from legislative leadership and Democrat Gov. Phil Murphy to pass, says Politico. Thus far, neither has committed to supporting the bill. A promising 2015 Republican-sponsored reform to end the state's self-service ban was also killed by the then-state senate president.
When Oregon first introduced its bill to let people pump their own gas, I noted how any effort to give people a little bit more freedom is always an uphill battle:
Despite having some 48 examples of self-service working out pretty smoothly, many Oregonians fret that things could go terribly wrong on attempt number 49. To overcome these fears, supporters of self-service gas stations must busy themselves writing compromise legislation and spinning up public relations campaigns about "choice at the pump."
Massachusetts' town meeting style of direct democracy might offer a compelling model for how to overcome the status quo bias of state legislatures and the horse-trading required to get anything through them.
That obviously won't lead to libertarian results on every or even most issues. On self-service gas station reform though, it appears promising. Put more power in the hands of ordinary citizens, and you might see gas nozzles appear there soon enough.