Georgia State Senator Introduces Bill To Cut Homeless Funds From Cities With Too Many Homeless
Perplexingly, the bill would also forbid grants from going to nonprofits, unless the local government meets the state's demands.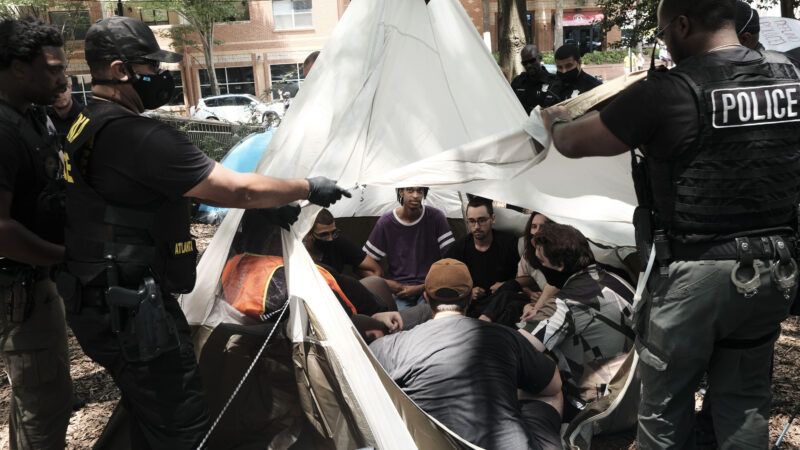 (John Arthur Brown/ZUMAPRESS/Newscom)
Homelessness is a persistent and unfortunate problem that's visible in any U.S. city of appreciable size. Since there are a number of factors that can lead somebody to become homeless, it stands to reason that there are also a number of legitimate ways to try to help. But a Georgia state senator's new proposal stands out as particularly draconian and unproductive.
The bill, titled the "Reducing Street Homelessness Act of 2022," was proposed by Carden Summers, a Republican. Specifically, the bill singles out funds from last year's American Rescue Plan that apportioned $5 billion for states to use toward rental assistance, homeless shelters, building low-income housing, etc. Under Summers' bill, "no funds received" under the program by any state agency "may be used for the construction or purchase of permanent supportive housing for the homeless."
The bill also ties any future grants to the explicit enforcement of "all state and local laws prohibiting unauthorized camping and sleeping in public." If passed, the law would go into effect on January 1, 2023. Beginning six months later, on July 1, "any municipality with a per capita level of homelessness…higher than the state average that refuses to enforce" the camping and sleeping-in-public laws "shall receive no further grants of any kind…for public safety." Even more brazenly, "no nonprofit located within such municipality shall receive such grants" until either the level of homelessness declines or the city in question enforces those laws to the state's satisfaction.
In essence, the bill would hold public funds hostage unless cities and towns accede to the state's demands. Putting aside the inherent difficulty in even accurately calculating the homeless population—let alone solving the variety of problems that can cause homelessness—it seems egregious to withhold funds from nonprofits due to factors that are completely out of their control.
Much of the news coverage surrounding the bill has focused on its absurdity. But there is a more pernicious element to it as well: While the bill bars funds from being used to build supportive housing, it contends that a city or town "may dedicate up to 25 percent of its Edward Byrne Memorial Justice Assistance Grant funds…to the creation of homeless outreach teams." The Byrne grant is a federal program "intended to support a range of activities to prevent and control crime and improve the criminal justice system." Indeed, the bill stipulates that homeless outreach teams should consist of police officers or "contracted security officers," as well as social services or mental health professionals, and should be concerned primarily with removing the homeless from the streets and into shelters.
While this may sound reasonable, even benevolent, there is a long and disturbing history of the negative consequences that can come from forcing interactions between police and the homeless. In New York City, even in the face of freezing temperatures, homeless people bristled at the idea that the mayor could force them into shelters against their will.
There is certainly not a one-size-fits-all solution to homelessness. For example, focusing only on the mental health issues that can lead to homelessness would ignore the zoning laws, which drive up costs and make housing unaffordable, that lead to the same result. But it should be up to an individual municipality to decide how it wants to utilize its resources in a way that best provides for the people within its borders. For a state to simply withhold funds not only from the cities and towns but from nonprofit organizations as well, on the basis that the state knows best, is not only unconscionable but also counterproductive.