San Diego County Jails Will Use Body Cameras Following Damning State Audit
The California State Auditor's Office found that the jails responded poorly to inmate deaths.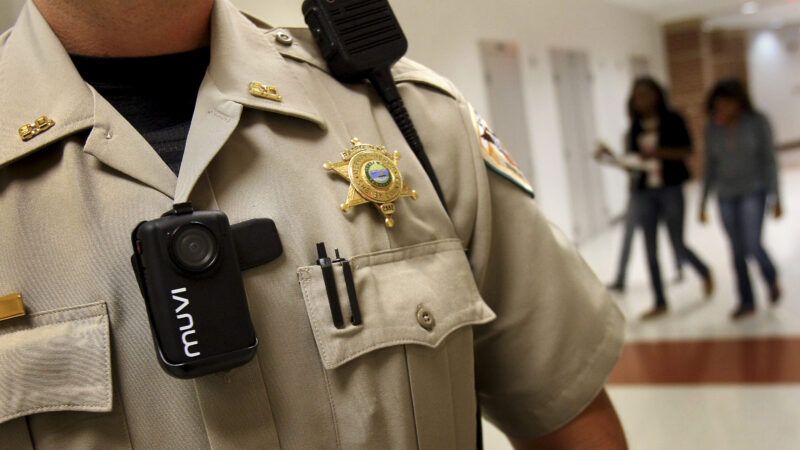 (Stan Carroll/TNS/Newscom)
As part of a new pilot program, San Diego County Sheriff's deputies at a county jail will wear body cameras following a state audit that found that the deputies did not adequately prevent or respond to inmate deaths. 
In a letter to Gov. Gavin Newsom and the California Legislature, acting California State Auditor Michael Tilden said, "From 2006 to 2020, 185 people died in San Diego County's jails—one of the highest totals among counties in the State."
The first phase of the body camera program assigned 72 cameras to deputies, specialized units, and supervisors at the Las Colinas Detention and Reentry Facility in Santee. Officials for the sheriff's department said they will phase body cameras into other jails. Acting Sheriff Kelly Martinez said in a statement, "This is ultimately about the safety of the people in our custody and those who work in our facilities."  
The state audit found multiple instances in the 30 in-custody deaths they reviewed where the deputies did not perform the safety checks adequately. Based on security camera footage, the audit found that jail staff sometimes only spent one second glancing into inmates' cells. When staff checked more closely, they discovered that some of the inmates had been dead for several hours.
Van Swearingen, a law partner at the law firm Rosen Bien Galvan & Grunfeld, filed a lawsuit on behalf of eight plaintiffs to improve conditions at San Diego jails. The plaintiffs make complaints about the county jails' response to medical and mental health needs, something the state audit claimed needed addressing. 
Swearingen tells Reason he does not believe body cameras will be enough to help inmates, and that he hopes the lawsuit can help improve precautions against suicides and drug overdoses. The audit notes 52 suicides over the past 15 years in San Diego jails. A suicide the audit not did not include since it occurred in 2021 was Lester Marroquin. Marroquin drowned himself after deputies moved him from a high-observation cell to a less monitored one, even though the jail staff knew he had a history of suicide attempts from water intoxication.
A sheriff's department report states that there were 204 suspected overdoses in 2021, four of which resulted in death. According to Swearingen's complaint, Jerry Aleman, Saxon Rodriguez, Ronaldino Estrada, and Jonathan Whitlock died from fentanyl overdoses. 
The plaintiffs want the lawsuit to be classified as a class action; recognition that the conditions, policies, and practices at the jail violate their rights; and an order to stop jail staff from allowing such awful conditions and practices. The American Civil Liberties Union of San Diego and Imperial Counties, DLA Piper, and the Law Office of Aaron J. Fischer also joined Rosen Bien Galvan & Grunfeld in filing the complaint. 
"I definitely support body cameras, but there must be much more change than just body-worn cameras… People are dying from preventable deaths," Swearingen tells Reason.