Kyle Rittenhouse Case Unlikely To Bring Tighter Gun Laws
Restrictions have little chance of moving beyond political theater, or of winning compliance if passed.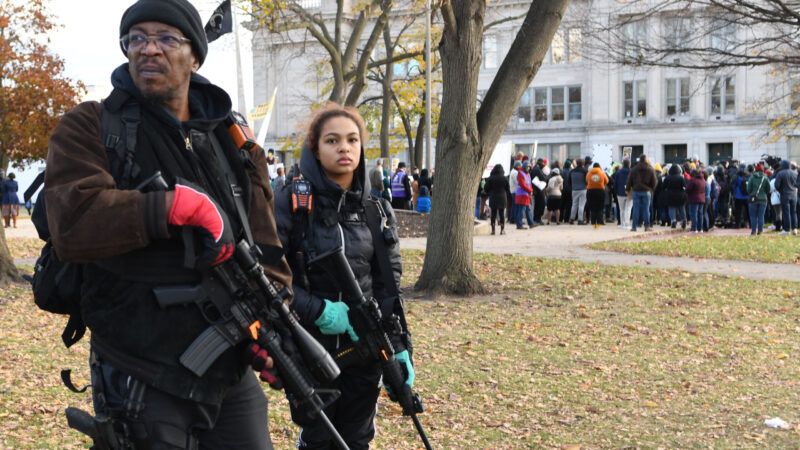 (Mark Hertzberg/ZUMAPRESS/Newscom)
Gun laws hit the headlines once again with the acquittal of Kyle Rittenhouse on all charges for defending himself against assailants during a 2020 riot in Kenosha, Wisconsin. A peek at the tea leaves suggests it's highly unlikely that gun-banners will get mileage out of the high-profile case. While tightening firearms laws remains a popular cause among Democrats, Americans as a whole are more negative than ever about the idea. Policy ideas confined to a partisan fetish have little chance of passage in a closely divided country, and even less of winning compliance even if they become law.
"Americans' support for stricter gun control has fallen five percentage points to 52%, the lowest reading since 2014," Gallup reported last week before the verdict came down. The high point in support for stricter laws was 1990. Since then, opinions have wandered a bit, but generally trended downward.
Over that time, though, the issue has become increasingly partisan, with soaring support for tighter laws among Democrats, declining support among Republicans, and independents caught in the middle, but losing their taste for restrictions. Since 2001, Democratic support for stricter laws grew from 61 percent to 91 percent, while Republican support dropped from 44 percent to 24 percent. Independent support for more restrictions went from 55 percent in 2001 to a high of 64 percent in 2019 before a plunge to 45 percent.
As a result, tougher gun control remains an unassailable position among Democratic politicians, but one with diminishing appeal outside the ranks of the faithful.
The Rittenhouse verdict is unlikely to budge the numbers since reactions break down along similar partisan divides. Democrats compete to condemn the outcome as racist and an indictment of the American system of justice, while Republican officials joke about arm-wrestling over who gets to hire Rittenhouse as an intern. He can't be just a guy; he's a hero or a villain depending on your party.
"I am deeply concerned that it will encourage more tragic gun violence from those like Kyle Rittenhouse who think they have a license to take the law into their own hands in a violent way," huffed Sen. Tammy Baldwin (D-Wis.) who also called for "common sense gun safety reforms."
"Never surrender your Second Amendment right to defend yourself and your family," responded Rep. Mary Miller (R-Ill.) to the verdict.
In today's tribal political environment, the reactions were right on-schedule and predictable along party lines. They're not going to budge public opinion one way or another, though they serve as attaboys to loyal supporters whose opinions on the issues can pretty safely be assumed.
What might budge opinions is the shared need for self-defense across the population without regard to partisan affiliation, race, or any other identifier. Contrary to much progressive insistence that the use of self-defense is an expression of white privilege, it's a necessity for people from all walks of life. On the same day as the Rittenhouse verdict, a jury in Florida came to a similar conclusion about the actions of Andrew Coffee, who defended himself against assailants who killed his girlfriend.
"VERO BEACH – A Gifford man who claimed he was defending himself and his girlfriend when he fired shots at deputies during an early-morning raid in 2017 was acquitted Friday of charges that carried a life prison term," reported Treasure Coast Newspapers. "A jury found Andrew 'A.J.' Coffee IV, 27, not guilty of second-degree felony murder, three counts of attempted first-degree murder of a law enforcement officer by discharging a firearm and one count of shooting or throwing a deadly missile."
Coffee, who is black, fired back at police officers who engaged in a no-knock raid without clearly identifying themselves. Unfortunately, he still faces sentencing as a felon in possession of the firearm he used in his defense, since the law continues to deny full rights to those who have served their time.
Coffee isn't alone as an American who defies the stereotype of conservative white gun owners. Growing skepticism about law enforcement along with the failure of police forces to keep the peace in some communities last year (see the Rittenhouse case) have people worried about their security. That hasn't exactly driven the majority into the arms of the defund the police movement, but it motivated a surge in people purchasing firearms for self-defense.
"The highest overall firearm sales increase comes from Black men and women who show a 58.2 percent increase in purchases during the first six months of 2020 versus the same period last year," the National Shooting Sports Foundation noted in July 2020.
"First-time gun buyers favor Biden over Trump," the Dallas Morning News reported of pre-election Texas survey results. "In fact, 51% of first-time purchasers surveyed favored Biden, while 43% favored Trump."
That matters because Republicans are not just more likely to oppose tighter gun laws, but "about twice as likely as Democrats" to own guns according to Pew Research. Gun owners of all partisan affiliations, logically enough, are much less sympathetic to gun restrictions than are non-owners, as found in August by Pew. That may not yet be showing up in Gallup's figures, but it seems likely that increased ownership will further erode support for gun restrictions, even among Democrats.
Specific restrictive policies are also losing support among Americans.
"Support for banning citizens' ownership of handguns peaked at 60%" in 1959, Gallup observes about opinions of the sort of weapon Coffee used to defend himself. "Today's 19% favoring such a ban is the all-time low, and down six points in the past year."
Pew's August survey found declines in support for bans on the "assault-style" weapon of the sort carried by Rittenhouse among Republican gun owners and non-owners alike, stable opinions among Democratic gun owners, and modest increase in support only among Democrats who don't own guns.
Importantly, given the partisan divide on the gun issue, the raw hatred between the political tribes in modern America, and passions over firearms ownership, it's impossible to imagine that ramming gun restrictions through Congress would accomplish much. Individuals who oppose such laws would ignore them. Localities controlled by self-defense supporters (Second Amendment Sanctuaries) would refuse to enforce them. The result would be yet more political chaos.
Gun ownership remains a battleground for Republicans and Democrats but, really, it's just theater. Declining support for restrictions, growing and diversifying gun ownership, and wide demand for the tools of self-defense almost certainly doom the dreams of prohibitionists.