Los Angeles Orders Local Businesses To Serve as Vaccination Enforcers
The fines for failure fall not on the unvaccinated, but the people serving them.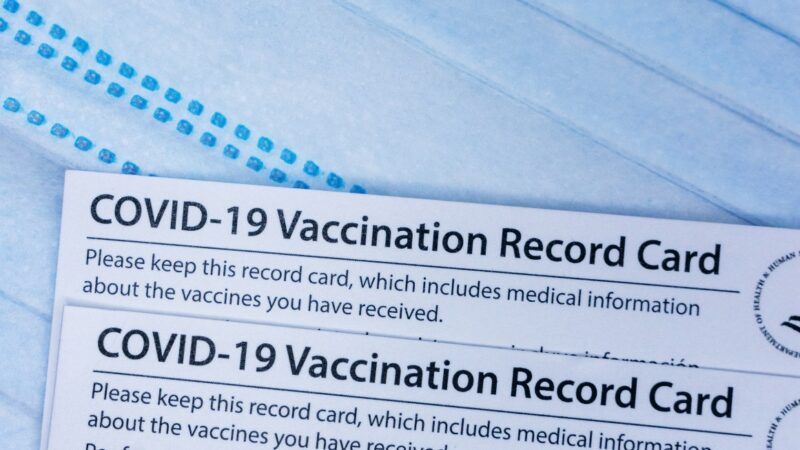 (Michael Vi / Dreamstime.com)
On Wednesday evening, the Los Angeles City Council voted 11–2 to approve a new ordinance forcing local businesses and venues to demand that patrons provide proof they've been vaccinated for COVID-19.
People who want to eat dinner in a restaurant, see a movie, get their hair styled, or spend any significant amount of time inside an indoor business will be required to provide documentation that they've been vaccinated.
You'd think that Los Angeles taking such drastic measures is an indicator that there's a struggle here to get people vaccinated or that the city and surrounding area are in the midst of a massive COVID-19 spike. Nothing could be further than the truth. More than 77 percent of eligible Los Angeles County citizens have gotten at least one vaccination shot. Nearly 70 percent are fully vaccinated. That full vaccination rate is 10 percentage points higher than the rest of the state (59.5 percent) and nearly 15 percentage points higher than the national rate.
And new COVID-19 infections in L.A. County are also plunging. They are not quite to the level that they were before the delta variant began to spread, but every day they are getting closer to the level at which the city previously lifted its indoor mask mandate.
Nevertheless, the L.A. City Council and mayor are pushing forward with this plan in the hopes it will push the remaining holdouts to get vaccinated.
"These new rules will encourage more people to get the shot, and make businesses safer for workers and customers—so that we can save more lives, better protect the vulnerable, and make our communities even safer as we fight this pandemic," Mayor Eric Garcetti explained in a statement.
But let's be very clear here: What the city is actually doing is outsourcing responsibility for getting people vaccinated to private local businesses. Fines for failure to comply with the law fall not on the unvaccinated people attempting to get into restaurants and movie theaters, but on the businesses that fail to catch them. Fines start at $1,000 (beginning with the second violation) and can reach as high as $5,000 per citation.
The ordinance is going to be a nightmare for compliance. There is no single set standard for checking vaccinations. A photo of your vaccination card on your phone is enough, according to the ordinance's text. While it's good that L.A. isn't trying to force everybody to download some app or use one tool for proof, it's going to make things very messy for business employees trying to make sure they're properly checking so that they don't get fined.
Furthermore, the mandate does have exemptions for people who won't get vaccinated due to medical conditions or religious beliefs, which requires that the patron "self-attest" his reasons and provide a recent negative COVID-19 test (though the test results aren't necessary for outdoor seating). This, of course, means that anybody still refusing to get a vaccination will continue to be able to do so and still visit these same places if he says the magic words.
And that's the unvaccinated person's choice, just to be clear. Don't read this as an argument that L.A. should be trying to use its authority to force people to get vaccinated.
But it's certainly not any better for L.A. to be using its authority to force local businesses to monitor the citizens on the city's behalf. This is essentially a form of collective punishment. Thousands of businesses in the city and county (which is implementing its own vaccination mandate) of Los Angeles will be forced to take responsibility for the behavior of those who have declined to be vaccinated. Businesses that make mistakes will be forced to fork money over to the city, even though they are not responsible for patrons' failure to get vaccinated and don't have the authority to make them do so.
As such, one councilmember, John Lee, voted against the ordinance, noting that it was "punitive toward businesses, doesn't provide an incentive to encourage those who are unvaccinated to get the vaccine, and only furthers the patchwork of regulations that exist across the region."
The other councilmember who voted no, Joe Buscaino, tried to amend the ordinance to make it a crime to harass employees enforcing the rules and to get city staff to analyze possible funding sources to help businesses comply. He couldn't get a second councilmember to endorse his amendment. Even though some of the bad consequences of the ordinance are eminently foreseeable (I guarantee that some patrons will harass staff who follow the law, and other patrons will call the police and accuse businesses of ignoring the law as revenge for some petty dispute), Councilmember Mark Ridley-Thomas said those amendments needed more vetting before councilmembers could consider them.
Some L.A. businesses will be more than happy to serve only vaccinated patrons. Some have already voluntarily introduced vaccination checks. But the ordinance's enforcement scheme creates significant financial risks to people who are actually vaccinated and just trying to go about their lives.