Are These Wyoming Library Books Obscene?
Plus: Most Republicans oppose fetal heartbeat laws, FDA authorizes rapid at-home COVID-19 tests, and more...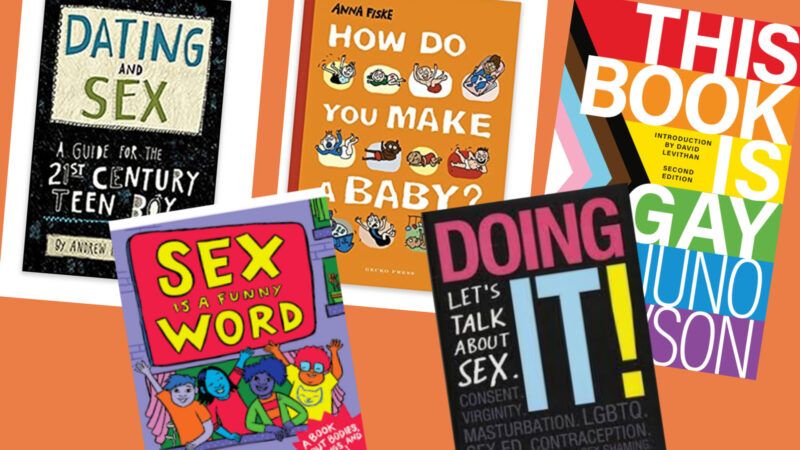 Wyoming prosecutors are being asked to consider criminal charges against public library staff because the library carries information about reproduction, sex, and being gay. Local busybodies in Campbell County, Wyoming, are trying to brand children's or young adult books about getting pregnant, sex education, and being gay as illegal obscenity.
"These books are absolutely appalling," lead campaigner Susan Sisti, an administrative pastor with Open Door Church, told the Associated Press. (Ironically, Sisti ran for office in 2020 on a platform that she described as "pro-Constitution.")
Sisti said that library books reported to county law enforcement include How Do You Make a Baby? by Anna Fiske (a book explaining reproduction to kids), Dating and Sex: A Guide for the 21st Century Teen Boy (a book by therapist Andrew P. Smiler that's listed on the American Psychological Association website), the teen sex-education book Doing It by Hannah Witton, This Book Is Gay by Juno Dawson, and Sex Is a Funny Word by Cory Silverberg. The latter—an award-winning children's comic book on the American Library Association's 2016 Reading List—discusses concepts such as sex, gender identity, "privacy, safety, and respect," "protecting yourself against unwanted sexual touch and abuse," and "boundaries regarding nudity."
Library Director Terri Lesley told the Casper Star-Tribune that the controversy "is bigger than our library. This is a political movement, and we just happen to be caught in it here."
That some people think anything about sex should be hidden is hardly surprising. The more disturbing element here is the aid that these illiberal forces are getting from local law enforcement in Campbell County. "After a complaint filed with the sheriff's office, prosecutors are reviewing the case," the A.P. reported on October 1:
They will seek appointment of a special prosecutor to weigh in as well before deciding whether to pursue charges, County Attorney Mitchell Damsky announced Friday. …

Sisti has been working with Hugh and Susan Bennett, who went to the Campbell County Sheriff's Office on Wednesday with concerns that the five books may have violated state child-sex laws. Sheriff's officials reviewed the complaint and referred the case, which was first reported by the Gillette News Record, to prosecutors. …

[Hugh Bennett] called the books "hard-core pornography to children."
While it's absurd that this matter is even being referred for potential prosecution, Damsky at least admits that there's some constitutional tension here:
"Personally, as a parent, I find the material to be just inappropriate for children and disgusting. But as a lawyer I'm sworn to uphold the Constitution and that's why we are dealing with it with a fine-toothed comb," Damsky said.
Before going to the sheriff, the book-banning brigade appealed to Campbell County commissioners. But "demands to remove LGBTQ-related books from the children's and young adult sections at the local library were not met," reported County 17 in August.
"A commissioner's job is not to monitor or censure books in the library," Commissioner DG Reardon said at an August 12 meeting. Rather, commissioners choose the library board and what books are stocked is up to them.
Not all commissioners took Reardon's view, however. "We shouldn't fund you at all," Commissioner Del Shelstad told the library board during a September 27 meeting. Shelstad later walked this back slightly, saying "I didn't mean 100% of their funding."
The hoopla has spawned a rash of recent complaints about library books. "Library director Terri Lesley on Friday said a month ago there were three formal complaints on reading material," County 17 reported. By September 3, it was up to 22 books.
"I've been the director here for eight years," she noted. "Receiving 22 challenge forms in a two-week time span is unheard of. I've researched this and haven't been able to find an instance of this happening at a public library."
As of October 4, library staff was still working through responses to contested books, according to the Casper Star-Tribune:
There have been 35 requests for reconsideration submitted, Lesley said. Sixteen letters have been sent out to the people who filled out the forms, and more will be sent next week.

Some of the challenges don't ask that the books be removed, but that they be moved to a different section of the library.

All 16 of those letters said the books will remain in the library in their respective areas.
---
FREE MINDS
Poll: Americans oppose fetal heartbeat laws like the one in Texas. A new poll from NPR/PBS NewsHour/Marist finds that "almost 6 in 10 Americans oppose a ban on abortions after cardiac activity is detected, at about six to eight weeks into a typical pregnancy." This includes a majority of self-identified Republicans. Some 59 percent of Republicans polled said they oppose these laws. The same was said by 61 percent of Democrats and 53 percent of independents polled.
---
FREE MARKETS
Major FDA authorization: This will allow for significant expansion in availability of rapid, easy to use at home tests for Covid. Supply ready to go. These authorizations represent a major new policy effort by FDA to make tests for infectious disease accessible for consumer use. https://t.co/vdApj1D3G2

— Scott Gottlieb, MD (@ScottGottliebMD) October 5, 2021
---
QUICK HITS
• Congress is holding yet another hearing on Facebook this morning, this time concerning reports that Instagram is bad for teen girls.
• A Trump administration rule banning groups that get federal family planning money from referring patients to abortion services has been revoked.
• Want to "reduce recidivism and the labor shortage in one fell swoop"? End occupational licensing requirements that "disqualify individuals with a criminal conviction from eligibility altogether" and requirements that applicants prove "good character," writes Christopher Bates, a legal fellow at the Orrin G. Hatch Foundation, at The Hill.

• Seattle will decriminalize psychedelic drugs.
• "Over the next 10 to 20 years, as bitcoin's liquidity increases and the United States becomes less creditworthy, financial institutions and foreign governments alike may replace an increasing portion of their Treasury-bond holdings with bitcoin and other forms of sound money," suggests Avik Roy, president of the Foundation for Research on Equal Opportunity. "With asset values reaching bubble proportions and no end to federal spending in sight, it's critical for the United States to begin planning for this possibility now."
• Check out Reason TV's new video on the Backpage trial: