Review: No Time To Die
Daniel Craig's final Bond outing is a little bit droopy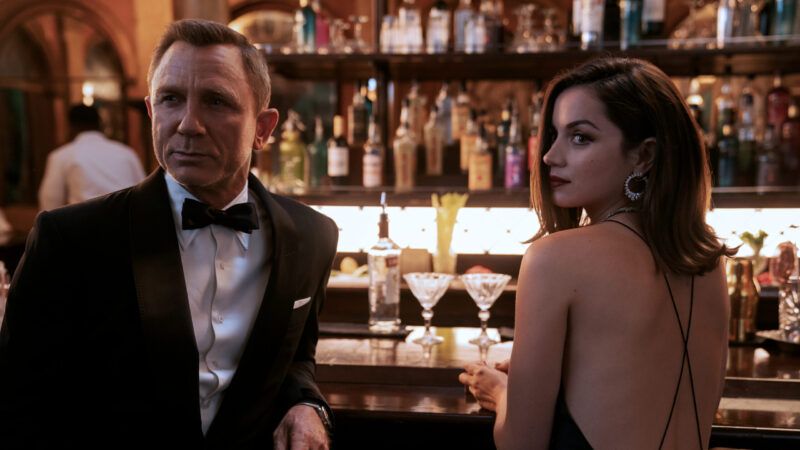 One of the few people definitely having fun in No Time To Die, the new Bond film, is Ana de Armas, who scurries away with the picture during her relatively brief time onscreen. Armas plays a CIA agent called Paloma, and while her revelation that she's only had three weeks' training makes Bond (Daniel Craig again) a little nervous at first, he needn't have worried—in no time at all she's dropping bad guys with a repertoire of flying head kicks and full-auto chatter-gun salvos that might constitute a successful audition for the job of 008. It's too bad she isn't allowed to stick around (although she at least gets to leave under her own power, unlike many a disposable Bond girl of the past).
Armas' sparkling presence highlights the surprising droopiness of much of the rest of the movie. Oh, there are the usual lashings of action—fists fly, snarling antagonists tangle, trashed Euro cars twirl through the air—and some of it (a mad motorcycle ascent of a flight of ancient stone steps, Bond's blind leap off a bridge tethered only by a length of guide rope) is impressive. It's just not quite up to the gloriously ridiculous standards of earlier entries in the 007 franchise. And in a picture that's said to have cost some $250 million to make, glorious is what we want, and maybe ridiculous, too.
What we get instead, in a movie that runs two hours and 43 minutes, is quite a bit of talk. Because there's quite a bit to talk about—to explain, mainly. First of all, psychiatrist Madeleine Swann (Léa Seydoux), back from Spectre, the last Bond film, seems now to be firmly established in the role of Bond's number-one lady. In a long and strangely flat introductory sequence, set years ago, we see Madeleine as a little girl being stalked across a frozen lake by a man in a creepy white Noh mask. This later turns out to be a demented terrorist called Lyutsifer Safin (Rami Malek, bearing perhaps the silliest Bond character name since Denise Richards' Dr. Christmas Jones in The World Is Not Enough). Lyutsifer, of course, wants to conquer the world, or maybe destroy it. Something like that.
Safin is headquartered on a remote island not unlike the ones occupied in the past by the villain of Dr. No, and by Donald Pleasence's Ernst Stavro Blofeld in You Only Live Twice. First-time Bond director Cary Joji Fukunaga has no qualms about deploying nostalgic callbacks in this movie, among them Bond's Aston Martin DB5 from Goldfinger—its retractable machine guns still fully functional—and, rather oddly, "We Have All the Time in the World," the touching farewell song for Bond's newly deceased wife in On Her Majesty's Secret Service, now repurposed for another nostril-quivering moment in this film. (Fukunaga also attempts to undo one of the indignities imposed upon Bond in the 2006 Casino Royale—Craig's first appearance in the role—in which a bartender put to him the traditional question of whether he wanted his martini shaken or stirred, and the new, more ostentatiously modern Bond replied, "Do I look like I give a damn?" Now, in another bar scene, he's back to the traditional drink-making instruction.)
As No Time To Die begins, we find Bond retired from MI6 and living in Jamaica, separated from Madeleine after an explosive vacation incident in Italy. He thinks his spying days are over until he's contacted by his old CIA buddy Felix Leiter (Jeffrey Wright), who wants him to do a job for the Agency in Cuba, where an important scientist named Obruchev has just been abducted by Spectre. Obruchev was supervising the development of a powerful biological weapon called Heracles, designed to spread disease via DNA and to be practically invincible. The evil fiends of Spectre are the last people who should be allowed to get their hands on it. Bond departs for Cuba.
As the story proceeds—and proceeds, and proceeds—many things happen. Bond learns that Spectre has business cards. He learns that he's been replaced at MI6 by a Black woman named Nomi (Lashana Lynch), and that she has inherited his old agent number, 007. And he is compelled to seek guidance from his longtime nemesis, Ernst Stavro Blofeld (Christoph Waltz), who still controls Spectre's nefarious activities from inside the London mental facility to which he's been confined (in a pointlessly elaborate and very Lecterlike glass cage). As soon as we once again savor Waltz's purring menace in this role, we realize how insufficiently interesting Malek's Lyutsifer Safin is, despite his island "poison garden" and his weird, parboiled face. Safin is the movie's most serious flaw,
Its most successful element, disconcertingly, isn't the usual abundance of gadgets (there's only a tricky new watch) or the traditional byplay with a parade of seductive women (this is a movie with not a breath of sexy in it). What's really most effective in the film is the romance between Bond and Madeleine. Craig hasn't been encouraged to express much in his 15 years in the Bond role (this is his last go-round), but Seydoux seems to have a warming influence on him. And as Bond's love story with Madeleine evolves, it's hard not to be drawn in, and in the end to be moved by it.
All of which is well and good. But this is a Bond movie, for God's sake. Where's the snappy patter, the unconquerable joie de vivre? There are only a few things we demand of James Bond, and "I love you" isn't one of them.