Abortion Ban Stimulates Interstate Travel, Says Texas
Plus: Government shutdown, demographic diversity in rural America, and more...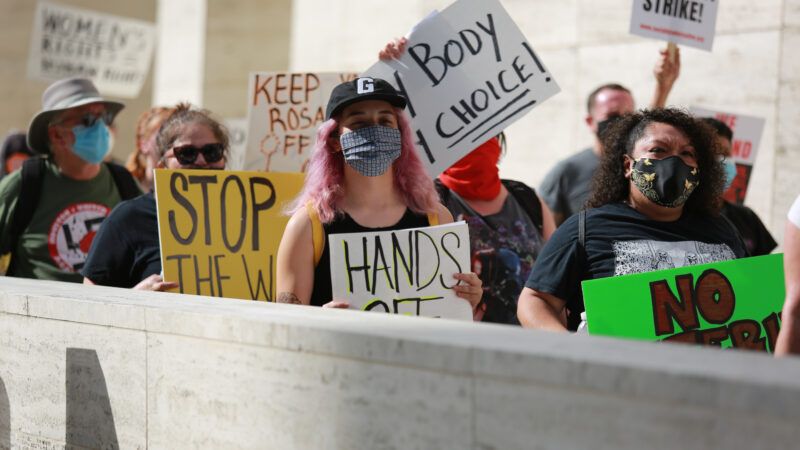 (Reginald Mathalone/ZUMAPRESS/Newscom)
The federal government can't sue over a near-total ban on abortion in Texas because it "is stimulating rather than obstructing interstate travel," the state argues. In a motion to dismiss the U.S. Department of Justice (DOJ) lawsuit against it, Texas suggests that legal precedent cited by the DOJ only lets the government sue when "interstate commerce was obstructed by a denial of civil rights."
"One of the precedents that applies here is a case where the US was able to get an injunction against striking workers, partly because it was impacting interstate commerce," explains Jacqueline Thomsen of the National Law Journal on Twitter. "Texas argues this doesn't involve the same issue so the precedent doesn't work."
"In this case, the federal government does not bring a commerce claim, nor does it cite any actual evidence that the Texas Heartbeat Act burdens interstate commerce," states the Texas motion, filed September 29. "What evidence that does exist in the record suggests that, if anything, the Act is stimulating rather than obstructing interstate travel," it says, noting an "increase in Texas women traveling to Oklahoma" to terminate their pregnancies.
So, the state admits that its "pro-life" law isn't actually stopping Texas women from getting abortions, just driving them across state lines—that is, not "saving babies," as supporters claim, but simply making women getting abortions jump through hoops.
Texas also argues that the federal government hasn't specified a cause of action, lacks jurisdiction, and "has not clearly shown that the Texas Heartbeat Act is unconstitutional." It says that for the law to be challenged, it must be done by private citizens in state court. You can read the state's full argument here.
The Volokh Conspiracy has a multi-part series analyzing constitutional challenges to the Texas law (Senate Bill 8), which also lets abortion doctors and anyone who "aids and abets" an abortion be sued. It has already spawned a couple of lawsuits. See:
---
FREE MARKETS
"We have an agreement on the C.R.—the continuing resolution to prevent a government shutdown—and we should be voting on that tomorrow morning," said Senate Majority Leader Chuck Schumer (D–N.Y.) yesterday. The Senate "can approve this measure quickly, and send it to the House so it can reach the President's desk before funding expires midnight tomorrow."
Government shutdown starts today if Congress can't get it together enough to vote against it. For that to happen, it looks like everyone will have to agree to Republicans' preferred version of a stopgap funding bill. From CNN:
The effort to prevent a shutdown has in recent days been caught up in a fight over how to address a looming debt limit crisis. Democrats initially attempted to pair the two fiscal issues—the debt limit and government funding—and pass legislation that would resolve both, but that ran aground in the Senate due to GOP opposition.

Republicans have said they would support a "clean" stopgap funding bill that does not include a debt limit provision, arguing that Democrats must address the debt limit on their own without GOP votes. Democrats have pushed back, saying that addressing the debt limit is a shared bipartisan responsibility.

In the face of GOP opposition to combining the two issues, Congress now appears poised to pass a "clean" funding bill without the debt limit attached. Schumer said Wednesday that once they fund the government, Congress still needs to "address the urgent matter of extending the debt ceiling."
---
FREE MINDS
Demographic diversity in rural America. It's on the rise, according to the latest U.S. census. "The future of rural America is increasingly marked by growing diversity and expanding inequity within and across regions—creating an intricate picture that binary thinking can't capture," Brookings Institution researchers write. They note that rural parts of the country have gotten more racially and ethnically diverse, and that "the distribution of people of color in rural America is complex and highly regionalized":
Contrary to the dominant narratives that use "rural" as a synonym for "white," 24% of rural Americans were people of color in 2020. While rural America is still less diverse than the nation as a whole (42.2% people of color), it is diversifying as well: The median rural county saw its population of color increase by 3.5 percentage points between 2010 and 2020….

The makeup of rural populations of color is shaped by highly regionalized variations in the concentration of Black Americans, Latino Americans, and Indigenous Americans across the nation. As Figure 2 demonstrates, rural counties in the South and West are particularly racially and ethnically diverse—with a substantial number of rural areas in these regions majority or near-majority people of color.
More maps and data here.
---
QUICK HITS
It's time that all of us ask our local policymakers to end the unnecessary and harmful policing of families. https://t.co/u72HPD3saM

— ACLU (@ACLU) September 29, 2021
• The U.S. mail is about to get slower and more expensive.
• "New psychological research suggests that trigger warnings do not reduce negative reactions to disturbing material—and may even increase them," reports The New Yorker.
• The former London police officer who abducted, raped, and murdered Sarah Everard was sentenced to life in prison.
• YouTube is blocking anti-vaccine content.
• Check out the Mexican town built by 3D printers.
• Former President Donald Trump lost his lawsuit against Omarosa.
• Come work at Reason:
Job alert! @reason is hiring! For a lot of positions! Are you a writer who loves crypto & rockets? We want you. Are you a new or aspiring reporter? We want you too. Also seeking podcast producers of all levels of experience. Come work with me!!! https://t.co/SttqE2HyDC

— Billy Binion (@billybinion) September 29, 2021