U.S. To Continue Cruel Treatment of Haitian Refugees—But Not on Horseback
Plus: Debt myopia, tech trade groups sue over Texas social media law, abortion providers ask SCOTUS to reconsider, and more...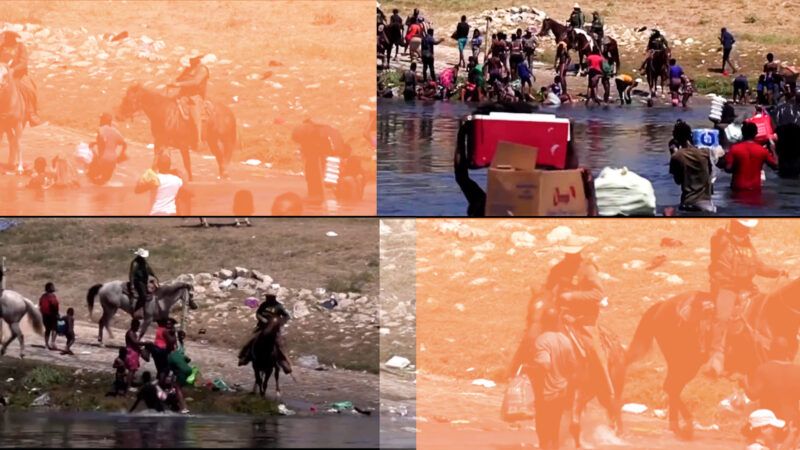 (Screenshots from @SawyerHackett/Twitter)
The horse patrols aren't the point. Democrats promised a different sort of immigration policy than what former President Donald Trump offered. But with a few tweaks around the margins, the Biden administration has continued—or even expanded—its predecessor's policies.
It gets away with this in part because of symbiotic bullshitting between the Biden administration and the people opposed to it. The latter really want their base to think that Democrats are ushering in "open borders" and an influx of scary criminal immigrants, so they rant and rave as if President Joe Biden isn't just largely continuing Trump policies. And since Democrats don't want to seem like Trump 2.0 on immigration, both teams of bullshit artistry benefit.
Every now and then, however, a little bit of reality permeates this big stinking bubble—forcing Democrats to own up to what their own party is doing. That's what happened this week, when images of border patrol agents on horseback rounding up would-be immigrants with what were initially described as "whips" got out.
Here's the video pic.twitter.com/itFwZfYN45

— Sawyer Hackett (@SawyerHackett) September 20, 2021
The spectacle sparked outrage over ongoing border-policy cruelty and further highlighted how the U.S. is treating Haitian (and other) refugees.
"This is a stain on our country," tweeted Rep. Alexandria Ocasio-Cortez (D–N.Y.).
"It is unconscionable. The Biden Admin must act," opined Sherrilyn Ifill, president and director-counsel of the NAACP Legal Defense and Educational Fund.
"Our federal government should not inflict this cruel violence. Period. Migrants have the right to claim asylum, and the federal government has a duty to treat them with basic respect," said Rep. Katie Porter (D–Calif.).

"These are human rights abuses, plain and simple," tweeted Rep. Ilhan Omar (D–Minn.). "Cruel, inhumane, and a violation of domestic and international law. This needs a course correction and the issuance of a clear directive on how to humanely process asylums seekers at our border."
Vice President Kamala Harris claimed that she's "deeply troubled" by the situation.
The administration's tone-deaf response? To announce that border patrol agents would stop riding horses, for now.
"We have ceased the use of the horse patrol in Del Rio temporarily," a Department of Homeland Security official told reporters on Thursday.
So there's the decision to keep out the Hatians… and whips of some sort… and government employees who deployed them… but the horses were the problem? Did I miss a wrinkle in that story or some wonky angle I don't get? https://t.co/9iutgwNqqR

— Conor Friedersdorf (@conor64) September 23, 2021
They'll still be capturing and sending home asylum seekers on sight. In fact, they'll be doing more of it. But by foot! Or by truck! Not on a horse! Doesn't that make you feel better about our government rounding up migrants, chaining them, and shipping them back to their countries of origin without so much as a chance to plead their case for a better life here?
About 1,400 people have already been sent back to Haiti since Sunday.
At the same press conference where she announced the no-horses pledge, White House Press Secretary Jen Psaki "said 3,206 Haitian nationals have been moved to Customs and Border Protection custody to either be placed in removal proceedings or expelled through Title 42, a Trump-era health law that denies certain migrants the opportunity to apply for asylum," notes CNBC.
A federal court recently said the government must stop expelling migrants under Title 42, but the Biden administration is appealing that ruling.
"We are still under Title 42 because we are in a global pandemic, so we are still operationalizing that," Psaki said Thursday.
---
FREE MINDS
Tech trade groups sue over social media law in Texas. NetChoice and the Computer & Communications Industry Association (CCIA) filed a lawsuit this week challenging a new Texas law that limits the free speech rights of social media companies. The law limits platforms' ability to moderate content. "These restrictions — by striking at the heart of protected expression and editorial judgment — will prohibit platforms from taking action to protect themselves, their users, advertisers, and the public more generally from harmful and objectionable matter," the groups' complaint states.
---
FREE MARKETS
Debt myopia. At National Review, Charles C.W. Cooke wonders why more Americans aren't upset about government spending:
Judging by its current behavior, the federal government has decided to completely give up on reality. But you haven't, right?

Right?

What the Democrats are trying right now would be nothing short of a catastrophe. The president's approval rating is around 43 percent — and dropping. His party holds a 50–50 Senate, it has a cushion of just three seats in the House of Representatives, and it enjoys no obvious mandate beyond "not being Donald Trump." We are not in the middle of a recession, or a crisis, or a war. And, in the last 18 months alone, we have spent an extra $6 trillion on top of an already-bloated budget — a sum that, when adjusted for inflation, comes to more than one-and-a-half times what we spent on World War II.
Read the whole (utterly depressing) thing here.
---
FOLLOW-UP
Abortion providers are asking the Supreme Court to reconsider their challenge to Texas' new restrictions. "Essentially, the groups, which include the American Civil Liberties Union and Planned Parenthood, are asking the court to take up the case before there is a definitive ruling from the U.S. Court of Appeals for the 5th Circuit, which won't hold a hearing at least until December," explains The Washington Post.
"Although Respondents' appeal is pending in the Fifth Circuit, that Court has now issued an order that effectively forecloses Petitioners' claims against the government officials," the groups write in their brief. "The question presented is whether a State can insulate from federal-court review a law that prohibits the exercise of a constitutional right by delegating to the general public the authority to enforce that prohibition through civil actions."

This is separate from other recent legal developments around the Texas law, the Post notes:
The new filing at the Supreme Court is only one strand of the legal maneuvering involving the law, known as Senate Bill 8. The Justice Department has filed suit seeking to have the law declared unconstitutional. A hearing before a federal judge in Texas is scheduled for next week.

And a Texas doctor wrote an op-ed in The Washington Post on Saturday saying he had violated the law by providing an abortion forbidden by the state. The admission essentially invited a lawsuit that could be used to challenge the statute, and three private citizens have filed suits against Dr. Alan Braid.
More on those lawsuits here.
---
QUICK HITS
• Government shutdown is looming, again.
• The end of sex-positive feminism?
• Gabby Petito and why cops shouldn't handle all domestic violence calls.
• "No, Vaccinated People Are Not 'Just as Likely' to Spread the Coronavirus as Unvaccinated People," cautions The Atlantic.
• Protecting and serving:
Staggering abuse of powers in Los Angeles, where Sheriff Villanueva has a unit devoted to conducting criminal investigations into the sheriff's critics, the @latimes reports: https://t.co/7q7Oknk8hd

— Taniel (@Taniel) September 23, 2021
• New York City moves to make more delivery workers unemployed. The state is considering setting minimum pay requirements for independent contractors who do food delivery. The new legislation would also let workers refuse to deliver to certain areas.
• The European Union wants to mandate that all phones and electronics use the USB-C charger, locking all device manufacturers into the current standard. "We remain concerned that strict regulation mandating just one type of connector stifles innovation rather than encouraging it, which in turn will harm consumers in Europe and around the world," Apple told the BBC.