No, Tennessee Isn't Hoarding Monoclonal Antibody Treatment for the Unvaccinated
Plus: Internet freedom at 11-year low, charter school enrollment up 7 percent, lawyer behind abortion lawsuit speaks up, and more...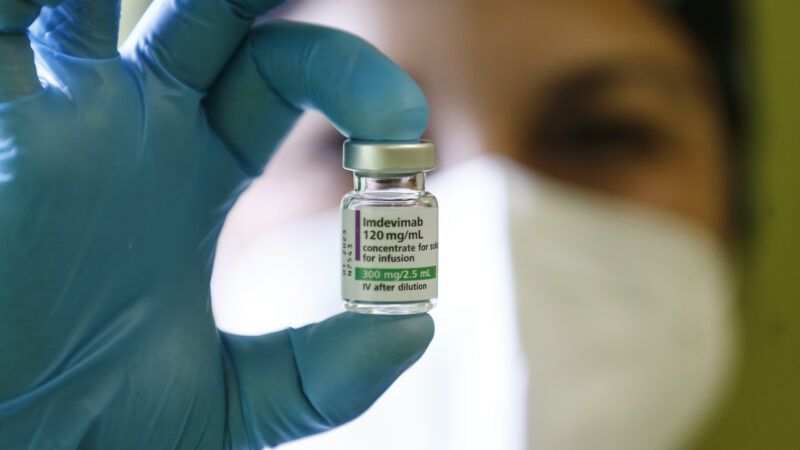 (Cecilia Fabiano/ZUMAPRESS/Newscom)
A widely reported rumor suggests that Tennessee will only offer promising monoclonal antibody treatments to COVID-19 patients who are unvaccinated. The idea is spawning outrage, since it implies that people who took personal precautions (and public health officials' advice) are being deliberately disadvantaged if sick, while those who chose not to receive a life-saving vaccine are getting special privileges. There's just one problem: It's not true.
That hasn't stopped the "news" of Tennessee's unvaccinated-only treatment-rationing from being touted in a number of national headlines. For instance: "Tennessee will now DENY vaccinated COVID-19 patients access to monoclonal antibody treatments as federal government begins limiting shipments of the drugs," the Daily Mail says.
OK, but that's the notoriously tabloidy Daily Mail. Let's check in with a mainstream news publication like USA Today or NBC News or Insider and…oh. "Tennessee limiting monoclonal antibody treatment to unvaccinated residents," reads an NBC News headline. "Tennessee Recommends Vaccinated Residents Lose Access to Monoclonal Antibody Treatment," claims USA Today. "Tennessee to reserve monoclonal antibody treatment for unvaccinated," touts an Insider headline.
What's really going on?
The state simply issued guidelines about monoclonal antibody treatment prioritization should a shortage arise. This guidance recommends prioritizing people most likely to suffer severe COVID-19 cases leading to hospitalization.
This is a group that could include people with compromised immune systems, those over 65 years old, pregnant women, people who are vulnerable due to underlying health conditions—and, yes, the unvaccinated. But it's in no way limited to the unvaccinated, nor is anyone suggesting they should automatically get priority.
Here's what the Tennessee Department of Health actually said:
Our recommendation to monoclonal antibody providers or individual facilities across the state is if they need to prioritize distribution of the treatment, the NIH (National Institutes of Health) guidelines are the recommended approach for that prioritization, including prioritizing those who are most likely to be hospitalized. Ultimately, this comes down to providers' clinical judgment to ensure those most at risk are receiving this treatment.
NIH guidelines on monoclonal antibody treatment, issued September 3, recommended monoclonal antibodies "for the treatment of mild to moderate COVID-19 and for post-exposure prophylaxis (PEP) of SARS-CoV-2 infection in individuals who are at high risk for progression to severe COVID-19."
At the moment, there is no shortage of monoclonal antibody treatment—in Tennessee, or nationally, according to the NIH website—although the agency does warn that "logistical constraints (e.g., limited space, not enough staff who can administer therapy) can make it difficult to administer these agents to all eligible patients."
Should it become necessary "to triage eligible patients," the agency suggests prioritizing people who already have the disease, "unvaccinated or incompletely vaccinated individuals who are at high risk of progressing to severe COVID-19," and "vaccinated individuals who are not expected to mount an adequate immune response (e.g., immunocompromised individuals)."
NIH also notes that "providers should use their clinical judgment when prioritizing treatment" and stresses that "when there are no logistical constraints for administering therapy, these considerations should not limit the provision of anti-SARS-CoV-2 monoclonal antibodies." (Emphasis theirs.)
The prospect of treatment rationing comes in the wake of the Biden administration changing how states may get their hands on monoclonal antibodies. The Department of Health and Human Services (HHS) will now allocate monoclonal antibody supplies to state health departments based on state need and "on COVID-19 case burden," rather than letting states order directly from its supplier, it said.
The move is "an effort to more evenly distribute the 150,000 doses that the government makes available each week," reports Politico. "Demand from a handful of southern states has exploded since [August], state and federal officials said, raising concerns they were consuming a disproportionate amount of the national supply. Seven states — Texas, Florida, Mississippi, Tennessee, Georgia, Louisiana, and Alabama—accounted for 70 percent of all orders in early September."
---
FREE MINDS
Internet freedom continues to backslide. Globally, internet freedom is at an 11-year low, according to the latest annual report from Freedom House:
The environment for human rights online deteriorated in 30 countries this year, while only 18 countries registered net gains. The largest decline occurred in Myanmar, followed by Belarus and Uganda. Ecuador experienced the largest improvement, followed by The Gambia. The United States ranked 12th overall, while Iceland was once again the top performer. For the seventh consecutive year, China was found to have the worst conditions for internet freedom.

Freedom on the Net is an annual study of human rights in the digital sphere. The project assesses internet freedom in 70 countries, accounting for 88 percent of the world's internet users. This report, the 11th in its series, covered developments between June 2020 and May 2021….

Free expression is under unprecedented strain around the world. In 56 countries, a record 80 percent of those covered by Freedom on the Net, people were arrested or convicted for their online speech.
The U.S. saw its fifth consecutive year of a dropping digital freedom ranking.
---
FREE MARKETS
Charter schools gain from traditional public schools' pandemic problems. There's been evidence that homeschooling and private school enrollment have ticked up since the start of the COVID-19 pandemic. Now a new report from the National Alliance for Public Charter Schools suggests charter school enrollment has grown too.
"Based on data collected and analyzed by the National Alliance for Public Charter Schools, during the first full school year of the COVID pandemic, the charter sector is likely to have experienced the largest rate of increase in student enrollment increase in half a decade," says the group's new report. "Public charter school enrollment increased during the 2020-21 school year in at least 39 states, the only segment of the public education sector to grow during the COVID-19 pandemic, according to new data compiled by the National Alliance. All told, nearly 240,000 new students enrolled in charter schools during that period, a 7% year-over-year increase."
You can read the full report here.
---
FOLLOWUP
Lawyer behind abortion lawsuit speaks up. The man suing a Texas physician for performing an abortion describes himself as a libertarian who is bringing the lawsuit because he respects what the doctor (who very publicly admitted to his action) is doing.
Proponents of the Texas abortion ban "wanted to insulate a legislative enactment from judicial review, and I think that's just wrong. I think it's totally wrong," said Oscar Stilley, the man behind one of two new lawsuits against abortion doctor Alan Braid. "[Braid has] got some principle. I like that. And I respect that. I see what he's doing. He wants somebody filing a lawsuit," Stilley told KXAN Austin.
Texas Right to Life—which championed the law allowing people to sue abortion doctors—is not pleased.
Meanwhile: Texas enacts another abortion-limiting law. This one—slated to take effect December 2—bans the prescription of abortion-inducing drugs at seven weeks of pregnancy. The cutoff was previously 10 weeks.
---
QUICK HITS
• A new Government Accountability Office report looks at federal efforts to influence American diets. "The federal government is trying to help with more than 200 efforts to address these diet-related health conditions, such as diabetes and cardiovascular disease," it says. "But there is little government-wide coordination between agencies and programs."
• Democrats are trying to pass an eviction moratorium law.
• Los Angeles is banning protests within 300 feet of a protest target's home.
• The U.S. has filed an antitrust lawsuit against American Airlines and JetBlue Airways.
• A ban on school mask mandates in Texas is drawing an investigation by the U.S. Department of Education Office for Civil Rights. The office "is investigating the Texas Education Agency after deeming that its guidance prohibiting mask mandates in schools last week may be 'preventing school districts in the state from considering or meeting the needs of students with disabilities,'" according to the Texas Tribune.
• A court says North Carolina's voter ID law is unconstitutional. "A three-judge panel of the Wake County Superior Court ruled 2-1 that North Carolina's voter ID law violates the state constitution" and "blocked enforcement of the law," Ballotpedia News reports. "The court's order represents its final judgment on the matter."
• Cathy Young chronicles the transgender bathroom access controversy at a Los Angeles spa.
• In which the American Civil Liberties Union explicitly supports restrictions on civil liberties.