They Came to the U.S. Legally as Children. At 21, They Face Deportation.
A new bill could give some hope to "Documented Dreamers."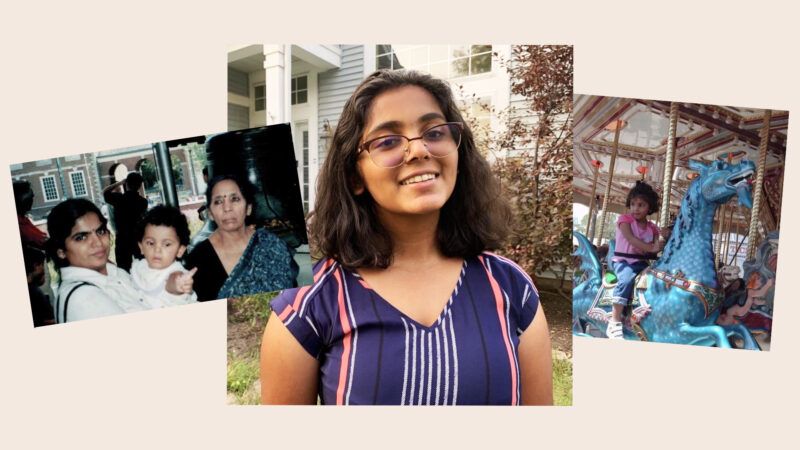 Padma Danturty has been a legal resident of the U.S. since she was 8 months old. Had she come to the country illegally, her future here would likely be more secure.
That's because the 18-year-old does not qualify for the Deferred Action for Childhood Arrivals (DACA) program, the Obama-era policy that protects individuals from deportation if they came to the U.S. unlawfully as children through no fault of their own. Recipients are colloquially referred to as "Dreamers."
But Danturty did not come here illegally. She is instead one of about 200,000 "Documented Dreamers," an obscure group of individuals who were brought to the U.S. legally with their parents yet face expulsion if they are unable to obtain a green card or visa by the time they turn 21 years old. In her case, she faces self-deportation to India.
"I have no memory of it," she says. "I can barely speak my native language, so it would be really hard to communicate. I don't know what I would do exactly."
At present, DACA shields about 650,000 young immigrants from deportation and allows its recipients to apply for work permits. But the policy inadvertently excludes hundreds of thousands of documented children who fell through the legal cracks. "Even if you do the 'right' things, you could still end up in a place of insecurity," says Danturty.
Though circumstances vary across the spectrum of Documented Dreamers, Danturty's parents moved to the United States to study at the University of Connecticut and took jobs on work visas soon after. That left Danturty on a dependent visa—and her legally allotted time on that is running thin, even as her parents remain safe from deportation. 
A bipartisan bill—introduced in the House in July and in the Senate this week—hopes to eliminate the nightmare scenario. Should it pass, those like Danturty will no longer have to race against time before being sent to a foreign country they've often never experienced.
"I've heard from a number of my constituents that it affects their families," Rep. Deborah Ross (D–N.C.), who introduced the House version of the bill, tells Reason. "Many of their children come at young ages and really don't know any other place….The parents might even be able to stay with a [work] visa, but the child would have to leave. It's a heartbreaking situation."
Pareen Mhatre is also mired in such a situation, although her position is a bit more dire. She is 21.
In many ways, Mhatre's story mirrors that of Danturty's, having arrived in the U.S. at 4 months old after her parents moved from India to matriculate at the University of Iowa, where they are now employed. The school applied for their green cards "as soon as they could," says Mhatre—a measure that should have spared the family this dreadful scenario. But her parents have remained on work visas while they continue to wait in line, wading for years through a forest of bureaucratic red tape as Mhatre's clock keeps ticking.
"I've lived in this country for the past 21 years," she says. "It's really the only country I know."
Mhatre's dependent visa has already expired, though she bought herself a bit more time with a student visa in order to study at the University of Iowa. Once she graduates, she can apply for an H-1B work visa, should she find a high-skilled job and an employer who wants to pay to sponsor her. Even if she does, she is not guaranteed success: The program runs on a lottery. This year, the government approved 28 percent of applicants.
Otherwise, she will have to self-deport to India.
Yet the problems for Documented Dreamers do not begin and end with a looming expulsion date. "Growing up, I felt like any other American kid," says Mhatre. She eventually realized that wasn't the case: Even with legal status in the country, Documented Dreamers are not permitted to work, they are not allowed to get a driver's license in certain states, and when applying to colleges, they are often hit with international student tuition fees even though they reside in the U.S.
"When I was a freshman and sophomore, I didn't go to any of the career fairs," adds Mhatre, "because I knew that I wouldn't be able to apply for any of the internships." Danturty expresses much of the same: "I see a lot of my friends working….It's hard because I'd like to make money myself too, but I can't." Both the House and Senate bills—the latter of which was introduced by Sens. Rand Paul (R–Ky.) and Alex Padilla (D–Calif.)—would allow Documented Dreamers to obtain a work permit.
"Knowing that I don't have a sense of stability or a secure future in this country is really scary. It's definitely made me realize that I'm grateful to be here," says Mhatre. And if the bill doesn't pass? "[Our] parents tried to do everything by the book," she replies. "Having stressed over applications, immigration law, and now this is what [our] famil[ies] get: no hope for the future."