Arkansas Deputy Charged With Manslaughter for Fatally Shooting Teen Who Was Fixing a Truck
The Lonoke County sergeant was already fired for not turning on his body camera during the encounter.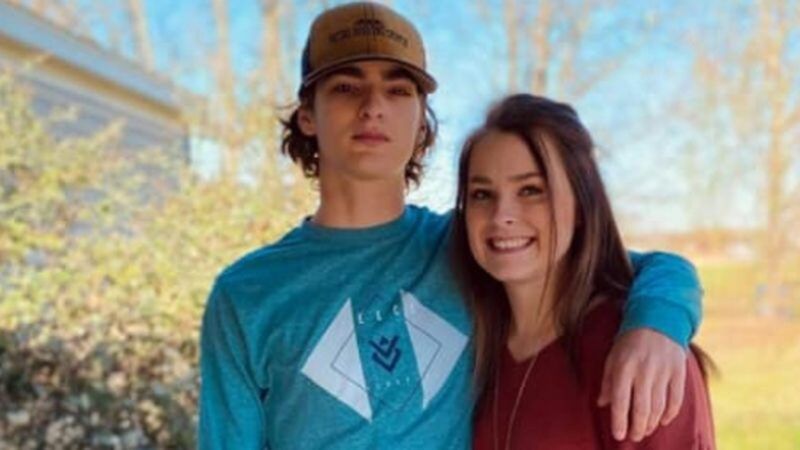 Today an Arkansas prosecutor announced that a deputy will be charged with felony manslaughter for shooting and killing an unarmed teen during an early morning roadside stop in June.
According to the family of Hunter Brittain, who was 17 at the time of his death, he had been working on a truck late at night on June 23. He was driving the truck away from a body shop near Cabot, Arkansas, when he was pulled over by Lonoke County Sgt. Michael Davis.
Another teen in the truck, Brittain's cousin Jordan King, said that Brittain exited the truck with a bottle of antifreeze to prop behind the rear wheel due to problems with keeping the vehicle parked. As he approached the back of the truck, Davis shot him. Brittain later died of his injuries.
Davis failed to turn on his body camera as department policy required, so we don't know what might have led to him firing his weapon. In July, Lonoke County Sheriff John Staley announced that Davis had been fired.
At a press conference earlier today, special prosecutor Jeff Phillips said Davis provided an account of what happened that was very different from King's account. Davis reportedly said that he ordered Brittain to show his hands, which Brittain ignored, and Brittain reached into the bed of the truck to get the bottle of antifreeze he wanted to use to stop the truck from rolling back. King said that Brittain had the bottle inside the truck and was already holding it when he exited. King also said Davis did not give Brittain any verbal orders before shooting him.
Brittain's family turned to civil rights attorneys Ben Crump and Devon Jacob, who also represented the family of George Floyd. They put out a statement saying, "Nothing will bring Hunter back, but we can honor his memory and legacy by calling for justice and change in his name. We hope to see former officer Davis held to the fullest extent of the law and we will continue to call for the passage of 'Hunter's Law,' which advocates for heightened body camera enforcement and transparency, so not one more family will have to suffer loss of this magnitude at the hands of law enforcement."
Laws named after people are generally not good ideas, and it looks like Hunter's Law won't be an exception there. More transparency and mandates for police body cameras would be good. But the petition supporters are circulating calls for police to have body cameras on and recording for their entire shift, which is prohibitively expensive. The high cost of body cameras for police departments comes not from the physical cameras themselves, but from the storage of the data, and the burden can cause some departments to drop their plans to implement them. There are workarounds: Some body cameras have buffering systems that are always filming but not storing until the cop turns it on. Then they're able to capture 30 seconds prior to the officer officially starting the recording (which has, on occasion, caught officers misbehaving).
The buffering tool wouldn't have helped here because Davis never turned his camera on. A demand that cops have their body cameras on at all times is, nevertheless, not realistic, and could lead to all sorts of other potential civil rights issues, like police using images of anybody they capture with their camera footage for biometric surveillance. It could also have a chilling effect when police attempt to interview crime witnesses. There are times where we do need the police to be able to talk to people without recording them.
In any event, Davis will face accountability in front of a jury (if he doesn't arrange a plea deal) for this seemingly unjustified and unnecessary killing.