The Biden Administration's 'Emergency' Vaccine Mandate May Be Vulnerable to Legal Challenges
OSHA has rarely used this option, which avoids the usual rule-making process, and most challenges to such edicts have been successful.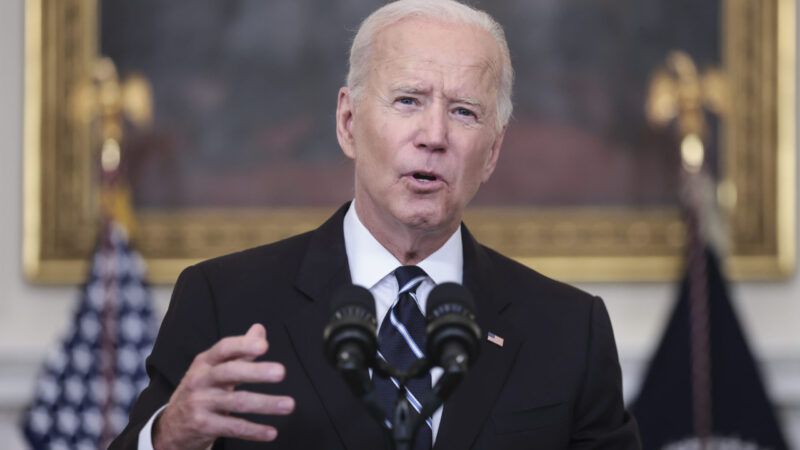 (Oliver Contreras/Pool via CNP/Polaris/Newscom)
The Biden administration plans to impose a vaccination mandate on private-sector employees through an emergency temporary standard (ETS), a rarely used option that allows the Occupational Safety and Health Administration (OSHA) to avoid the usual rule-making process. The history of such standards suggests that the new rule, which demands that every U.S. business with 100 or more employees require them to be vaccinated or submit to weekly virus testing, may be vulnerable to legal challenges.
In the half-century after Congress approved the Occupational Safety and Health Act in 1970, the Congressional Research Service (CRS) noted in a report updated on July 13, OSHA issued an ETS just 10 times. Before June 21, when OSHA used an emergency standard to require specific COVID-19 precautions for health care workers, it had not issued an ETS in 38 years, and it had never cited the danger posed by a communicable disease as the justification for an ETS.
Of the nine emergency standards issued between 1971 and 1983, three (dealing with asbestos, vinyl chloride, and the soil fumigant DBCP) were not challenged. Of the six that were challenged in court, four (dealing with asbestos, benzene, organophosphorus pesticides, and diving operations) were stayed or vacated, one (dealing with various carcinogens) was partly vacated, and one (dealing with vinyl cyanide) was upheld. In other words, legal challenges were partly or fully successful 83 percent of the time.
From OSHA's perspective, an ETS offers clear advantages over the time-consuming procedures it typically must follow to impose new regulations, which include advance notice and an opportunity for public comment. In 2012, the Government Accountability Office examined 59 "significant" standards that OSHA issued between 1981 and 2010. It found that the average time between initial consideration of a standard and its promulgation was nearly eight years. Even after OSHA published a notice of proposed rule making in the Federal Register, an average of more than three years elapsed before the standard was finalized.
According to a flowchart that OSHA published in 2012, the CRS report notes, "the estimated time from the start of preliminary rulemaking to the promulgation of a standard ranges from 52 months (4 years, 4 months) to 138 months (11 years, 6 months)." After a notice of proposed rule making is published, "the estimated length of time until the standard is promulgated ranges from 26 months (2 years, 2 months) to 63 months (5 years, 3 months)."
By contrast, OSHA can issue an ETS "without supplying any notice or opportunity for public comment or public hearings." The standard takes effect immediately and lasts until it is superseded by a permanent rule, which OSHA is notionally required to issue within six months. That requirement seems unrealistic, the CRS notes, given "historical and currently expected time frames for developing and promulgating a standard."
While the ETS option is undeniably convenient for OSHA, it requires a special justification. OSHA must "determine" that "employees are exposed to grave danger from exposure to substances or agents determined to be toxic or physically harmful or from new hazards." It also must determine that its ETS is "necessary to protect employees from such danger." Both of those judgments are subject to judicial review.
"The term grave danger, used in the first mandatory determination for an ETS, is not defined in statute or regulation," the CRS report says. "Although the federal courts have ruled on challenges to previous ETS promulgations, the courts have provided no clear guidance as to what constitutes a grave danger."
In 1984, the U.S. Court of Appeals for the 5th Circuit rejected an ETS lowering the limit for workplace asbestos exposure. The court said OSHA had failed to adequately support its finding of "grave danger," which was based largely on its claim that the six-month emergency standard would prevent 80 deaths from asbestos exposure. "It is apparent from an examination of the record," the 5th Circuit said, "that the actual number of lives saved is uncertain, and is likely to be substantially less than 80."
The appeals court also concluded that OSHA had failed to show its ETS was "necessary," noting that existing standards already required the use of respirators. That requirement, OSHA argued, was "unenforceable absent actual monitoring to show that ambient asbestos particles are so far above the permissible limit that respirators are necessary." But the court said "fear of a successful judicial challenge to enforcement of OSHA's permanent standard regarding respirator use hardly justifies resort to the most dramatic weapon in OSHA's enforcement arsenal."
To justify its June 21 ETS for employers in the health care industry, OSHA said it "has determined that healthcare employees face a grave danger from the new hazard of workplace exposures to SARS-CoV-2 except under a limited number of situations (e.g., a fully vaccinated workforce in a breakroom)." It noted the possible consequences of COVID-19 infection, including mild symptoms as well as potentially lethal cases; the danger of transmission in shared workspaces; and the "elevated risk" of dealing with patients who may be infected.
OSHA argued that its ETS was necessary because neither existing standards and guidance nor employers' general duty to provide a workplace "free from recognized hazards that are causing or are likely to cause death or serious physical harm" adequately addressed the risks posed by COVID-19. It estimated that 25 percent of health care workers remained unvaccinated and added that questions remained about the duration of the protection offered by vaccines and their effectiveness against new coronavirus variants.
Notably, the safeguards required by the June 21 ETS included face masks but did not include mandatory vaccination. That's the opposite of the approach taken by the ETS that the Biden administration described yesterday. Even given the special hazards of health care settings (for patients as well as employees), OSHA did not think it was necessary to require vaccination, although it did require that medical workers be allowed time off to recover from the side effects of inoculation.
The Biden administration's new rule for health care facilities that participate in Medicare or Medicaid, by contrast, does require vaccination, and the ETS for other private employers will require vaccination or regular testing for workers in every sector of the economy, including people who are already resistant to COVID-19 because they developed antibodies in response to prior infections. The only exception is for companies with fewer than 100 employees.
The White House says that vaccine mandate will affect more than 80 million employees, half of the civilian labor force. Taking into account the new mandates for federal contractors and hospitals that accept Medicare or Medicaid, the Associated Press reports, vaccination will be required for "as many as 100 million Americans." Businesses that defy the rule for companies with 100 or more employees will face fines of $14,000 for each violation.
While many large employers already require vaccination, that does not mean every business covered by the federal mandate will accept it without a fight. In addition to possible constitutional challenges, businesses that object to the mandate can argue that OSHA has failed to meet the statutory criteria for an ETS, and they might very well prevail on that basis, given the legal track record of such edicts.
The U.S. Chamber of Commerce said it "will carefully review the details of the executive orders and associated regulations." A spokeswoman for the American Hotel and Lodging Association likewise said "our members are in the process of reviewing the president's new guidance."
The National Federation of Independent Business already has signaled that it is not happy with the vaccination mandate. "Small business owners and their employees want to operate in a safe and healthy manner that allows them to stay open," said Kevin Kuhlman, the organization's vice president for government relations. "Additional mandates, enforcement, and penalties will further threaten the fragile small business recovery."
Rick Murray, chairman of the government affairs committee at the Arizona Small Business Association, was even more critical. "This is really as far-reaching as government can get," he told The Washington Post, saying he was "shocked" by the mandate and expected that the organization's members would resist it. "That's really a free-enterprise decision that should be made by companies, and not the government."
Republicans are promising to fight the vaccination mandate in court. South Carolina Gov. Henry McMaster said "we will fight them to the gates of hell to protect the liberty and livelihood of every South Carolinian." Georgia Gov. Brian Kemp said he will "pursue every legal option available to the state of Georgia to stop this blatantly unlawful overreach by the Biden administration."
The Republican National Committee (RNC) likewise says it will sue to block the mandate. "Joe Biden told Americans when he was elected that he would not impose vaccine mandates," RNC Chairwoman Ronna McDaniel said in a press release. "He lied. Now small businesses, workers, and families across the country will pay the price. Like many Americans, I am pro-vaccine and anti-mandate. Many small businesses and workers do not have the money or legal resources to fight Biden's unconstitutional actions and authoritarian decrees, but when his decree goes into effect, the RNC will sue the administration to protect Americans and their liberties."