Britney Is Not the Only One Who Needs Freeing
While Spears' case is the most high-profile example of alleged conservator abuse, there are similar stories from all over the country.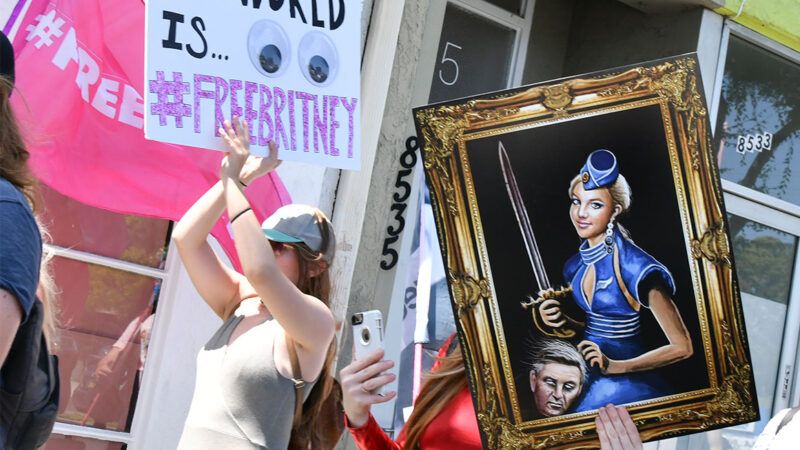 (Photo: Rodin Eckenroth/Getty)
#FreeBritney has become a rallying cry of people who support Britney Spears' efforts to end a court-appointed conservatorship that had imposed nearly absolute control over the pop singer's life for 13 years.
A court granted Spears' father control over her personal affairs and her considerable assets in 2008, after an apparent mental break. This year Spears asked a judge to release her from the conservatorship, complaining that her conservators would not let her have a birth-control device removed, that she had no say over her grueling tour schedule, and that she was not even allowed to choose her own attorney.
"It makes no sense whatsoever for the state of California to sit back and literally watch me with their own two eyes, making a living for so many people and paying so many people, trucks and buses on tour, on the road with me, and be told I'm not good enough," Spears said at a June 23 hearing.
Spears' plight captured the nation's attention. The arc of her public persona, from teen superstar to punchline to resurgent icon to victim of the legal system, made clear that behind the music videos is an individual who wants what every adult wants: the freedom to make her own decisions and to enjoy the fruits of her labor. "I just want my life back," she said.
While Spears' case is the most high-profile example of alleged conservator abuse, there are similar stories from all over the country. In 2017, The New Yorker published an exposé that described how the elderly lose their autonomy, and a lifetime of accumulated wealth, to court-appointed guardians who perform roles very similar to those of conservators. The story found that credulous judges in Nevada had turned over the estates of hundreds of elderly people to profiteering guardians based on flimsy justifications, often over the objections of their families.
Last year, a Florida guardian for the elderly and incapacitated, Rebecca Fierle-Santoian, was arrested on charges that she filed "do not resuscitate" orders without her clients' permission. At the time, she had been entrusted with 450 guardianships. One woman who had been placed in her care was held for three years in an assisted-living facility against her will. She escaped only after her son smuggled in a cellphone, allowing her to contact an attorney who specialized in abusive guardianships.
When a judge finally terminated her guardianship, the woman had no home to return to. It had already been sold.
In July, a judge allowed Spears to hire her own attorney, a relatively significant victory for the singer. But ultimately, #FreeBritney is about more than one celebrity. Americans should demand scrutiny of guardianships that strip vulnerable but still capable people of their autonomy.