Amazon Pressures FCC To Deny SpaceX's Satellite Internet Plan
Powerful companies attempting to get government agencies to suppress competition means consumers could lose out.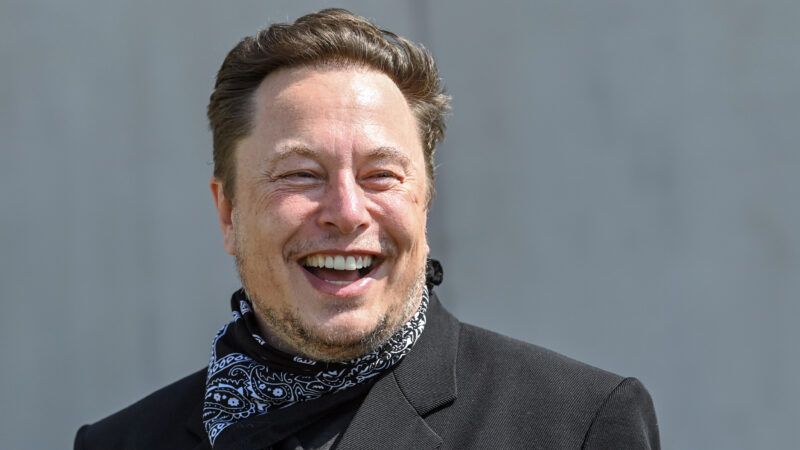 (Patrick Pleul/dpa/picture-alliance/Newscom)
With 1,700 satellites currently in orbit, SpaceX's Starlink is giving its 100,000 customers download speeds of 50Mbps to 150Mbps, or higher. Bringing its orbital fleet up to 30,000 would serve customers even more effectively, SpaceX reckons, so it's applied to do so with the Federal Communications Commission (FCC). But since meddlesome competitors are one reason why consumers can't have nice things, Amazon's Kuiper—which aims to launch a similar network of satellites into orbit—claims that the SpaceX application violates FCC rules and has asked the agency to deny the company's request to launch its second-generation satellites.
The crux of the matter is that SpaceX submitted not one but two configurations of satellites, requesting approval for both. Kuiper claims that doing so is unfair and flouts FCC rules:
"The SpaceX Amendment proposes two different configurations for the nearly 30,000 satellites of its Gen2 System, each of which arranges these satellites along very different orbital parameters. SpaceX's novel approach of applying for two mutually exclusive configurations is at odds with both the Commission's rules and public policy and we urge the Commission to dismiss this amendment.

The Commission's rules require that SpaceX settle the details of its proposed amendment before filing its application—not after."
But you don't have to be all that shrewd of an observer to deduce that Kuiper's plea that everyone plays by the same rules looks an awful lot like an attempt to halt a competitor in its tracks. This type of thing happens all the time, a former FCC official tells Reason, and the agency currently has an ambitious broadband goal to which SpaceX is helping to contribute.
Amazon is trying to catch up to the headway that SpaceX has already made by arguing that CEO Elon Musk's company is playing fast and loose with the rules. But what's really behind the problem Amazon pointed to? PCMag reports that SpaceX "provided two configurations because the first one relies on the still under-development Starship craft to deliver the Starlink satellites. The second configuration taps existing Falcon 9 reusable rockets," and the company still may not be sure which configuration it ultimately goes with.
Private companies often seek to stymie one another down in order to catch up or get ahead, and it is common practice to enlist regulatory agencies in that chess game. It's also common for those same companies to go after federal dollars for their own plans. SpaceX has been the recipient of at least $886 million in subsidies for its Starlink satellites, and engages in its fair share of anticompetitive thwarting attempts, too, as in the battle over terrestrial vs. satellite services and the 12 GHz spectrum.
Naturally, when companies helmed by—or publicly associated with—big personalities are added to the mix, more public jousting ensues. Though Jeff Bezos stepped down as Amazon CEO in July (to go to space on his Blue Origin company's rocket ship), Musk has been quick to mock him, as if his own company hadn't been involved in the same types of practices.
Turns out Besos retired in order to pursue a full-time job filing lawsuits against SpaceX …

— Elon Musk (@elonmusk) August 27, 2021
This is typical behavior from these two. Bezos has mocked Musk's Mars-colonization ambitions, yet believes he can create his own free-floating space colonies.
Rather than pick sides in a rent-seeking competition, consumers should root for more choice and against the FCC picking winners and losers in the new space race.
Until his lofty dreams are turned into actual space colonies that we Earth denizens can finally pay to join, Musk is the one whose company is actually serving people who live in the rural areas most in need of high-speed internet; Bezos is just dreaming, with a side of complaining to the FCC.