Biden Lectures Businesses About Vaccines While Fully Vaccinated Feds Stay Home From Work
The entire federal workforce is required to be vaccinated. So why is the federal bureaucracy still operating as if routine public interactions are a public health threat?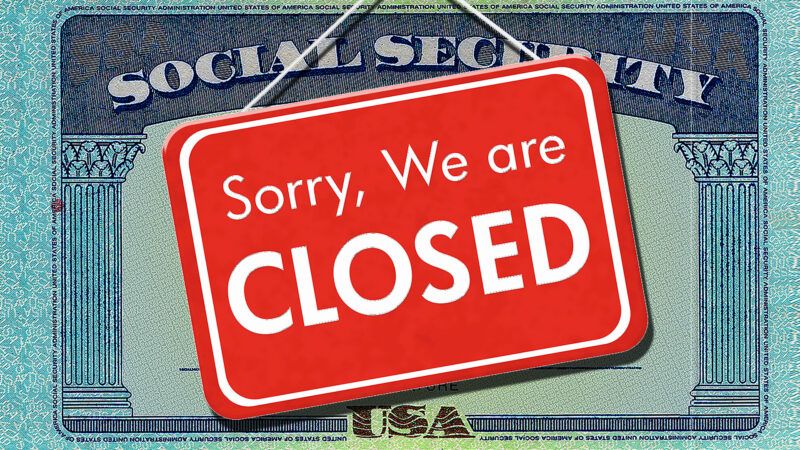 (Illustration: Lex Villena; Karenr, Choneschones | Dreamstime.com)
Now that one of the available COVID-19 vaccines has been officially approved by the Food and Drug Administration (FDA), President Joe Biden is leaning on private sector businesses to mandate vaccination for employees and customers.
"If you're a business leader, a nonprofit leader, a state or local leader, who has been waiting for full FDA approval to require vaccinations, I call on you now to do that. Require it," Biden said Monday. "Do what I did last month and require your employees to get vaccinated or face strict [testing] requirements."
It's true that Biden is in some ways leading by example. In July, he issued an executive order requiring that the roughly 4 million federal employees (and many of the millions of federal contractors) get vaccinated or face weekly COVID testing and other inconveniences.
But vaccines are only a means to getting things back to normal, not an end unto themselves. And, right now, it seems fairly obvious that the federal bureaucracy is not even close to anything resembling normalcy. Until it is, Biden should lay off trying to tell private businesses what to do.
Take the Social Security Administration (SSA), for example. One of the biggest federal agencies—and one that most Americans can't avoid encountering, at least occasionally—employs more than 60,000 people and runs more than 1,200 field offices around the country. And yet, more than four months after COVID-19 vaccines became widely available, many of those offices remain in the same state that they've been since March 2020: closed.
The SSA announced plans for a "partial" reopening of field offices in May, and began allowing beneficiaries to handle some things online that previously would have required an in-person visit. But, bureaucracy being bureaucracy, a lot of what the SSA does requires physical paperwork to be passed around.  That means a lot of the work is being done via mail.
Or, rather, not being done.
A July report from the Office of the Inspector General (OIG) for the Social Security Administration found massive backlogs at the 73 facilities visited by auditors. One service center "had more than 9,000 unprocessed original documents it had received as early as November 2020," according to the report. At another field office, auditors found "667 unprocessed applications dated as early as July 2020" for new or replacement Social Security cards. In another location, they found "more than 20,000 pieces of returned mail, some of which were over one year old." Half the field office managers interviewed by OIG staff reported being "overwhelmed" by the mail volume.
Auditors concluded that the "SSA has no performance metrics and does not maintain management information on the volume of incoming, outgoing, or pending mail" and, more ominously, that the administration "lacks comprehensive policies and procedures to track and return original documents—including driver's licenses, birth certificates, passports, and naturalization documents—that customers provide as proof of eligibility for benefits" or to obtain a Social Security card.
What if you don't trust the SSA—or, for that matter, the U.S. Postal Service, which has had plenty of pandemic-related issues of its own—not to lose your most important documents? You can still make in-person appointments at an SSA office, but it doesn't seem like an easy process, as Reason contributor Bonnie Kristian recently discovered:
I'm trying to get an in-person appt and was just told I have to call Monday, as *maybe* they'll have appointments then

— Bonnie Kristian (@bonniekristian) August 24, 2021
Privately, Kristian told me that she tried to get a new card via the SSA's online portal, only to be told that applying for a new card still requires mailing or hand-delivering key documents. When she visited her local SSA office, an unmasked clerk—sitting behind a sign telling all guests they must be masked—told her the office was closed and that she would have to call to make an appointment. After two phone calls to two different offices, both of which Kristian says "strongly discouraged me from trying to get an appointment," she eventually got one…for next month.
It's not May 2020 anymore. The entire federal workforce is vaccinated or getting tested regularly. Most of the general public is vaccinated as well. Why is the federal bureaucracy still operating as if routine public interactions are a public health threat?
The SSA did not respond directly to Reason's request to provide a timeline for when field offices would be fully reopened. "We are increasing the number of personnel in our field offices to provide more in-office appointments," Nicole Tiggemann, a spokeswoman for the administration, wrote in an email. "Our reentry plan will be phased and will take into consideration health conditions and any applicable labor obligations."
Part of the problem is the union that represents federal employees. In May, the American Federation of Government Employees told Congress in a letter that "remote work works, and has allowed employees of key agencies like the Social Security Administration to continue to deliver essential services." In light of the OIG's report, that claim seems laughable.
But it's not just the SSA that's refusing to get back up to speed. More than 60 percent of American consulates remain fully or partially closed, despite the fact that consular officers have been eligible to receive the COVID-19 vaccines since May.
"For the open consulates, the wait times have grown from 95 days in April to 189 days in August for business and tourist traveler visas, from 25 to 38 days for student and exchange visitor visas, and from 40 to 51 days for all other nonimmigrant visa categories," notes David J. Bier, a research fellow on immigration issues for the Cato Institute, a libertarian think tank.
The slower-than-usual federal bureaucracy is causing cascading issues. As many as 100,000 green cards that would grant permanent residency to immigrant workers could expire in September before they get out the State Department's door. That's just a part of the department's backlog of immigrant and nonimmigrant visas that reportedly tops 500,000. Among other things, that means foreign students waiting on visas so they can come to the United States to study have no idea if they'll get them in time. American families have had travel plans upended unexpectedly. And, of course, the State Department's COVID-related visa-processing issues have contributed to the chaos in evacuating U.S.-affiliated Afghans from Kabul.
In order to address the student visa issues, "we urge the State Department to provide predictable and consistent consular services; maximize alternatives to in-person visa interviews by providing waivers and virtual interviews; extend visa eligibility waivers; authorize staff overtime and increase hiring; and initiate meaningful engagement with outside stakeholders and agencies," a group of 10 senators wrote to Secretary of State Antony Blinken earlier this month.
Those are good ideas! It's also somewhat stunning—though depressingly typical—that the federal government is still mandating in-person visa interviews in a world where so much else is being done over Zoom. Either change the rules, or get vaccinated bureaucrats back to work—full time and in their offices. Preferably, do both.
To be sure, there are plenty of aspects of the federal bureaucracy that can only be improved by a COVID-related slowdown. If federal regulators aren't working on new labor rules or if the Department of Commerce seizes up because employees are quitting over the vaccination mandates, there would be no need for concern. If half of the Department of Education simply vanished tomorrow, Thanos-style, would anyone miss it?
Unfortunately, there are parts of the federal government that people must interact with if they want to work a legal job or cross an international border. Those are the positions—you could call them "customer service" jobs, except that's really not fair to people who do actual jobs that serve willing customers—where average Americans have no choice but to deal with the hassle of bureaucracy.
Months after vaccines have been readily available and weeks after Biden ordered federal employees to get the shot, there's simply no excuse for those kinds of government offices not to be fully reopened to the public. Biden should let private businesses set their own rules and keep his focus squarely on the employees and agencies that actually answer to him.