U.S. Vaccine Mandate for Incoming Immigrants Takes Effect October 1
Plus: OnlyFans reverses course on sexually explicit content, why Apple's new image scanning program is "dangerous," and more...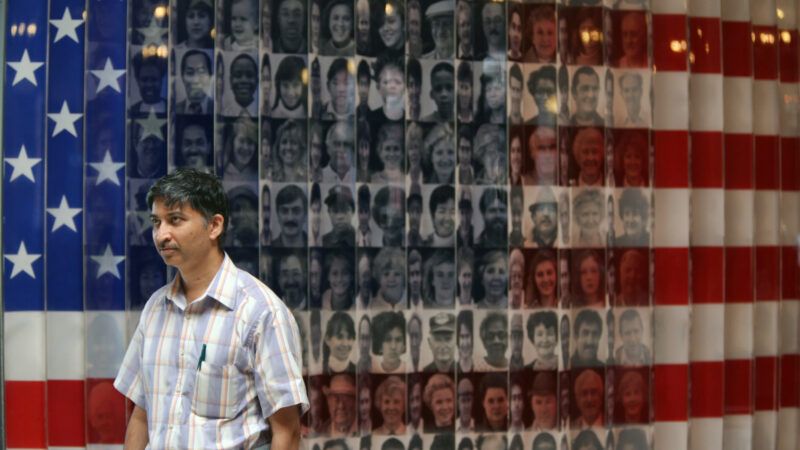 (Creative Touch Imaging Ltd/ZUMAPRESS/Newscom)
U.S. will require COVID-19 vaccines for immigrants and refugees. As of October 1, immigrant applicants for permanent resident status in the U.S. must be vaccinated against COVID-19, the Centers for Disease Control and Prevention (CDC) has announced.

"COVID-19 vaccination now meets the vaccination criteria for applicants for refugee or immigrant status," the CDC says. "All applicants who receive their medical examination from a Civil Surgeon or Panel Physician on or after October 1, 2021 will be subject to this requirement and are encouraged to complete a COVID-19 vaccine series as soon as possible."
"If the COVID-19 vaccine is a two-dose series, both doses must be documented," the agency adds.
Exceptions to this rule are included for children for whom COVID-19 vaccines are not recommended because of their age, people with health reasons for not being able to get the vaccine, and green card applicants from countries where COVID-19 vaccines are "not routinely available."
"If no COVID-19 vaccine is routinely available in the state where the Civil Surgeon practices, the 'Not routinely available' reason should be documented," the CDC website explains. "If vaccine is available to the applicant but due to limited supply, it would cause significant delay for the applicant to receive their vaccination, then this situation would also be considered 'Not routinely available.'"
Waivers will also be considered for people with religious or moral objections to receiving the vaccine. Decisions about such applicants will be made on an individual basis by U.S. Citizenship and Immigration Services (USCIS). But immigration applicants who simply refuse the vaccine without reason will be deemed inadmissible.
"In addition, all air passengers coming to the United States, including applicants for refugee or immigrant status, are required to show a negative result of viral test obtained within 3 days of departure, or documentation of recovery from COVID-19 in the past 3 months, before boarding a flight to the United States," the CDC announced.
In other immigration news, the Biden administration must reinstate former President Donald Trump's "remain in Mexico" policy:
The Supreme Court on Tuesday refused to block a ruling from a federal judge in Texas requiring the Biden administration to reinstate a Trump-era immigration program that forces asylum seekers arriving at the southwestern border to await approval in Mexico.

The court's brief unsigned order said that the administration had appeared to act arbitrarily and capriciously in rescinding the program, citing a decision last year refusing to let the Trump administration rescind the Obama-era program protecting the young immigrants known as dreamers.
---
FREE MINDS
Computer science researchers concerned about new Apple image scanning program. Apple has scoffed at criticism of its new encrypted messages scanning policy, portraying it as something only those who don't understand it could fear. But computer science experts say there's plenty of potential for danger in the new policy.
"We wrote the only peer-reviewed publication on how to build a system like Apple's — and we concluded the technology was dangerous," write Princeton University's Jonathan Mayer (a former chief technologist at the Federal Communications Commission's Enforcement Bureau) and Anunay Kulshrestha in The Washington Post. "We're not concerned because we misunderstand how Apple's system works. The problem is, we understand exactly how it works."
---
FREE MARKETS
OnlyFans is dropping a ban on sexually explicit content announced last week:
Thank you to everyone for making your voices heard.

We have secured assurances necessary to support our diverse creator community and have suspended the planned October 1 policy change.

OnlyFans stands for inclusion and we will continue to provide a home for all creators.

— OnlyFans (@OnlyFans) August 25, 2021
---
QUICK HITS
"I don't want to frighten you," COVID-19 czar Dr. Salman Zarka told the Israeli parliament. "But this is the data. Unfortunately, the numbers don't lie."

A massive surge of infections in ultra-vaxxed Israel is pointing to a complicated path ahead. https://t.co/ZVwdlLrxQL

— The Daily Beast (@thedailybeast) August 24, 2021
• Johnson & Johnson reports promising results for booster shots of its COVID-19 vaccine.
• Oregon is extending its mask mandate to outdoor spaces.
• The House has passed a voting rights law that would let the feds have a say in state voting laws. "The bill now faces a similar uphill battle this year as it moves to the Senate, where there is strong Republican opposition in the evenly divided body," ABC News notes.
• The now-grown baby on the cover of Nirvana's Nevermind is suing the band, alleging that the image is child pornography.
• Media coverage of a new report on TikTok gives the impression that the app is awash in an overwhelming amount of racist and extremist content. What it leaves out: Researchers were specifically looking for extremist content and excluded everything else.
• A lot of fired Wisconsin police officers have found law enforcement employment elsewhere. "Nearly 200 law enforcement officers currently employed in the state were fired from previous jobs in law enforcement, resigned in lieu of termination or quit before completion of an internal investigation, according to data from the Wisconsin Department of Justice obtained through an open records request," the MinnPost reports.
• "An insufficient supply of ICU beds is one of the acute crisis points of the pandemic," Reason's Eric Boehm points out. And "it's a crisis that has been made worse by outdated and ineffective government regulations—known as "Certificate of Need" (CON) laws—that actually reduce the number of available hospital beds by requiring that hospitals get permission from the state before adding capacity."
• Illinois' Alexander County lost residents faster than anywhere else in the U.S., according to Census Bureau data.
• The Chicago Police Department's dubious new investigative tool, ShotSpotter, rarely leads to evidence of gun crimes, according to a new report from the city's Office of Inspector General.
• "There was a time when [pandemic safety] rules really sucked but were easy to follow," laments Allison Benedikt at Slate. "But now, well, it's a crapshoot."
• "There's a big intra-party squabble happening between moderate and progressive Democrats in Congress right now," Peter Suderman reports.