Federal Regulations Keep COVID Patients in the Dark About Which Variant They Have
Plus: Airbnb will host 20,000 Afghan refugees, court rejects Nunes lawsuit against Liz Mair, and more..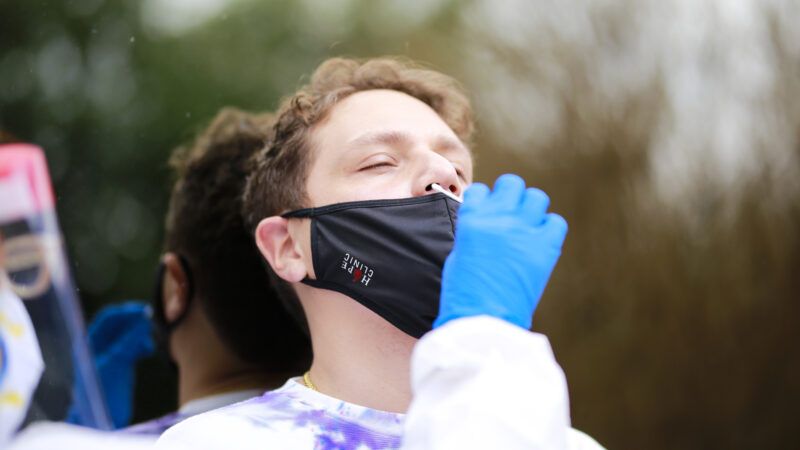 (Reginald Mathalone/ZUMAPRESS/Newscom)
It should be relatively easy for coronavirus patients who want to know what variant of COVID-19 they've been infected with to obtain that information. After all, at least 50 public laboratories in the U.S. are capable of testing COVID-19 samples to detect virus variants. But onerous federal regulations keep this health information out of reach.
"The Centers for Medicare and Medicaid Service (CMS), which oversees the regulatory process for US labs, requires genome-sequencing tests to be federally approved before their results can be disclosed to doctors or patients," notes Insider. "These are the tests that pick up on variants, but right now, there's little incentive for the labs to do the work to validate those tests."
That's because doing so is illegal without federal approval, and getting that approval is an involved, expensive, and uncertain procedure. It requires completing a validation process that would have to be newly undertaken for each new variant a lab wanted to test for. 

"The process of validating a next-generation sequencing test is burdensome," Kelly Wroblewski, the Association of Public Health Laboratories' director of infectious diseases, told Insider. "It takes a lot of time. It takes a lot of data. It takes a lot of resources. And the thing about the variants is that variants of concern and of interest are constantly changing, so you would have to do a whole validation every time you have a variant."
As a result, patients and the public are left with less information about the virus' spread—information that could be useful for preventing future infections and outbreaks. For instance, someone infected with the delta variant has more cause to alert vaccinated people they've been in contact with than does someone infected with the original strain. And knowing which variants are spreading in a given community, or spreading most quickly, could also provide key information (things like new variants gaining ground, higher transmissibility potential, if some variants seem more prevalent in certain populations, etc.) and early warning signs as we deal with this virus' mutations going forward.
Genetic sequencing of COVID-19 tests was approved by the Food and Drug Administration (FDA) in June 2020. (The FDA, CMS, and the Federal Trade Commission all have a say in genetic testing regulation.) And epidemiologists are allowed to disclose variant status in certain situations, for certain purposes. From Insider:
"The letter of the law from CMS is that if you don't go through this full validation process, you cannot release the results with patient identifying information," Wroblewki said. One major exception, she noted, is if epidemiologists need to disclose a person's variant information over the course of contact tracing.
But under the current regulatory regime, patients—and therefore their communities and the public at large—are left in the dark.
PBS warned way back in February about the problems this can create:
Federal rules around who can be told about the variant cases are so confusing that public health officials may merely know the county where a case has emerged but can't do the kind of investigation and deliver the notifications needed to slow the spread, according to Janet Hamilton, executive director of the Council of State and Territorial Epidemiologists.

"It could be associated with a person in a high-risk congregate setting or it might not be, but without patient information, we don't know what we don't know," Hamilton said. The group has asked federal officials to waive the rules. "Time is ticking."

The problem is that the tests in question for detecting variants have not been approved as a diagnostic tool either by the Food and Drug Administration or under federal rules governing university labs ― meaning that the testing being used right now for genomic sequencing is being done as high-level lab research with no communication back to patients and their doctors. …

Officials representing public health labs and epidemiologists have warned the federal government that limiting information about the variants ― in accordance with arcane regulations governing clinical labs ― could hamper efforts to investigate pressing questions about the variants.

The Association of Public Health Laboratories and the Council of State and Territorial Epidemiologists earlier this month jointly pressed federal officials to "urgently" relax certain rules that apply to clinical labs.
---
FREE MINDS
Judge rejects Rep. Devin Nunes' (R–Calif.) lawsuit over Liz Mair's tweets:
Devin Nunes' lawsuit against @LizMair is tossed. Although I don't know anything about Virginia's rules on appeals, the article suggests he'd have to give up his hunt for his great white cow (@DevinCow) in order to appeal https://t.co/WbPQpoayhk

— Adam Steinbaugh (@adamsteinbaugh) August 23, 2021
More from Reason on the Nunes lawsuits here and here. More on the new ruling here.
---
FREE MARKETS
Airbnb will subsidize housing for 20,000 Afghan refugees. CEO Brian Chesky "did not say how long refugees would be housed, or how long the company would fund their stays," CNN Business reports. But in a series of tweets early this morning, Chesky announced that the program would begin today. "The displacement and resettlement of Afghan refugees in the US and elsewhere is one of the biggest humanitarian crises of our time. We feel a responsibility to step up," he added. "If you're willing to host a refugee family, reach out and I'll connect you with the right people here to make it happen!"
To make this happen, we are working closely with https://t.co/enqjlQB0rH, NGOs, and partners orgs on the ground to support the most pressing needs.

— Brian Chesky (@bchesky) August 24, 2021
---
QUICK HITS
• The U.S. evacuated 10,400 people from Kabul in a 24-hour period spanning parts of August 22 and 23, the White House announced yesterday. It has evacuated a total of 37,000 people since August 14.
• The FDA on Monday officially approved the Pfizer COVID-19 vaccine, prompting President Joe Biden to quickly push for more vaccine mandates.
I don't understand the purpose of the White House getting involved here. Very few employers are going to make the decision about whether to require vaccination based on whether Biden asked them to, but now it's easier to paint a smart policy as "the feds forcing it on us." https://t.co/VkTCDmQwHY

— Julian Sanchez (@normative) August 23, 2021
• New York City Mayor Bill de Blasio is mandating vaccines for all public school teachers and staff. "Hours after Mr. de Blasio's announcement, Gov. Philip D. Murphy of New Jersey said that all workers at public, private and parochial schools in the state would have to be fully inoculated against the virus by Oct. 18 or be subject to testing at least once a week," The New York Times reports. "The rules also apply to all state employees and to substitute teachers, who are already in short supply, he said."
• North Carolina must restore voting rights to people on probation or parole after felony convictions, a court ruled Monday. "If Monday's ruling survives on appeal, North Carolina will be the only state in the South to automatically restore voting rights to people after they leave prison," notes Raleigh's News & Observer.
• Podcast alert:
"A stranger-than-fiction world of diet clinics and overzealous FBI agents who really like free lap dances."@cmoonreed of @LasVegasWeekly describes "High Rollers," season 2 of @campsidemedia's @ChameleonPod.https://t.co/HauTrzqh90

— Trevor Aaronson (@trevoraaronson) August 12, 2021