Cancel Culture Is Ruining Jeopardy!
The unexpectedly acrimonious search for a new host is undermining Alex Trebek's legacy.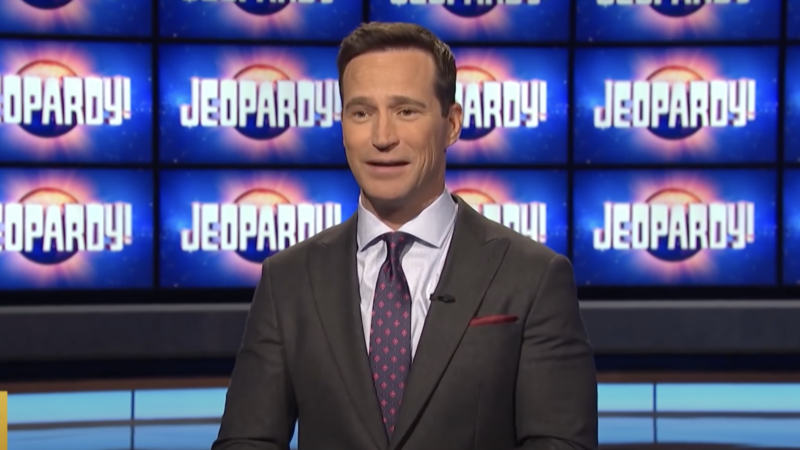 Longtime Jeopardy! host Alex Trebek was fond of saying he was not the star of television's foremost quiz program: That distinction belonged to the contestants. But following the beloved showman's death from cancer last year, a series of surprisingly divisive guest-host controversies are undermining Trebek's maxim.
For the last several weeks, Jeopardy! has felt more like a reality TV contest with the permanent hosting gig as the ultimate prize. The show cycled through a seemingly unending list of guest hosts, each of whom were granted one or two weeks' worth of episodes to prove their bona fides. The quality of these would-be replacements varied wildly: Jeopardy! all-time champion Ken Jennings gave a competent performance; Green Bay Packers quarterback Aaron Rodgers was unexpectedly delightful; TV doctor (and charlatan) Mehmet Oz should not have been given the opportunity in the first place.
But the winners were Jeopardy! executive producer Mike Richards and The Big Bang Theory's Mayim Bialik. The latter was selected to host special tournaments, while the former would host the show on a daily basis.
This outcome did not sit well with some members of the media and Jeopardy!'s fan community, however, so cancel culture did its thing. Last week, following the publication of a hit piece in The Ringer accusing him of all the usual moral failings—chief among them, derisive comments he made on his podcast—Richards abruptly resigned. Bialik is filling in for the meantime, but she, too, has faced attempted cancellation, namely for being a self-described "liberal Zionist" who believes that both Israel and Palestine deserve to be "autonomous, free, and safe" nations.
For many longtime fans—myself among them—this turn of events is embarrassing and insulting to Trebek's memory. The studio* certainly deserves some of the blame here: The network could have simply passed the torch to Jennings, who understands the game better than anyone else on earth and was reportedly Trebek's top choice to succeed him, without forcing him to endure this gauntlet. It also appears to be the case that Richards participated in the search process from behind the scenes as executive producer, which made the whole thing look rigged when he was chosen. These were self-inflicted wounds.
But social media's venomous reaction to Richards' casting lacked any sense of proportion, with many people apoplectic at the idea that a generic-looking white person had beaten out prospective hosts of color like former Reading Rainbow host LeVar Burton, Twitter's runaway favorite choice. The Ringer threw everything it had at Richards, frequently quoting anonymous former colleagues at Jeopardy! and The Price is Right, where Richards worked as a producer, who found him to be an abrasive and conniving self-promoter. The article mixes fair criticisms, like Richards internally maneuvering himself into contention, Dick Cheney style, with low blows—the offensive podcast comments—and unverifiable gossip.
Barely acknowledged in the article, or by the online critics, is the fact that Richards was undeniably compelling in the role. He read the clues with skill, rarely stumbling, and he inserted just the right amount of quick, additional commentary. That was Trebek's talent: finding the correct rhythm, and only pausing to interject a short remark when the situation really called for it. It's a skill that Bialik also has in spades, which is why the network's eventual selections aren't actually that surprising. Richards and Bialik were the two guest hosts who really nailed it, so they won.
Yes, it's largely a matter of personal preference. Burton and Katie Couric were both a bit stiff for my tastes; Anderson Cooper clearly knew what he was doing; Rodgers, as I previously mentioned, really shined in a star-athlete-is-also-smart kind of way.
But this acrimonious process has really undermined Trebek's legacy. Trebek's Jeopardy! was a serious intellectual contest first and a game show second. It was nonpartisan, and did not change with the tides of public opinion. As I wrote in Reason's February issue: "The show mercifully avoided the relentless politicization that has wormed its way into so many facets of modern entertainment. Jeopardy! is something that Trump-loving grandparents and liberal Gen Zers can enjoy together with nary a feud. Whoever takes over for Trebek should endeavor to keep it that way."
At present, the forces of cancel culture are getting in the way of this noble purpose. Note that Richards and Bialik are not the only ones to face unfair scrutiny for past comments; Jennings, a progressive Democrat, has drawn criticism from conservatives for unfavorable remarks he made about Republicans. Jennings apologized for the tone of those comments, and that ought to be enough. If everyone who ever said something they now regret is disqualified from hosting Jeopardy!, then the network might as well give the job to Watson.
Correction: Jeopardy! is distributed by CBS Media Ventures and produced by Sony Pictures Television.