The Chair Makes Comedy Out of College's Absurd Status Quo
Sandra Oh leads Netflix's satire on the state of academia today.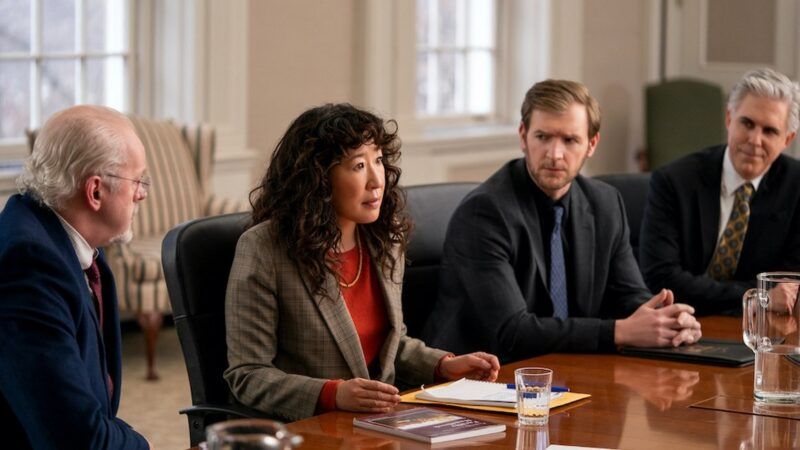 The Chair. Available now on Netflix.
Henry Kissinger once said that academic politics are so vicious because the stakes are so small. (Kissinger being Kissinger, naturally he stole the line from somebody else.) That, alas, was before modern cancel-culture got academia by the throat. There's nothing trivial about the professional fires blazing through Netflix's uproarious but terrifying campus comedy The Chair.
Sandra Oh stars as Ji-Yoon Kim, the new chairman of the English department at Pembroke University, a small school at the lower end of the Ivy League gene pool. Even before the chair at her desk collapses—literally, symbolically and hilariously; slapstick physical comedy is a staple of the show—she realizes she's inherited a mess. Enrollment is shrinking, budgets are being gutted and her department's racial demographics defy the laws of wokeness: 87 percent of the professors are white, and way too many of them have penises. "I feel like someone handed me a ticking time bomb," broods Kim, "because they wanted to make sure a woman was holding it when it explodes."
It doesn't take long for tick-tick to go boom-boom. As Kim conducts her first departmental meeting, one professor is delayed while he drinks himself senseless in an airport bar, loses his car and pees on somebody else's, then steals and wrecks a security officer's golf cart. It's all part of a downhill slalom of drunkenness and absenteeism for one-time department star Bill Dobson (Jay Duplass, Transparent), who's been systematically demolishing his life since his wife died a year ago.
To make matters worse—a phrase that can be used about every 90 seconds in The Chair—Bill is the long-time best friend and maybe almost-boyfriend of Kim, which leaves her open to charges of favoritism, especially when he actually shows up to one of his classes and, while trying to make a point about absurdism as a response to 20th-century fascism, jokingly flashes a Nazi salute.
Choose your post-modernist buzz words: Cell phone. Viral. Triggered. Soon the quad echoes with chants of "Professor Hitler must go!" Bill protests that he's not a Nazi, but on modern college campuses, that's not the point; he joked about Nazis, an arrogant flaunting of white male privilege and a violation of the vague but iron-clad principle of safe spaces for tiny minds. With blood-curdling speed, his disciplinary hearing turns career-threatening.
Bill is the most deadly of Kim's personnel problems, but hardly the only one. She's under pressure from administrators to force retirements of several elderly professors with high salaries and low enrollments. They include windy Chaucer scholar Joan Hambling (Holland Taylor, Two and a Half Men), who teaches to mostly empty classrooms and hasn't read a student evaluation of her course since Ronald Reagan was president.
When Kim gently persuades her that doing so might enable her make her classes a little more popular, the results are disastrous: The first evaluation says only "KILL ME NOW," and the second is a dismissal of Chaucer so brutal that Hambling tracks the kid down to the campus library to furiously defend the readability of The Canterbury Tales, including a vignette in which "some poor schmuck asked a woman for a kiss and ends up making out with her butthole."
Then there's Melville specialist Elliot Rentz (Bob Balaban, Wormwood), even more bereft of students than Hambling. (Among his failings in the eyes of his students is his refusal to acknowledge that Melville's literary merits were nullified by reports of his wife-beating.) Kim tries to make his numbers look better by folding his class in with that of a popular young black professor, but the arrangement collapses almost immediately when Rentz discovers one of her teaching techniques is encouraging her students to tweet their favorite lines from Moby-Dick. (Most popular: "Call me Ishmael." I'm sure it's only coincidence it's the first sentence of the novel.) Worse yet: a rap lampoon of the lack of women in the crew of the 19th-century whaling ship on which the novel is set. "Low-hanging fruit," sneers Rentz, as dismissive of the technology itself as he is of the teaching technique.
In many ways, The Chair is a chronicle of the last stand of the baby boomer academics who took over campuses in the 1970s. Written by actress Amanda Peet (Studio 60 on the Sunset Strip) and Harvard doctoral candidate Annie Wyman, the scripts are blackly funny, extraordinarily insightful and nuttily outside the box. There's a bonkers appearance by David Duchovny as himself, offered a teaching slot by a smitten trustee. And he's outdone by 7-year-old newcomer Everly Carganilla as Kim's adopted Hispanic daughter JuJu, whose behavior (asking to see the vaginas of strangers, among other things) is the terror of the town babysitters.
Carganilla's blasé exposition of juvenile sociopathology may even be the finest performance of the whole cast, which is saying something: Oh, Duplass, Taylor and Balaban all are outstanding as they bounce from pratfalls to Chaucer jokes to poignant meditations on adult diapers and other detritus of old age. College, when I was there, wasn't nearly this funny.