It Sure Looks Like Democrats Are Going To Retain Control of the House
It's been a good night for incumbents.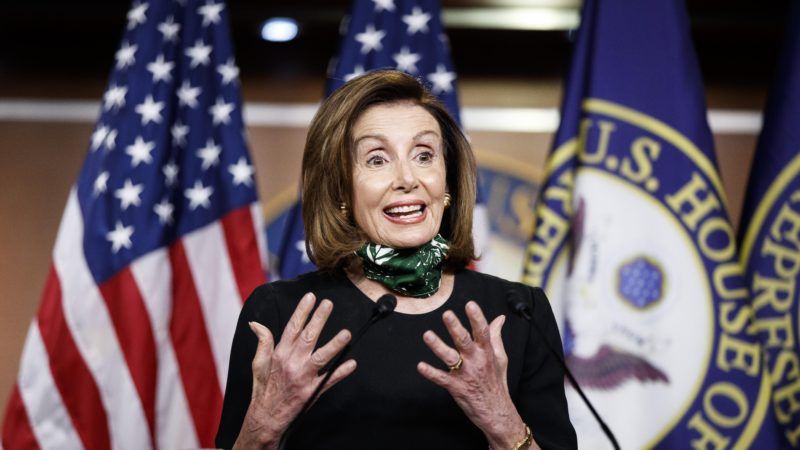 (Chine Nouvelle/Sipa/Newscom)
The balance of power in the U.S. House of Representatives will remain unchanged, but the incoming class of congressmen will include some interesting characters.
It appears increasingly likely that Democrats, as expected, will keep control of Congress and potentially even add to their 35-seat House lead. According to the New York Times results tracker, Democrats and Republicans have both managed to flip two House seats so far.
Former state Rep. Deborah Ross, a Democrat, took the open seat in North Carolina's 2nd Congressional District, which was previously held by retiring Rep. George Holding (R–N.C.). Democrat Kathy Manning also reclaimed North Carolina's 6th Congressional District from the Republicans. The boundaries of both districts were the subject of court-mandated redistricting.
Republicans have, meanwhile, managed to capture two seats in southern Florida. Miami-Dade County Mayor Carlos Gimenez, a Republican, knocked off incumbent Rep. Debbie Mucarsel-Powell (D–Fla.) in the 26th Congressional District. The Associated Press is also reporting that former television anchor Maria Elvira Salazar defeated Democratic incumbent Rep. Donna Shahala.
It's been a good night for young candidates too. Rep. Alexandria Ocasio-Cortez (D–N.Y.) easily retained her seat. Madison Crawford, the 25-year-old Republican candidate in North Carolina's 11th Congressional District, also coasted to victory.
As of 12 a.m. Eastern Time, The New York Times shows Republicans as having won 145 seats, compared to Democrats' 127.
Business owner Marjorie Taylor Greene gained notoriety for her past endorsements of the QAnon conspiracy theory as well as her Islamophobic comments. Tonight, she won more than 80 percent of the vote for the open House seat in northwest Georgia. The district leans heavily Republican, so her victory was all but a sure thing.
Elsewhere, more mainstream incumbents scored easy reelections. That includes Reps. Dan Crenshaw (R–Texas) and Joaquin Castro (D–Texas), the twin brother of former Democratic presidential candidate Julian Castro.
Ultra-hawk Rep. Liz Cheney (R–Wy.), daughter of former Vice President Dick Cheney, was easily reelected Wyoming's only U.S. representative.
Libertarian-leaning Rep. Thomas Massie (R–Ky.) is also returning to Congress. The Associated Press declared Massie the victor in his safe GOP district at little before 8 p.m. Eastern. ABC reports him earning about 65 percent of the vote against Democratic challenger Alexandra Owensby.
Other gadfly Republican candidates have performed less well. Far-right internet personality and Islamaphobe Laura Loomer was crushed in her attempt to unseat Rep. Lois Frankel (D–Fla.) in her deep blue South Florida district.
Making tonight's results more interesting is the possibility that the House will be called on to break an Electoral College tie in the presidential election. If that happens, Democrats' majority might not be enough to secure victory in that race.
The U.S. Constitution requires each state's House delegation vote as one unit when breaking up an Electoral College tie. Republicans control 26 state delegations compared to Democrats 22, according to the New York Times, with neither party having a majority in Pennsylvania or Michigan.
With final vote tallies still days or even weeks away, it's anyone's guess how it all shakes out.
This post will be updated regularly throughout the evening.