This Week in Policing Reform: Hawaii Lifts Police Secrecy, Civilian Oversight Boards Make Ballots in Miami and Philadelphia
And Sen. Tim Scott (R–S.C.) says policing reform in Congress might not be dead after all.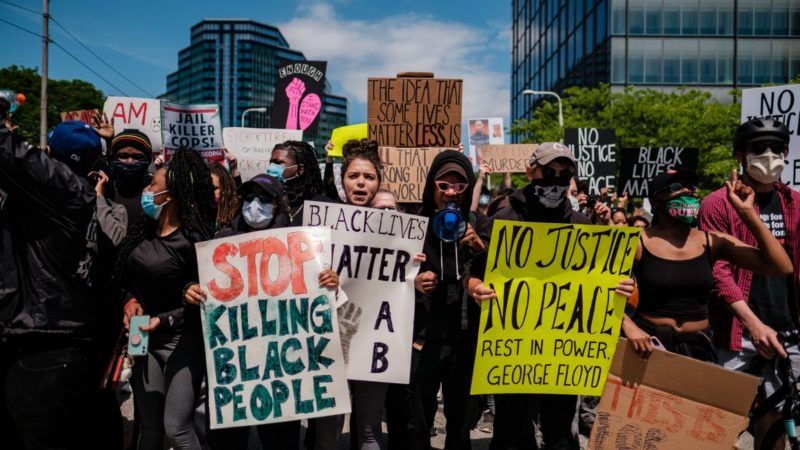 (Andrew Dolph/ZUMA Press/Newscom)
It's been another busy week for policing reform around the country. While legislation remains moribund in Congress, local and state governments around the country have continued to press forward with bills and proposals addressing police use of excessive force, civilian oversight and transparency, body cameras, and police in schools.
Congress
Sen. Tim Scott (R–S.C.)

told reporters

on Wednesday that he is still talking with Democrats about a possible compromise to revive stalled police reform legislation in Congress. "Folks who are now calling me about the legislation from the other side suggest that perhaps it's not dead," Scott said. "We may have a Lazarus moment, we may not."

Scott, the only black GOP senator, talked more about his police reform bill and why ending qualified immunity is a non-starter for Republicans in an

interview

with Vox's Jane Coaston this week.

A coalition of Black Lives Matter groups

released proposed legislation

, titled the BREATHE Act. The

proposals

are more radical than any current police reform legislation in Congress by several orders of magnitude: The act would close all federal prisons and immigration detention centers, abolish Immigration and Customs Enforcement and the Drug Enforcement Administration, abolish mandatory minimums and life sentences, end civil asset forfeiture, decriminalize drugs, and retroactively expunge drug offenses. And that's just for starters. It has not been introduced in Congress, although Reps. Rashida Tlaib (D–Mich.) and Ayanna Pressley (D–Mass.) said they support it.
State Reform Packages
The Massachusetts Senate

introduced a police reform package

that would, among other things, create a statutory duty to intervene when other officers use excessive force. It would also ban chokeholds and forbid police from using no-knock warrants, firing tear gas or rubber bullets at crowds, or shoot at a moving vehicle unless the use of force can be justified by "prevention of imminent harm"

Hawaii's legislature

passed a bill

Monday that will make suspensions and firings of police officers public record. The names of suspended officers are currently confidential under a 25-year-old law. The bill would also allow the state's law enforcement standards board to revoke certifications.

The Pennsylvania legislature

sent two bills

to Gov. Tom Wolf's desk, where they're awaiting signature. One will create a statewide database of disciplinary actions and personnel records of police officers, and require departments to consult the database when considering potential hires. That database will not be public. The other bill will require implicit bias and de-escalation training for local police officers.
Use of Force
Civilian Oversight
Body Cameras
New Mexico

will require

that all state and local law enforcement officers wear body cameras.

Tacoma, Washington,

will roll out

police body cameras in early 2021.

Manchester, Connecticut, is

considering

a body camera program.
School Resource Officers
The Phoenix Union High School District

will not renew

its annual agreement with the city for school resource officers.

Columbus, Ohio, has

disbanded

its school resource officer program.

The Los Angeles Unified School District cut its budget for school police by $25 million—33 percent—leading the school police chief to

resign

.