Is Quibi the Next Revolution In Small Screen Streaming Video? 
The new service was built for a world that no longer exists. Yet it may still end up being relevant to the one we now inhabit.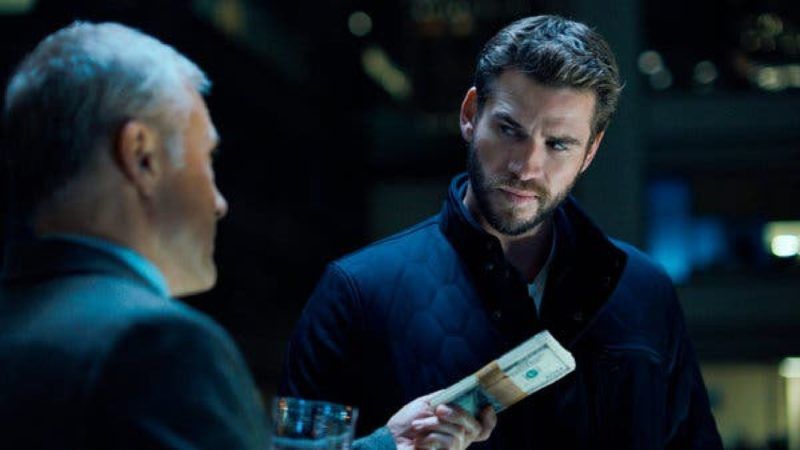 (Most Dangerous Game/via Quibi)
With Quibi, television has finally come to the smallest screen.
It has long been possible, of course, to watch Netflix, Hulu, HBO, or any other streaming video service on your phone. But the movies and shows on those platforms were designed with lavish widescreen visuals and enveloping surround sound. Some of Netflix's original films—including several made by marquee Hollywood directors—actually debuted in movie theaters (remember those?). But even more modest, traditionally TV-like projects were designed with a certain viewing experience in mind: the comfort of a couch, an hour or two—if not more—of your time, and the scale of a large flat-panel television. It was an evolution of television as we've always known it, not a revolution. 
Quibi, a pay-to-watch streaming video service that debuted this week, was built with a different vision of the viewing experience. The name was derived from the words "quick bites" and that's what it serves: Episodes are capped at 10 minutes long, with some running as little as five. Quibi's "movies" are divided into short chapters, each of which ends in what's supposed to be a cliffhanger. The service launched with 25 original series and has more than 100 in the works. New episodes are released every day, encouraging frequent logins. 
The content is viewable exclusively on phones and tablets; without jury-rigging, you couldn't watch it on a bigger screen even if you wanted to. Somewhat intriguingly, the visuals switch seamlessly between vertical and horizontal screen orientations: Unlike YouTube, Quibi doesn't judge you for how you hold your phone. 
Quibi, in other words, was built for a world of mobility and distraction. It was designed to fill the minute gaps in your time, to occupy your attention during your commute, your workout, the few minutes between class or a meeting, or while standing in line for lunch. It's a snackable, carry-in-your-pocket service for all those moments when you want to consume competently produced video content, but Netflix seems like too big a commitment.
Which is to say, Quibi was built for a world that no longer exists. Yet it may still end up being relevant to the one we now inhabit.
I say may, because, as of now, Quibi still feels like a curiosity. Although it launched with 25 shows, a mix of scripted comedy, drama, and reality programming, none of the series I viewed feel particularly essential. 
Take Most Dangerous Game, originally planned as a traditional feature, and arguably the most cinematic of the bunch. It stars a restrained Christoph Waltz and one of the hunkier Hemsworths (Liam, apparently, but honestly who can tell?) in a by-the-numbers update of the classic, often-adapted Richard Connell story about humans hunting humans. The story most recently served as the source material for The Hunt, a gory, energetic satire of cancel culture with just enough low wit to keep it amusing. Most Dangerous Game is a little like a bite-sized version of The Hunt, but without the gore, energy, wit, or amusement. 
Other programs include When the Streetlights Go On, a gloomy suburban crime drama set in the mid-'90s, Survive, a bleak drama about a teenager lost in the wilderness after a plane crash, and at least two shows whose concepts include house renovations: Flipped, a spastic comedy about a pair of self-absorbed wannabe TV design gurus who end up getting involved with drug cartels, and Murder House Flip, a true-crime show about renovating homes where famous murders were committed. Again, those looking for gore, energy, wit, or anything resembling amusement will still probably be best off looking elsewhere. (Admittedly, I didn't watch Chrissy's Court, a Judge Judy-esque courtroom show where legally binding decisions about arguments made by idiots are delivered by Chrissy Teigen, which, if nothing else, seems like a recipe for spilled blood.)
By and large, the debut shows on Quibi are bland exercises in TV-genre box-checking: YA crime and celebrity court, funny house flipping and, well, murder house flipping. They aren't visually distinctive or engrossing the way even middling Netflix or HBO series are. I didn't watch every episode of every series on launch day, but from what I saw, there was little that stood out, and not a single series that felt like it truly needed to be watched. 
But maybe that's the point: From comic books to dime-store pulp novels, popular storytellers have long found success in cheap, disposable, rapidly produced entertainments that were easy to carry and easy to discard. Most have been forgotten, but a few have become classics, and those formats, with their high volume and broad accessibility, became testing grounds for the templates that now serve as our most popular forms of narrative entertainment. A TV series, or a movie, doesn't have to be high art to be worthwhile, especially when it barely asks for more time than it takes to microwave a Hot Pocket. Sometimes there's value in being inessential. 
And sometimes the format itself is what stands out. Recently, there's been a boom in new streaming video services, but for the most part, they're all working from the same basic playbook: A back catalog of familiar older works, supplemented by high-profile new programming, nearly all of which fits squarely into traditional TV-episode and feature-film formats. It's a combination of cable television and video store, delivered via app. 
Quibi feels different. It is different. It's video built not only for phones, but for the demographic that already uses those phones for nearly everything: a younger, mobile-native audience that was probably going to be staring at a pocket-sized screen anyway. They don't need to live in a world of actual mobility; they live on their phones already. It's true that the pandemic lockdowns have shut down many of Quibi's more obvious mobile use-cases, from commutes on public transit, to breaks between classes, to almost any scenario where you might want to watch video on the go. But the lockdowns have also coincided with a rapid increase in smartphone usage. People are watching tiny screens more than ever. 
In some ways, then, Quibi's true competitors aren't Netflix and Hulu, but TikTok and YouTube, which provide a near-infinite amount of free-to-watch content, virtually all of which is somehow even less essential than anything starring a Hemsworth. And yet the formats themselves, and the opportunities for rapid experimentation they afford, have made them essential in their own ways. The smallest screen is its own revolution.