1619 Project Fact-Checker Says The New York Times Ignored Her Objections
A history professor disputed some of Nikole Hannah-Jones's claims about slavery and the American Revolution.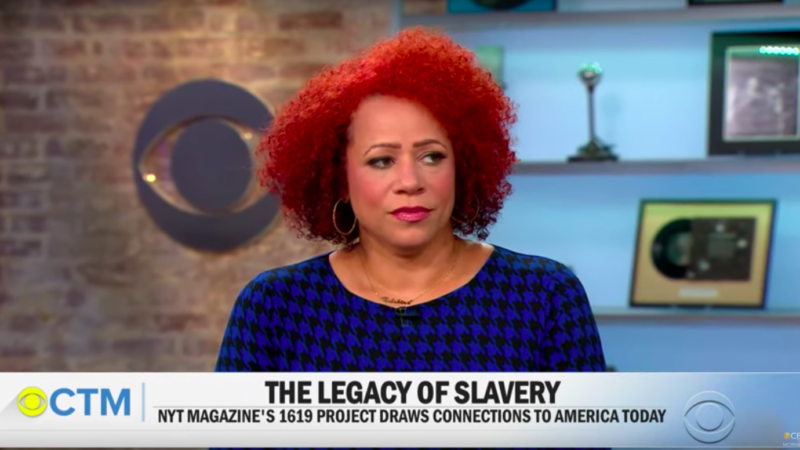 (Screenshot via CBS / Youtube)
Leslie Harris is a Northwestern University historian who helped fact-check the 1619 Project, The New York Times's recent package of articles that recast chattel slavery as a foundational aspect of America. The project has been praised for drawing attention to underscrutinized racial inequities throughout American history. But has also attracted criticism from historians who say that some of the project's claims are false. Harris is one of those critics—but when she raised her objections with Nikole Hannah-Jones, the Times reporter who spearheaded the 1619 Project, she received no response.
"On August 19 of last year I listened in stunned silence as Nikole Hannah-Jones, a reporter for the New York Times, repeated an idea that I had vigorously argued against," writes Harris in Politico.
When a fact-checker asked Harris to verify some of the project's statements, Harris "vigorously disputed" the claim that protecting the institution of slavery was a major reason the American colonies rebelled against British rule:
Far from being fought to preserve slavery, the Revolutionary War became a primary disrupter of slavery in the North American Colonies. Lord Dunmore's Proclamation, a British military strategy designed to unsettle the Southern Colonies by inviting enslaved people to flee to British lines, propelled hundreds of enslaved people off plantations and turned some Southerners to the patriot side. It also led most of the 13 Colonies to arm and employ free and enslaved black people, with the promise of freedom to those who served in their armies. While neither side fully kept its promises, thousands of enslaved people were freed as a result of these policies….

Despite my advice, the Times published the incorrect statement about the American Revolution anyway, in Hannah-Jones' introductory essay. In addition, the paper's characterizations of slavery in early America reflected laws and practices more common in the antebellum era than in Colonial times, and did not accurately illustrate the varied experiences of the first generation of enslaved people that arrived in Virginia in 1619.
Hannah-Jones has tended to be extremely dismissive of the project's critics, who include The Atlantic's Conor Friedersdorf and the American Institute for Economic Research's Phil Magness. Perhaps she will have a more difficult time discounting criticism from a historian whose expertise her project drew on.
In any case, these ongoing issues with the project's accuracy are a good argument against school districts' swift mandates that it be taught in seventh-grade history classrooms.