U.S., China Agree to 'Phase One' Trade Deal, but Most Tariffs Will Remain in Effect
This deal offers minimal relief for Americans, and it doesn't seem to address the thorniest issues between the two countries.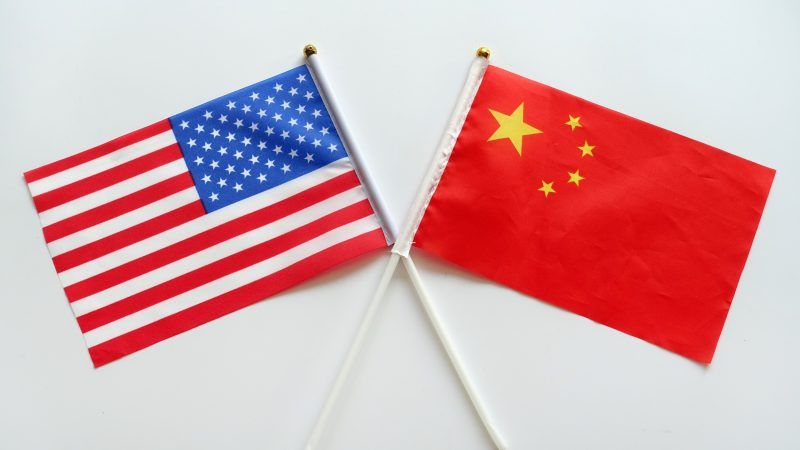 The White House announced today that it has struck a trade deal with China. If you think that means the United States has won the trade war, Ron Vara has $50 billion in soybeans to sell you.
Vara, of course, is not a real person. He's the fictional stock broker, military vet, and Harvard alum who is presented as an expert on China in a series of books written by Peter Navarro, one of President Donald Trump's top trade advisers. The fact that one of the president's advisers invented a fake expert would be a big deal in a normal times, but these days we are so far past normal that the White House circulated a memo written by "Ron Vara" to members of Congress this week, urging them to support more tariffs on Chinese imports.
So when that same White House says it has struck a trade deal with China, a little skepticism is probably in order.
That's not to suggest that the announcement is bad news. The Office of the U.S. Trade Representative said today that a new round of 15 percent tariffs scheduled to take effect on Sunday will be canceled. The U.S. will also reduce some existing tariffs. Specifically, the 15 percent tariffs imposed on some Chinese imports in September will be cut to 7.5 percent. The 25 percent tariffs on about $250 billion of Chinese imports (about half of all goods imported from China) will remain in place.
In a statement, U.S. Trade Representative Robert Lighthizer said the "Phase One" deal "achieves meaningful, fully-enforceable structural changes and begins re-balancing the U.S.-China trade relationship." The deal includes what Lighthizer calls "a strong dispute resolution system" for intellectual property issues, and it is supposed to set the stage for a more detailed trade deal to be worked out next year.
All of that sounds pretty good. As I wrote on Monday, there is little reason for Trump to go through with the planned tariff increase—a new 15 percent import tax on consumer electronics, toys, and various other items. That would make it more difficult to strike a deal, and it would overwhelmingly harm American businesses and consumers rather than China. Backing off from those threats and agreeing to scale back some other tariffs is exactly the kind of concession the U.S. should be willing to make in a trade negotiation.
And yet this deal offers minimal relief for Americans, who after all are paying the cost of the tariffs. The 25 percent tariffs, imposed mostly on industrial goods and raw materials, will continue to hammer American manufacturers and small businesses.
One major question mark is China's supposed promise to purchase $50 billion in American agricultural goods—a promise that Fox News' Edward Lawrence reports "will not be in writing." The Office of the U.S. Trade Representative is refusing to say exactly how much China has agreed to buy.
Because why spend months negotiating a trade deal and then not put crucial details in writing, right?
But even if China has agreed to do exactly that—and here we will pause for a moment to note that Chinese officials have been careful to avoid committing to those targets—the numbers can't possibly be accurate.
As Karen Braun, an agriculture and trade columnist for Reuters, details in a series of tweets, it's difficult to imagine China purchasing $50 billion in American agricultural goods in a single year. The record value for all American farm exports to China in a single year is about $26 billion, set in 2012. If you include fish and forestry products, that record total rises to $29 billion.
In fact, China could buy all American exports of corn, soybeans, wheat, and pork—meaning that American farms would not sell any of those goods to residents of any other country in the world—and you'd only barely exceed $50 billion a year.
And because I am a data freak, I pulled the max values by year and added them together. That yields $56.4 billion.

By commodity:#Corn $13.7B (2011)#Soybeans $24.8B (2012)#Wheat $11.3B (2008)#Pork $6.65B (2014)

Notice none of them were in the same year.

— Karen Braun (@kannbwx) December 12, 2019
When can we expect to see the details of the deal that was supposedly inked on Thursday? Don't hold your breath. Lawrence reports that China has "requested that the language of the [deal] never be made public" and that Phase Two of the deal won't be negotiated until after the 2020 election.
That's mighty convenient, isn't it? Trump will get to spend the next several months claiming he successfully stood up to China and won the trade war, by getting the Chinese to agree to a deal that no one else is allowed to see.
Think of it as Ron Vara's Canadian girlfriend.
All this might be clever politics, but it's certainly not a full-fledged trade deal—which must be approved by Congress, and therefore must be both written down and made public—or proof that Trump's trade war has been a success.
This Phase One agreement seems to be, at best, a face-saving way to back off from imposing costly new tariffs, and a way to punt the thorniest parts of the China trade dispute until after the next election. It comes with only modest tariff relief for U.S. consumers, doesn't undo the worst losses of the trade war, and contains likely overblown promises about China's ability to buy more American farm goods. But don't be surprised if Trump acts like it's a major victory.