Richard Jewell Shows What a Conservative Hollywood Would Look Like 
Clint Eastwood's masterful true-life drama about a wrongly accused American hero doubles as an awkward brief for Trump.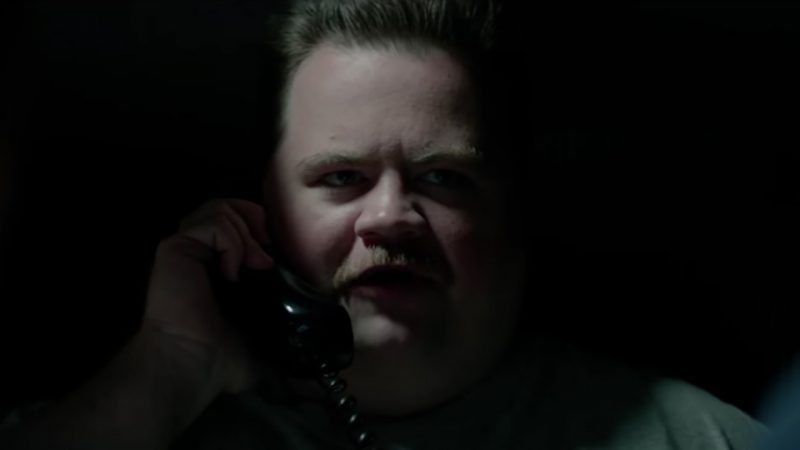 I am not entirely sure whether Richard Jewell is a great movie—probably it is—but I am certain that it is a fascinating cultural document. For in addition to telling a startling true story, it acts as a feature-length thought experiment into the question: What would Hollywood look like if it were stridently, self-righteously conservative instead of comparably liberal? 
Directed by Clint Eastwood from a screenplay by Billy Ray, Richard Jewell tells the true story of the title character, a socially awkward security guard whose swift and decisive actions amidst a bombing at the 1996 Olympics probably saved dozens or even hundreds of lives. Yet instead of being hailed as a hero, Jewell was subjected to a brutal, manipulative FBI investigation and an onslaught of callous media coverage, simply because he fit a demographic profile.  
Judged strictly on its cinematic merits, Jewell is a masterclass in understated craftsmanship. Eastwood coaxes top-notch, empathetic performances from his leads, especially Paul Walter Hauser in the title role. And the screenplay by Ray, who has previously chronicled both media and law enforcement failures in Shattered Glass and Breach, acts as a guided tour of the journalistic and law enforcement failures that led to Jewell becoming a federal target and publicly humiliated as a person of interest. It is tense, terse, startling, and, for the most part, incredibly effective. 
But Eastwood, one of Hollywood's most prominent non-liberal filmmakers, has more in mind than simply telling Jewell's personal story. Instead, he uses him as an example, a case study in the failure of a broad cross-section of elite institutions that resulted in the unwarranted and counterproductive harassment of someone who had performed an immense public service. 
The first of those institutions is academia. Jewell was once fired from a security job at a local college for misbehavior, and the FBI's investigation kicks off when an administrator reports him as suspicious. The second is the media, which rushed to report that Jewell was a person of interest, and which, in some cases, exaggerated the strength of law enforcement's case against Jewell. (NBC's Tom Brokaw is shown confidently saying: "The speculation is that the FBI is close to making the case. They probably have enough to arrest him right now, probably enough to prosecute him, but you always want to have enough to convict him as well.") 
The final culprit is law enforcement itself, which the movie shows inappropriately sharing Jewell's name with a reporter for the local Atlanta paper (the paper has contested the movie's version of this particular event) and engaging in a series of deceptive tactics in hopes of playing on Jewell's earnest naivete and essential trust in authority. 
Even more than the sections dealing with the media, the sequences involving law enforcement are among the movie's most damning, as they show the FBI subjecting Jewell to an intense and humiliating investigation, often under misleading pretenses, based on no substantive evidence against him—and then concocting ever-more-implausible theories to explain his guilt when the facts don't prove their suspicions. 
Some of the focus on Jewell comes from a genuinely checkered past: He was fired from a job as a sheriff's deputy, and we see him abusing his power with a couple of drunken college students. But some of it comes from the way in which he fit a cultural and demographic profile, as an uncultured, unsophisticated, overweight white man who collected guns, adored police, and lived with his mother. Jewell, the movie suggests, was a victim of elite snobbery, which misjudged him not only as a rube, but as a grave danger. 
You can see where this is going. In the opening stretch of the movie, we hear Jewell say "you can't have a country" without law and order and see his down-and-out lawyer, Watson Bryant (a feisty, deceptively brilliant Sam Rockwell), sitting in front of a bumper sticker that says "I fear government more than I fear terrorism." There's even a brief discussion of the phrase "quid pro quo." By the end of the movie, Jewell and Bryant are having extended discussions in front of a prominently framed Georgia flag, which at the time incorporated the Confederate battle flag into its design. The contemporary political parallels aren't exactly subtle. 
Donald Trump's name is never uttered in Richard Jewell, but his presence looms over the movie, and at times it plays as much as an implicit defense of him—another uncouth outsider mocked, dismissed, and vilified by the elite trio of media, academia, and federal law enforcement—as a true story about a wrongly suspected security guard. 
As a movie about Trump and today's political climate, I'm not sure it entirely succeeds, if only because the facts about Jewell are so clear cut and the debates about Trump are not. But as a movie about Richard Jewell, the individual, and the ways that he was treated with systematic unfairness by America's elite cultural and legal institutions, it's a marvel of empathy, clarity, and righteous indignation. That the movie seems to want viewers to transfer these feelings onto today's political landscape is somehow both beside the point and impossible to ignore. 
Which is to say that Richard Jewell presents an unusual version of Hollywood politics in negative, one in which the filmmaking and storytelling are undeniably excellent even as the filmmaker's political views are embedded in ways that both distract from the underlying film and provide its reason for being. The movie's politics are so thoroughly integrated into its narrative and its assumptions about the world that they are in some sense inseparable from the quality of the filmmaking itself. This is not just a movie that tells an essentially conservative story; it's a movie that tells its story from an essentially (if idiosyncratically) right of center perspective—and that probably wouldn't exist without it. 
So to watch Richard Jewell as a liberal, I imagine, is something like what watching movies as a non-liberal is like so much of the time—bringing a similar blend of pleasure and frustration, irritation and engagement, enlightenment and outrage. If nothing else, then, Eastwood has done what only the best filmmakers manage to do, and made a movie that truly helps viewers see through another person's eyes.