Devin Nunes Supports Secret Surveillance of Americans, Finds Himself Under Surveillance
Nunes attacked those who wanted to restrain NSA's snooping. Clearly he never considered whether his call records would be exposed.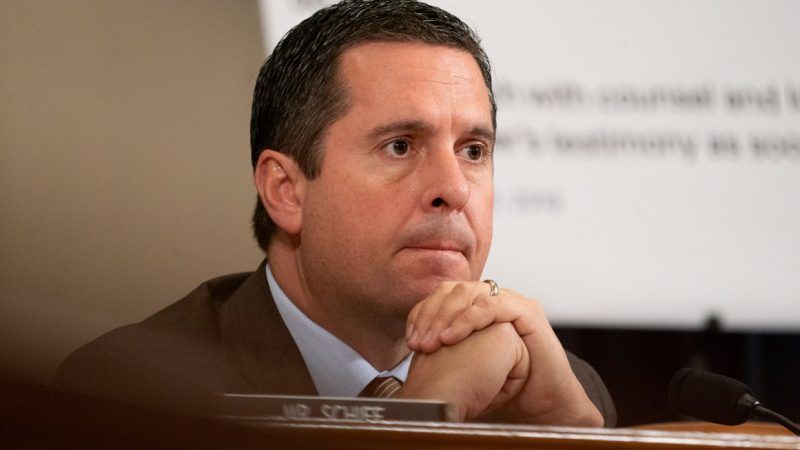 (Jeff Malet Photography/Newscom)
The call records are coming home to roost for Rep. Devin Nunes (R–Calif.).
Before he became a stalwart defender of President Donald Trump, Nunes consistently fought any and all efforts to restrain the authority of the National Security Agency (NSA) to secretly, warrantlessly collect Americans' call records and metadata. He wasn't quiet about this support for domestic surveillance. When Rep. Justin Amash of Michigan (then a Republican, now an independent) tried to restrain the feds' ability to access American call records, Nunes didn't just vote against Amash's legislation; he attacked Amash loudly and publicly. In 2014, one of Amash's efforts prompted Nunes to call the congressman "Al Qaeda's best friend in the Congress." Nunes even donated $5,000 to Amash's primary opponent.
Now this surveillance apparatus that Nunes has long supported has happily provided his political opponents with information that could destroy his career. The House Permanent Select Committee on Intelligence (which Nunes used to chair, and where he is now the ranking minority member) just published its impeachment report. It shows calls between Nunes and Rudy Giuliani in 2016, as Giuliani was making the media rounds arguing that Ukrainian officials colluded to help Hillary Clinton's presidential campaign. This information will most certainly be used to argue that Nunes is not just a defender of Trump but also an active participant in Giuliani's Ukrainian push.
Nunes isn't happy about that. Last night he tweeted a Washington Examiner piece in which Minority Whip Steve Scalise (R–La.) accuses Intelligence Committee Chair Adam Schiff (D–Calif.) of "spying" on Nunes and asks, "Are there other members of Congress that he is spying on, and what justification does he have? He needs to be held accountable and explain what he's doing, going after journalists, going after members of Congress, instead of doing his job."
But there's no reason to assume that Schiff was specifically targeting Nunes, and it's unlikely that any laws were broken here. Nunes' name and calls came up in the metadata of the impeachment's investigation targets. What is happening to the California congressman right now is an easily foreseeable consequences of the surveillance system Nunes supports.
Scalise should know full well how Schiff is getting this information. He, like Nunes, has supported expanding the NSA's authority to snoop on Americans. Whenever attempts to expand this power has been brought up for a vote, Scalise has been happy to vote yes. In 2018, as House whip, Scalise circulated an email to GOP members with text from Nunes encouraging them to vote against an Amash attempt to provide stronger privacy protections for Americans.
Maybe next time Amash or somebody else in Congress brings forward a bill protecting Americans from secret unwarranted data collection, Nunes and Scalise might consider supporting it.