Judge Puts Plans to Restart Federal Executions on Hold
The first death was scheduled for December.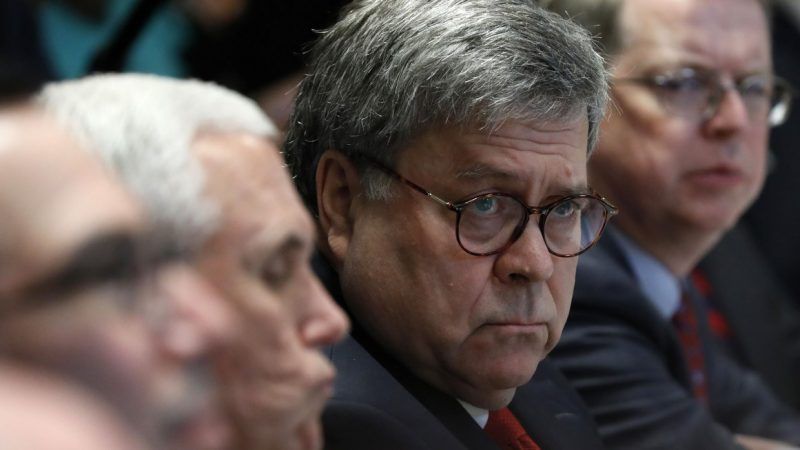 (Yuri Gripas/CNP/AdMedia/SIPA/Newscom)
Attorney General William Barr's plans for the first federal executions in more than 15 years have been temporarily suspended, thanks to a conflict over the methods the Justice Department intends to use.
In July, Barr announced that the Justice Department would get back in the execution business. Though the federal death penalty was reinstated in 1998, there have been no federal executions since 2003.
Barr had scheduled five executions for December and January, each for men convicted of murder. When he announced his plan, the Justice Department said it would be performing lethal injections with pentobarbital, a drug that has been a focus of some criticism because of some botched executions.
But he Federal Death Penalty Act requires that executions be carried out in "the manner prescribed by the laws of the State within which the sentence is imposed." The only exception is if that state does not currently have an execution protocol. In such a case, the Justice Department is to pick another state's execution method to mimic.
Four of the five men scheduled to be executed have filed suit, arguing that the Justice Department is not following the law by deciding to use pentobarbital rather than the home state's protocols. Daniel Lewis Lee, the first man scheduled for execution (despite opposition from the family of his victims), was convicted and sentenced to death in Arkansas, which uses a three-drug execution combination that has its own problems and faces its own legal challenges.
Yesterday evening, Judge Tanya S. Chukatan of the U.S. District Court for the District of Columbia ruled on behalf of the men on death row. She has temporarily enjoined the Justice Department from carrying out the executions as planned, noting that "the public is not served by short-circuiting legitimate judicial process, and is greatly served by attempting to ensure that the most serious punishment is imposed lawfully."
This is a technical ruling that will not ultimately prevent the Justice Department from eventually resuming executions. But because this ruling is about the protocols themselves, conflict about how the states execute prisoners and what drugs they use may create unexpected logistical challenges for the executioners. States such as Arkansas are facing legal challenges arguing that drugs they use to execute prisoners violate the Eighth Amendment prohibition against "cruel and unusual punishment." Drug companies are increasingly reluctant to supply these drugs for this purpose (unless the states keep their drug sources secret, as Arkansas and Missouri have done). Forcing the Justice Department to follow other states' protocols may not be as simple as switching to the "right" drug.
Read the ruling for yourself here.