The Largest Single-Day Commutation in History
Oklahoma frees 527 low-level offenders—and saves nearly $12 million.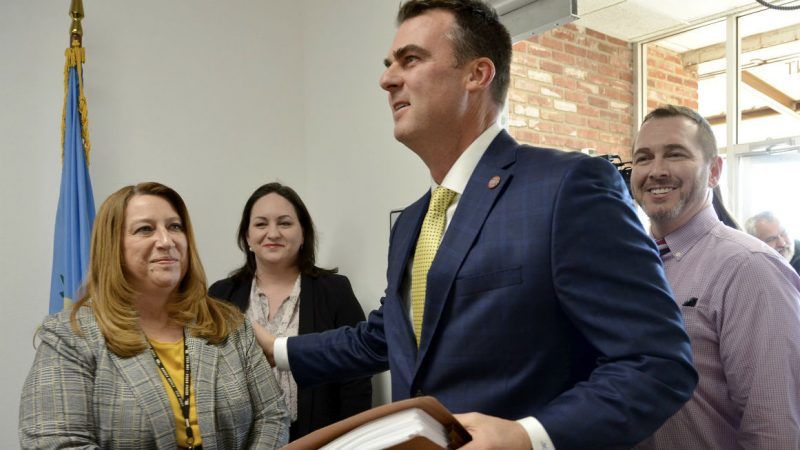 Hundreds of low-level offenders in Oklahoma will be reunited with their families today, now that the state's Pardon and Parole Board has recommended the largest single-day commutation order ever seen in the country. The state estimates that this will save taxpayers $11.9 million in money that otherwise would go to housing and otherwise supporting the prisoners.
According to a Friday press release from the office of Gov. Kevin Stitt, a Republican, the Pardon and Parole Board voted unanimously to commute 527 sentences. By the end of the day, Stitt had hand-delivered the signed certificates for each commutation to the state's Department of Corrections.
Just before 5 p.m., Governor Kevin Stitt hand delivered more than 500 commutation certificates he signed today. ODOC Sentence Administration staff are now forwarding the certificates to facilities across the state in preparation for Monday's releases. pic.twitter.com/mQSe0mc3Ru

— Oklahoma DOC (@OklaDOC) November 1, 2019
Prior to the recommendation, Oklahoma leadership teamed up with local nonprofits and others in the community to host transition fairs. These fairs provided inmates with services to help them reintegrate into society upon release.
One person released by the order is Calista Ortiz, whose story was highlighted by the Department of Corrections. Ortiz was sentenced to eight years in prison on drug charges. While behind bars, she committed herself to a rehabilitation program, participated in a prison fellowship, and started a food pantry for her cellmates.