Trump Asks House Republicans to Release Their Own Versions of Impeachment Transcripts
Plus: Trump well-poised in battleground states in 2020, the return of "covfefe," and more...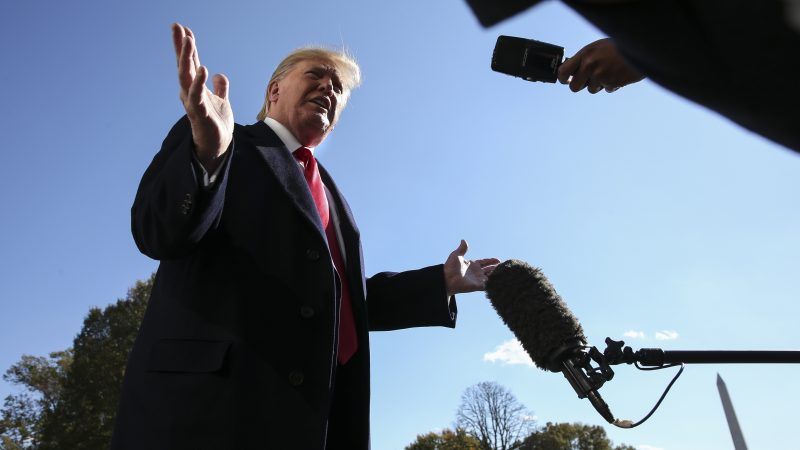 (Oliver Contreras/CNP/AdMedia / SplashNews/Newscom)
Trump asks Republicans to submit counter-transcripts of impeachment proceedings. If Rep. Adam Schiff (D–Calif.) releases transcripts of closed-doors interviews conducted by House impeachment investigators last week, Republicans should release their own versions of interview transcripts, President Donald Trump suggested Sunday.
Republicans "should give their own transcripts of the interviews to contrast with Schiff's manipulated propaganda," tweeted Trump. "House Republicans must have nothing to do with Shifty's rendition of those interviews. He is a proven liar, leaker & freak who is really the one who should be impeached!"
The idea that Schiff-released transcripts would be doctored is silly. The hearings in question were open to almost as many Republican legislators (47) as there were Democrats (57), based on their participation on the Intelligence, Foreign Affairs, and Oversight committees.
Records of impeachment inquiry interviews were transcribed by an official and non-partisan congressional stenographer and reviewed by interviewees, who must attest to their accuracy.
This request to fabricate transcripts seems unlikely to go over well even with his most sycophantic House minions. (Perhaps nobody told them there are professional stenographers recording these things?) He must be VERY nervous about what the testimony shows. https://t.co/zP6wLybpR4

— Julian Sanchez (@normative) November 4, 2019
Four White House officials were asked to testify before the House impeachment investigation team today but have said they won't show up, per White House orders.
Trump still keeps trying to insist the whistleblower "got it wrong," even though everything revealed has been backed up either by the summary of the call that the president himself released or by information offered in sworn testimony from members of the Trump administration.
The Whistleblower got it sooo wrong that HE must come forward. The Fake News Media knows who he is but, being an arm of the Democrat Party, don't want to reveal him because there would be hell to pay.
Reveal the Whistleblower and end the Impeachment Hoax!

— Donald J. Trump (@realDonaldTrump) November 3, 2019
Nonetheless, Trump's likelihood of winning a 2020 matchup with leading Democrats still aren't all that bad, according to a new poll from The New York Times and Siena College. The poll found Trump "highly competitive" in the the six closest battleground states won by Trump in 2016.
"The Times/Siena results and other data suggest that the president's advantage in the Electoral College relative to the nation as a whole remains intact or has even grown since 2016, raising the possibility that the Republicans could—for the third time in the past six elections—win the presidency while losing the popular vote," writes the Times' Nate Cohn (while cautioning that "there is a full year before Election Day, and a lot can change").
Unlike various national polls, this one shows "Trump holding up with white, working class voters" and coming close to 2016 margins in those states, Cohn tweeted. "The Trump voters who supported Democrats in the midterms say they'll back Trump by 2-1 margins," he adds, and "Trump leads all in Obama-Trump counties, precincts."
---
QUICK HITS
Great! But how do you know it was a "mistweet?" May be something with deep meaning! https://t.co/00EXMCgQLp

— Donald J. Trump (@realDonaldTrump) November 4, 2019
Any politician that says they will push for a law that says no tv or streaming network can brand,market or name themselves a News Network unless the 6 most viewed hours of every night is >80% fact checked news and opinion is clearly labeled as opinion only, gets my vote

— Mark Cuban (@mcuban) November 4, 2019
What makes a prosecutor "progressive"?
Welcome to the Bad Place, everyone:
Biannual reminder that if you hate it when the sun sets early, you hate STANDARD TIME. We just entered STANDARD TIME. STANDARD TIME is the bad one. DAYLIGHT SAVING TIME is the good one. We should have DAYLIGHT SAVING TIME year round. YES, I AM YELLING. https://t.co/58kiywBTsC

— Mark Joseph Stern (@mjs_DC) November 3, 2019
And, fine, a counterpoint from Reason's Peter Suderman:
Other things that are objectively better when it's cool and dark: commutes, slow-cooked pulled pork, shoes (especially boots), human contact, sleep in the evening, naps, my dog's mood, kombucha, serial TV, leather couches, fire pits, coffee, eggs, the movie SEVEN, waking up.

— Peter Suderman (@petersuderman) November 4, 2019