Florida Prisons Are a Slow-Motion Disaster
"We are a prison system that's overstuffed and under-guarded, and that is a lethal combination of policies," says state Sen. Jeff Brandes.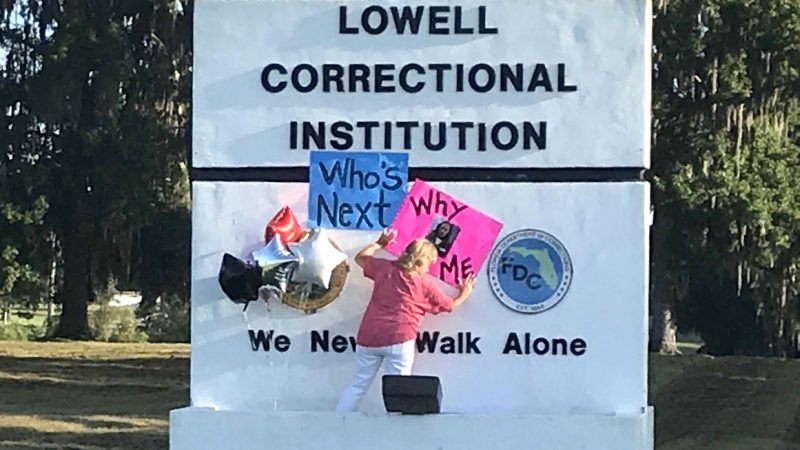 (Austin L. Miller/Star-Banner)
On August 21, an inmate at Lowell Correctional Institution, Florida's largest women's prison, was transported to the hospital with a broken neck. According to eyewitness accounts that immediately began to leak, she was yet another victim of brutality at the facility.
The inmate, 51-year-old Cheryl Weimar, is now a quadriplegic, according to her lawyer. A lawsuit Weimar filed claims she was beaten by four guards after complaining that she couldn't clean toilets because of chronic hip pain.
Weimar's beating put a gruesome spotlight on the slow-motion disaster unfolding inside Florida's prison system. Inmates face sweltering heat and poor conditions. Low wages and high turnover mean persistent staff shortages, and guards engage in violence and cover-ups.
"I don't know what to tell you, but this is a culture in Florida that has gone on for 45, 50 years," says Democratic state Rep. Dianne Hart. "How do we expect them to change overnight without somebody really putting their foot down on them?"
Hart's former brother-in-law, Carlton Hart, was beaten by guards inside another Florida prison this summer. Hart says officers broke his jaw, nose, and cheekbone and shattered his eye socket.
Last August, the Justice Department launched a civil rights investigation into pervasive misconduct, including sexual abuse, by staff at Lowell. A 2015 Miami Herald investigation found numerous accusations of assaults, retaliation, filthy conditions, inadequate health care, and suspicious deaths at the prison.
A bipartisan group of Florida state lawmakers has been sounding the alarm for years now. "This isn't rocket science," says Republican state Sen. Jeff Brandes. "We are a prison system that's overstuffed and under-guarded, and that is a lethal combination of policies."
Florida is far from the only state with these problems. In April, the Justice Department warned Alabama that its failure to protect inmates from rampant violence and sexual abuse violated the Eighth Amendment. The Mississippi Center for Investigative Reporting detailed this year that one state prison is, in effect, run by violent gangs rather than guards. And in North Carolina, an animal rescue group that started a program to teach inmates at a women's prison how to train dogs had to discontinue the program during the summer due to the lack of air conditioning. It's inhumane to keep the dogs in hot cells but apparently not to keep human beings there.
Florida is a warning. States that pursued mass incarceration but don't, won't, or can't muster the political will for reform will see their prisons turn into the kind of hellholes that left Cheryl Weimar paralyzed.