Dave Chappelle: Second Amendment 'Is Just in Case the First One Doesn't Work Out'
The comedian received the Mark Twain Prize for American Humor at the Kennedy Center in D.C. this weekend. His acceptance speech airs on PBS in January.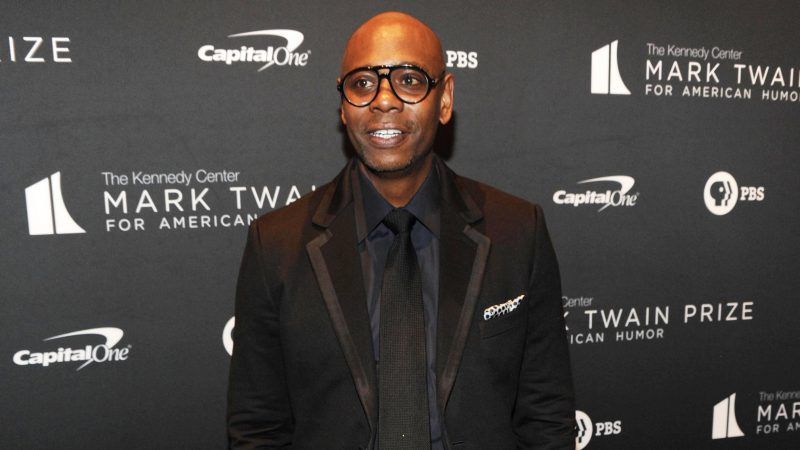 (Gene Young / SplashNews/Newscom)
In what he said was an unscripted acceptance speech on Sunday night, comedian Dave Chappelle continued his recent campaign against cancel culture—while openly defying a smoking ban and defending the right to bear arms too.
Chappelle was fêted on Sunday night in Washington, D.C., as this year's recipient of the Mark Twain Prize for American Humor, a lifetime achievement award bestowed annually by the Kennedy Center. Known for his irreverent and boundary-pushing sketch comedy show and standup routines, Chappelle has never shied away from an opportunity to eviscerate political correctness for laughs. Sunday's event was no different, according to media reports.
"It's the best part of the First Amendment to me that I'm able to express myself this way and make a viable living doing it," Chappelle told NPR prior to going on stage Sunday night.
On stage, he reportedly lit up a cigarette—"What are they gonna do? Kick me out before I get the prize?" he said, according to USA Today—and took aim at the same woke scolds who were targets during his recent Netflix standup special. He faced backlash for joking about, among other things, LGBTQ people (whom Chappelle referred to as "the alphabet people"), Michael Jackson's accusers, and people who dig through old tweets in an effort to hurt comedians' lives and careers over off-color jokes.
Wow ok. Dave Chappelle's impressions are spot on.

Sticks & Stones is streaming now! pic.twitter.com/zD9BBQsGdj

— Netflix Is A Joke (@NetflixIsAJoke) August 26, 2019
Saying that he knows comedians who are "very racist" in their jokes, Chappelle asked everyone listening to please chill.
"Don't get mad at 'em, don't hate on 'em," Chappelle said Sunday. "Man, it's not that serious. The First Amendment is first for a reason. Second Amendment is just in case the first one doesn't work out."
Chappelle's acceptance speech will air on January 7 at 9 p.m. EST on PBS.