Buttigieg and Sanders Clash Over the Supreme Court
Progressive purity tests and Supreme Court wish lists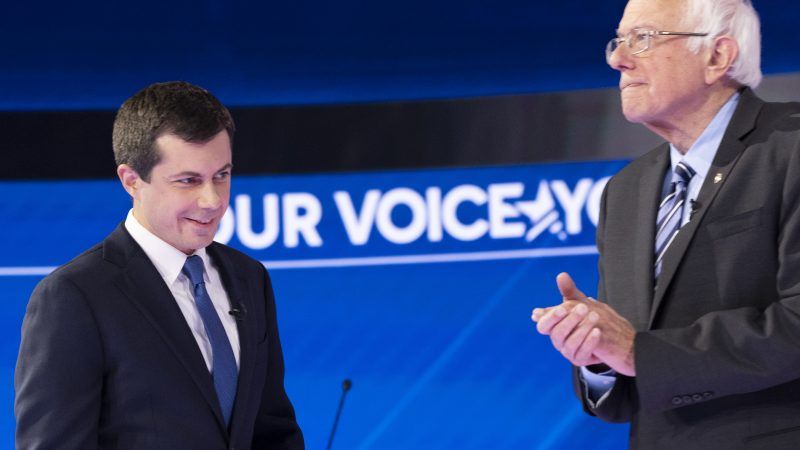 (F. Carter Smith/Polaris/Newscom)
Presidential candidate Pete Buttigieg has discovered a surefire way to shock and annoy progressives: Say something nice about retired U.S. Supreme Court Justice Anthony Kennedy. In a recent interview with Cosmopolitan, the South Bend, Indiana, mayor made the case for "depoliticizing the Supreme Court." One of his ideas for doing so, Buttigieg explained, would be to increase the number of justices to 15, "but 5 of them can only be seated if the other 10 unanimously agree. The idea here, is you get more justices who think for themselves. Justices like Justice Kennedy or Justice Souter."
Cue the outrage on Twitter. "But Citizens United!" cried progressives, who proceeded to lecture Buttigieg on the evils of Anthony Kennedy, particularly Kennedy's authorship of the Supreme Court's free-speech-affirming decision in Citizens United v. Federal Election Commission (2010). It didn't take long for another presidential wannabe to weigh in. Taking a swipe at Buttigieg, Sen. Bernie Sanders (I–Vt.) tweeted, "I'd like more justices like Ruth Bader Ginsburg and Sonia Sotomayor."
Other progressives would like to see the Court pushed further to the left. The activist group Demand Justice, for example, is currently urging the Democratic candidates to take a page from Donald Trump's playbook and release their own lists of potential Supreme Court picks. To get the ball rolling, Demand Justice has even released its own SCOTUS wish list, "one that prioritizes unabashedly progressive lawyers and legal thinkers, who have all too often been pushed aside."
It's an interesting selection, heavy on radical academics and activist litigators but relatively light on sitting judges. Among the notable names on it are Michelle Alexander, bestselling author of The New Jim Crow: Mass Incarceration in the Age of Colorblindness; California Attorney General Xavier Becerra; and anti–Big Tech crusader Timothy Wu of Columbia Law School.
Another name that jumps out is Philadelphia District Attorney Lawrence Krasner. As Reason's C.J. Ciaramella has noted, Krasner "is one of the most high-profile members of a wave of progressive candidates who have run for prosecutor offices in major cities in recent years, promising to roll back policies they say contribute to mass incarceration." For advocates of sweeping criminal justice reform, Krasner would be a dream SCOTUS pick.
Strangely absent from the Demand Justice list is Judge Paul Watford of the U.S. Court of Appeals for the 9th Circuit. In 2106, Judge Watford was reportedly one of the final candidates under consideration by President Barack Obama to replace the late Justice Antonin Scalia. (Judge Merrick Garland famously got the nod.) Watford has a stellar reputation in the legal community and has written a number of standout legal opinions for the 9th Circuit, particularly in defense of the Fourth Amendment right to be free from unreasonable searches and seizures.
So why didn't Watford make the Demand Justice wish list? Probably because his resume includes stints at corporate law firms. "None of the lawyers on our list," Demand Justice brags, "are corporate lawyers."
Do you know who else once worked at a corporate law firm? In the 1980s, Sonia Sotomayor represented corporate clients on behalf of the New York outfit Pavia & Harcourt. Guess Justice Sotomayor fails the progressive purity test too. Sorry, Bernie.