Falafel Shop Wins Narrow Victory Over San Francisco's Bizarre, Broken Permitting Process
By one vote, the city's planning commission denied a business's request to stop a competing falafel shop from opening up down the block.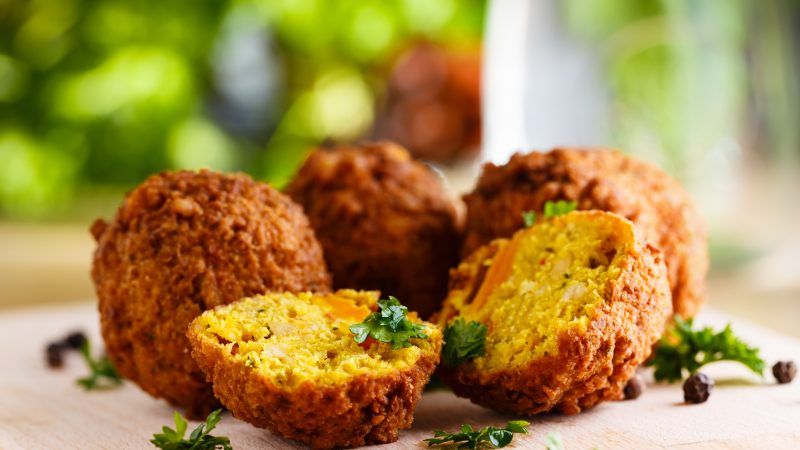 (Martin Rettenberger/Dreamstime.com)
The San Francisco Planning Commission has stopped a restaurateur's crassly self-interested attempt to use the city's planning process to stop a competitor from opening up down the street. But it was close: Sanity prevailed by a razor-thin one-vote margin.
Flying Falafel intends to open a fourth location along the city's famed Castro Street. But the owners of the nearby Gyro Xpress asked the commission, which has sweeping powers to grant or deny permits, to prevent the possible rival from setting up shop down the block.
Four planning commissioners were present at Thursday's hearing about the issue, and three out of four voted to deny Flying Falafel and its owner, Assaf Pashut, the permit he needed to convert the Castro Street site from retail to "limited restaurant." But official acts of the seven-member commission require at least four votes, so the effort failed. After months of delays and added expenses, he will be able to proceed.
A cadre from the pro-growth YIMBY movement—the acronym stands for Yes In My Back Yard—showed up at the hearing to support Pashut and his falafel shop, helping to ensure a happy ending.
Commissioner Richards moved to accept the DR and deny the permit. Moore and Koppel vote to deny, Fung votes to approve. Because they didn't get four votes, Flying Falafel's permits are approved! pic.twitter.com/xYgq7pU10D

— YIMBY Neoliberal ????????????️???????? (@YIMBYNeoliberal) October 25, 2019
But the fact that it was so close—the fact that it's possible to try to sabotage your competitors this way at all—shows how San Francisco's broken planning and permitting regime forces businesses to operate under a cloud of uncertainty.
That's certainly the case for Pashut, who nearly had months of careful planning upended by a single vote.
"We've been looking for about a year for a good spot. We found landlords that were fairly welcoming to us, and who gave us a fairly competitive rent," he told Reason last week, adding that "we expected the process to go very smoothly."
Pashut says that he spoke with city planners multiple times before deciding to rent the Castro Street spot. They in turn assured him that because the site was already zoned to allow for restaurant use, the Planning Department would be able to issue him a permit quickly.
"They gave us assurances that even though a DR is technically possible, it is very unlikely and certainly very unlikely to pass," he said.
A DR, short for Discretionary Review, is a request for the Planning Commission—which has the authority to approve, deny, or put conditions on most building permits—to review a permit application that would otherwise get a simple green light from city staff. These requests can be filed by any member of the public for essentially any reason, usually for the cost of a few hundred dollars; they are frequently used to delay or stop projects that otherwise comply with all city rules.
That's what happened in the Flying Falafel case. In August, Gyro Express co-owner Cem Bulutoglu asked that the commission deny Pashut's request for a change of use permit. This added months to what should have been a very straightforward process. (While his Castro Street location was being wrapped up in red tape, Pashut says, he was able to secure permits for and renovate a new Flying Falafel location in the city's Financial District in a little over a month.)
The Discretionary Review for the Castro Street location ended up taking even longer than expected when a Planning Commission hearing that was scheduled for October 3 was postponed to last Thursday, something Pashut viewed as cynically motivated.
"We lose thousands and thousands and thousands of dollars in rent waiting for a permit," he says, noting that he was paying $4,900 in rent each month on the site. "Then, of course, it's the delay. We were supposed [to open] a month, two months ago. Now we are looking at opening in the middle of December, not a great time to open a business."
This situation is unfortunately common in San Francisco. Everything from an apartment complex to a home renovation can be held up by the city's insane planning process, and by the power it gives neighbors and competitors to stop projects they don't like. This raises the cost both of opening businesses and of building housing, contributing to the city's twin crises of vacant storefronts and sky-high housing costs.
They're also just a huge distraction for business owners who'd rather be plying their trade than begging for permission slips from city hall.
"I'm not into politics," he told Reason. "I'm here to serve great food."