St. Louis Thought Hiring a Comedian Would Boost Trolley Ridership?!
It didn't, and now the Loop Trolley needs a $700,000 bailout to stay afloat.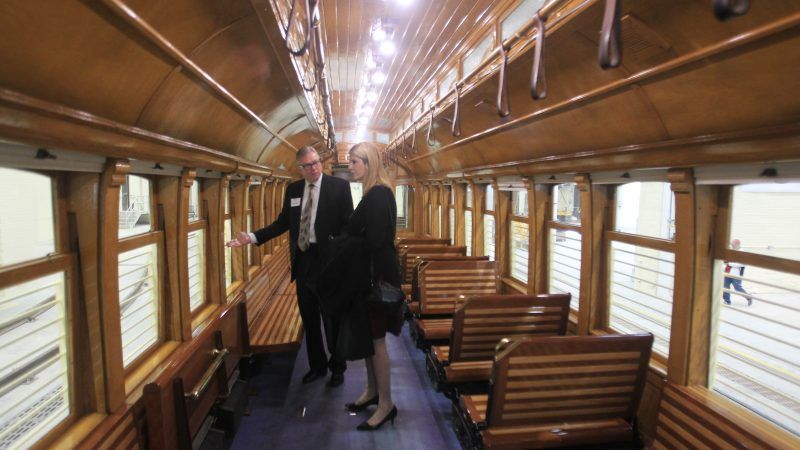 (BILL GREENBLATT/UPI/Newscom)
Despite millions in federal aid, its own dedicated taxing district, and onboard live comedy, the St. Louis Loop Trolley just can't seem to get it together.
The 2.2-mile streetcar line, which runs from a history museum in St. Louis' Forest Park to a string of bars and restaurants along Delmar Street in neighboring University City, has suffered from delays, budget overruns, and disappointing ridership and revenue numbers.
Local officials now say that it will need a bailout to keep operating through the end of the year.
"The Loop Trolley was an ambitious idea. When it was unveiled in 2010, its supporters predicted that the trolley would spark commercial development and that ticket sales would cover the costs of trolley operations. This has not yet happened," wrote St. Louis County Executive Sam Page, a member of the Loop Trolley Transportation Development District (TDD), in a letter to the St. Louis City Council on Friday.
The Loop Trolley TDD owns the trolley and partially funds it through a special district-wide 1 cent sales tax.
Without a $200,000 infusion of cash, Page says, the trolley system will be insolvent come November 15. It will need another $500,000 to keep operating into 2020. A failure to prop up the trolley would put future federal grants to St. Louis at risk, he warns.
Combined spending on the Loop Trolley totals $52 million, of which $33.9 million was provided by the federal government. The project was originally supposed to cost $44 million and finish with major construction by fall 2012. Delays pushed its opening date to November 2018.
Graham Renz, a policy analyst with the Show Me Institute, says letting the Loop Trolley fold could risk future federal funding, but that bailing it out wouldn't look too much better.
"I think it will be a blemish on St. Louis' record either way," says Renz. "Whether or not it's running, it's a bad idea. Its existence signals to the feds that we don't know what we're doing."
Demand for transit along the Loop Trolley's route was never going to be high, says Renz, noting that the area was already serviced by several bus routes. The decision to build it, he argues, was rooted in a mistaken belief that a rail transit line would spark additional business development.
The construction of the trolley line seemed to have had the opposite effect, disrupting access to existing businesses and contributing to the closure of several of them. The Loop Trolley TDD and the University City government both ended up issuing loans to businesses harmed by the trolley's construction.
Since opening, ridership and farebox revenue have been disappointing. Estimates from 2017 predicted the Loop Trolley would earn $428,672 from ticket sales in 2019. Instead, it has pulled in only $32,456 from its November 2018 opening through September of this year, according to the St. Louis Business Journal.
The service made only $3,069 in September, despite the Loop Trolley unveiling its Friday Laugh Track service, in which a comedian performs a 40-minute set for the duration of the 2.2-mile route.
Trolley advocates blame low ridership on the Loop Trolley's partial four-day a week schedule. A $700,000 infusion of cash, they argue, would give the trolley enough time to get a third car into service, after which a mix of ticket sales, sales tax revenue, and sponsorships should be enough to sustain it.
"We believe the small drop in the bucket from millions of dollars in funds raised specifically for public transit, would carry operations into next year," wrote John Meyers, board chairman of the non-profit corporation that operates trolley service, in a letter to city and county officials. "We are not asking for permanent funding, but for a lifeline that will enable us to achieve seven day service and test our original business model for sustainability."
Page said in his letter to the city council that he was reluctant to spend county money on the Loop Trolley without the city or other stakeholders picking up a proportional share of the tab. The St. Louis Post-Dispatch reports that the city hasn't ruled out a bailout, but no decision has been made yet.
Renz says the Loop Trolley should be allowed to go under, giving time for the various stakeholders to get their management house in order. "This is the most textbook example of throwing good money after bad," he says of the idea of bailing out the trolley.
From Washington D.C. to Seattle, streetcar projects have proven disappointing, suffering from major cost overruns, delays, and dismal ridership numbers. Even public transit advocates have been critical of them for doing little for urban mobility while showering most of their benefits on developers.
Taxpayers shouldn't be on the hook to subsidize a mode of transit that benefits only a handful of tourists and property owners.