Seattle Officials Knowingly Lowballed Streetcar Costs by 50 Percent
Another transit project's costs go off the rails.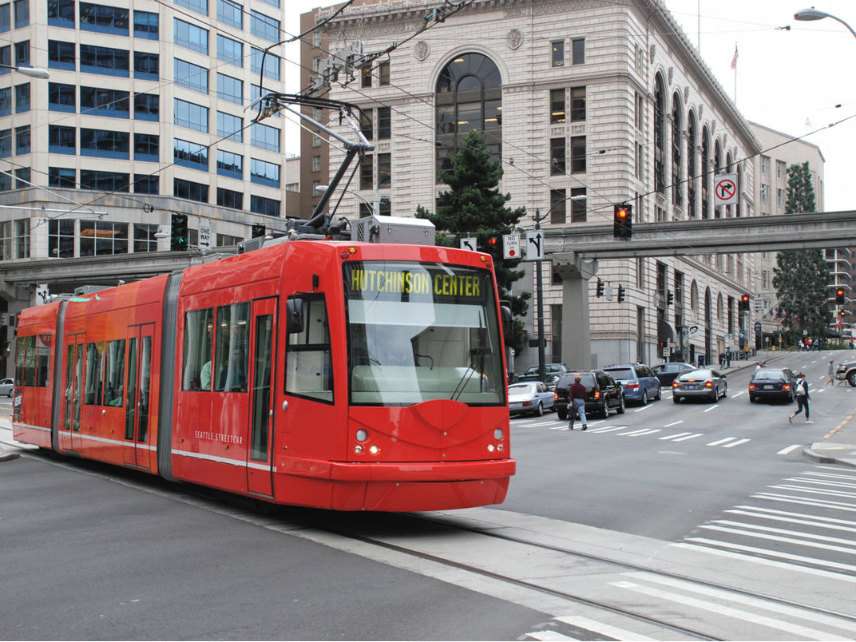 When Seattle officials claimed that a proposed one-mile streetcar extension would boost ridership by more than 400 percent and would cover half its costs with ticket sales, some ordinarily transit-friendly city council members wondered whether those numbers were too good to be true. They were.
Last week The Seattle Times published a memo by the King County Metro Transit Division, which is contracted to operate the streetcar. The memo says those projected operating costs for the Center City Connector (C3) project were 50 percent below Metro's estimates. The Seattle Department of Transportation (SDOT) concealed Metro's numbers when shopping around for money from local and federal officials.
"To find out that that information may have been, if not inaccurate, at least disputed—we should have known what these disputes are—is maddening," Seattle Councilmember Mike O'Brian said at a briefing.
SDOT projected that it would need 70 staff members to operate its streetcar network after the C3 expansion, which would cost it some $16 million a year. Metro calls this a significant underestimate, saying the new streetcar line will need 136 total staff and cost $24 million annually to operate.
On Monday, Mayor Jenny Durkan ordered an independent review of streetcar costs, sidestepping her own transportation department entirely.
The C3 project—which started construction late last year—has had a rocky recent history, repeatedly overshooting cost estimates while coming under fire from city politicians.
In 2014, SDOT released a detailed evaluation report for the C3 project that estimated its capital costs at between $108 and $115 billion in estimated 2017 dollars. A 2015 evaluation by the Federal Transit Administration (FTA) pegged the total capital costs at $134.88 million. A year later this was revised upwards again, to $166 million. Now the project is said to cost $177 million.
By 2017, councilmembers were starting to raise doubts about the utility of the new streetcar line and the financial risk it posed to the city.
In June of that year, the council voted to accept the first $50 million of a $75 million grant from the FTA's Small Starts program on the condition that SDOT come back to the council with a detailed plan of the operating costs in the fall. At that time, SDOT was already working on such a plan for FTA, which it submitted in July without any review from its partner agency, Metro—which, remember, would be the actual agency operating the streetcar.
When Metro got wind of SDOT's plan, its staff was shocked at how low the budget estimates were. They told the department repeatedly throughout August that it was lowballing the amount of money it would need. According to the memo, these concerns were ignored or waved away.
When it came time to present that report on the operating costs, SDOT submitted the same low estimate to the City Council.
Already SDOT was predicting that ticket fare would cover an incredible 56 percent of the operating costs of its new line, far above what most other streetcar systems in the country manage. New operating cost estimates coming to light make these projections seem even more fanciful.
This is hardly surprising given how often streetcar projects overshoot their budgets and underperform on ridership.
Transit agencies rarely pay a price for missing the mark like this, given the commitment cities have already made by the time the cost overruns start turning up. They don't want to pull the plug that far into the project, and so the increased costs are passed on to local taxpayers, who are asked to shell out more money or accept reduced services for what is ultimately more of a fashion statement than a real transportation solution.