D.C. Struggles to Get Replacement Parts for Its Disastrous Streetcar
City officials have suggested replacing current vehicles might be necessary.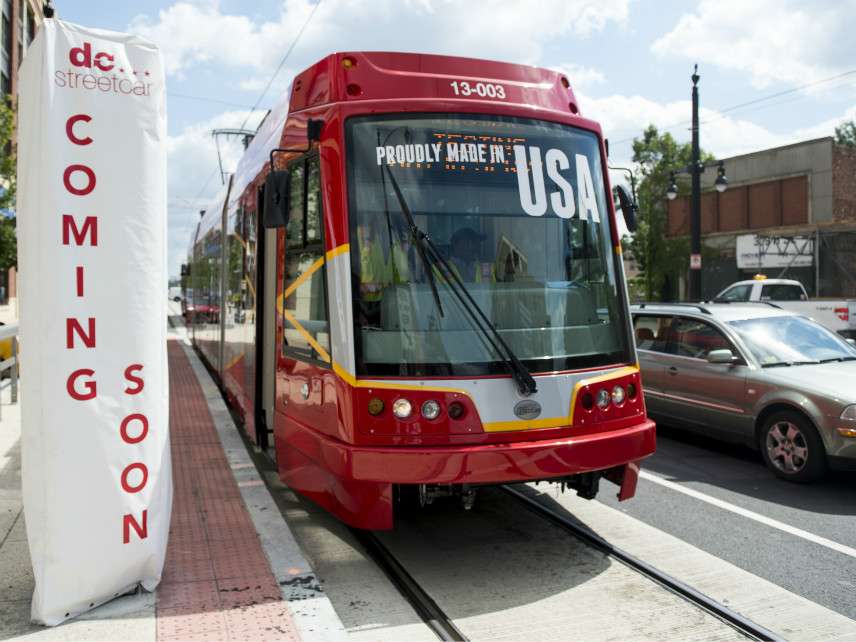 The District of Columbia's streetcar has been nothing but a headache for local officials—and taxpayers—ever since it was proposed nearly two decades ago.
At the time, the District Department of Transportation (DDOT) envisioned a 7.2-mile line servicing the low-income neighborhood of Anacostia. Instead, the city ended up building a 2.2-mile line servicing the bars and shops along H Street.
Now, on the two-year anniversary of the streetcar's much-delayed opening, city staff foresee increased trouble getting their hands on the spare parts they need to maintain their current fleet. One of their vendors has gone out of business and the other is located outside the country, so "parts availability will continue to be limited in the future," according to the officials who testified to the city council's Transportation and Environment Committee yesterday.
These supply chain problems may require the system to reverse-engineer parts and create new supply chains, which DDOT officials say would be a "costly endeavor." As a result, the department will explore a "strategy for future vehicle acquisition that also considers the feasibility of disposal of the current fleet." In other words, they might junk their current set of streetcars.
The typical streetcar should last at least 25 years, according to the Federal Transit Administration.
DDOT spokesperson Terry Owens tells The Washington Post that the department has no present plans to scrap its fleet. It is, he says, considering the purchase of new vehicles for planned extension lines (the city plans to expand its current 2.2-mile line west to the city's Georgetown neighborhood and east out toward Benning Road), and it is "evaluating the vehicles currently in service to determine the best fleet management approach to achieve the system's performance goals."
Should "best fleet management" lead D.C. to replace its current vehicles before they reach the end of their useful lives, it would be another black eye for a streetcar system that has faced continual delays, cost overruns, and constant goalpost shifting.
The initial setback came in 2002, when plans for the 7.2-mile line in Anacostia were scuttled after promised financial support from the Washington Metropolitan Area Transportation Agency (WMATA) fell through.
In response, DDOT downsized its ambitions, instead proposing a 2.7-mile "demonstration line" along existing freight rail tracks owned by the rail company CSX, to be completed in 2006. This plan also faltered when negotiations with CSX reached an impasse.
In 2008, DDOT took another bite at the apple, attempting to build a line at street grade from Bolling Air Force Base to a Pennsylvania Avenue stop in Anacostia. This plan fell apart when both the military and WMATA took issue with DDOT's plans, resulting in the department spending $20 million on .8 miles of unusable track.
Undeterred, in 2009 DDOT announced plans for a whole 37-mile streetcar network with lines running throughout the entire city. It also decided to shift the initial construction of the line from Anacostia to the H Street corridor. Since roadwork in the corridor was already underway, officials reasoned that it would be easier to lay tracks at the same tim, and have the streetcar up and running by March 2012.
This decision proved costly, as the district rushed forward with construction before designs for the H Street line were finalized. The result was yet more delays, cost overruns, and minor accidents, as test streetcars—placed very close to existing street parking—hit parked cars, including a police car.
That March 2012 deadline slipped to late 2012. That date proved too ambitious as well, with the H Street line not opening until 2016.
Some $200 million was spent building the line, which carries roughly 3,000 weekday riders.