ABC News Used Footage From a Kentucky Gun Show and Said It Was Syrian Warfare
Trust in the media is at historic lows.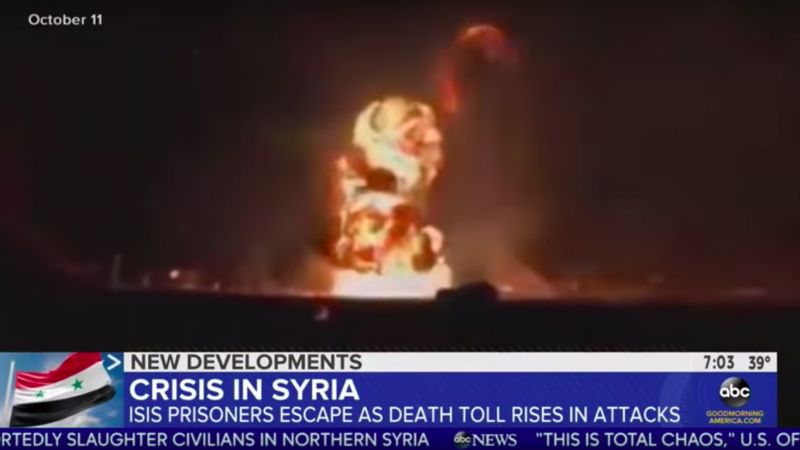 Trust in the news media is at historic lows. Days like today won't make it any better.
During Sunday evening and Monday morning broadcasts, ABC News showed footage from a gun show at the Knob Creek Gun Range in West Point, Kentucky. Except they told viewers it was a showdown between Syria and Turkey.
"We've taken down video that aired on World News Tonight Sunday and Good Morning America this morning that appeared to be from the Syrian border immediately after questions were raised about its accuracy," a network representative told the Washington Examiner, which first reported this story. "ABC News regrets the error."
Tensions have indeed escalated between Turkish forces and the Syrian Kurds after President Donald Trump abruptly pulled back U.S. troops from northern Syria, essentially greenlighting an invasion from Turkey. "Turkey will soon be moving forward with its long-planned operation into Northern Syria," said a statement from the White House last week. There have already been reports of violence, including footage of Turkish militants executing a group of civilians and a Kurdish politician on the side of a highway.
Many say Trump's sudden decision was devoid of foresight, which made a bad situation much worse. Rep. Justin Amash (I–Mich.), a non-interventionist by all means, tweeted that the president "facilitated a disaster" in choosing this course.
"The situation rapidly spiraling out of control in northern Syria," said ABC News anchor Tom Llamas as he narrated the video clip on Sunday. "One week since President Trump ordered U.S. forces out of that region, effectively abandoning America's allies in the fight against [the Islamic State]."
So perhaps ABC was searching for footage—dramatic, explosive footage—that confirmed that narrative. Or maybe it was a clumsy mistake. Whatever it was, it shows how few journalists understand the particulars of guns.
Last year, for instance, the Examiner highlighted an Associated Press story which continuously differentiated between semi-automatic and non-automatic rifles, which are the same thing. Perhaps more seriously, "assault weapons"—a vague term that no one quite understands—are constantly compared to machine guns and weapons of war, although they fire at the same speed as other semi-automatic weapons.
Those mistakes are relatively small, though, when compared with ABC's latest blunder.