Trump Wanted Snipers and Electrified Spikes to Defend Border Moat Full of Alligators and Snakes, Says New Report
Plus: Rudy Giuliani threatens to sue The Swamp, UPS gets approval for delivery drones, and more...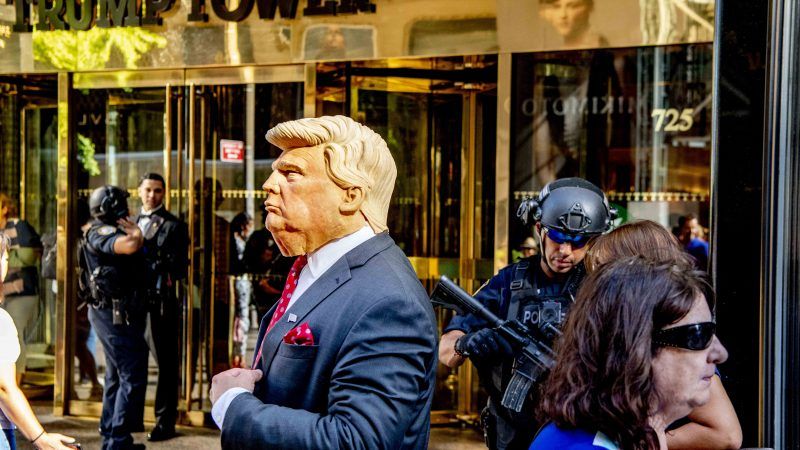 (Utrecht, Robin/ZUMA Press/Newscom)
Last week, President Donald Trump was accused of sounding like a mafia boss in his interactions with Ukraine's leader. This week, we've crossed into mad medieval king territory. The president reportedly wanted to keep unauthorized refugees and migrants from crossing our southern border by building a goddamn moat full of alligators and fortifying it with snipers and electrified spikes.
That's what White House advisors and Trump administration officials tell Michael D. Shear and Julie Hirschfeld Davis in the upcoming book Border Wars, excerpted yesterday in The New York Times. The book details a week in March where Trump began giving orders to shut down the U.S.-Mexico border immediately and indiscriminately.
Every part of this paragraph from the excerpt is so chilling:
Privately, the president had often talked about fortifying a border wall with a water-filled trench, stocked with snakes or alligators, prompting aides to seek a cost estimate. He wanted the wall electrified, with spikes on top that could pierce human flesh. After publicly suggesting that soldiers shoot migrants if they threw rocks, the president backed off when his staff told him that was illegal. But later in a meeting, aides recalled, he suggested that they shoot migrants in the legs to slow them down. That's not allowed either, they told him."
Fox News corroborated the shooting bit. "A source who was in the room at the time confirmed the conversation about shooting migrants in the legs to Fox News late Tuesday," it reported.
The White House had this to say:
WH responds to @nytimes story by @shearm & @juliehdavis. @realDonaldTrump reportedly suggested privately that border officials should shoot migrants in the legs to stop them:" There have been so many wild, inaccurate and offensive fake news characterizations" per @hogangidley45 pic.twitter.com/KnLEa1IjwB

— Fin Gomez (@finnygo) October 2, 2019
Thomas D. Homan, Immigration and Customs Enforcement's (ICE) acting director, described that period as the president being "frustrated" but taking "that moment to hit the reset button." Ultimately, Trump's "reset" included getting rid of then-Department of Homeland Security (DHS) Secretary Kirstjen Nielsen, whom Davis and Schear portray as trying to ground Trump in some reality:
When the president demanded "flat black" paint on his border wall, she said it would cost an additional $1 million per mile. When he ordered wall construction sped up, she said they needed permission from property owners. Take the land, Mr. Trump would say, and let them sue us.
Kevin McAleenan, now Nielsen's temporary replacement at DHS and then head of Customs and Border Protection, reportedly had to tell agents to ignore Trump's instructions about immediate border shutdown:
Start turning away migrants at the border, he told them. My message to you is, keep them all out, the president said. Every single one of them. The country is full. After the president left the room, Mr. McAleenan told the agents to ignore the president. You absolutely do not have the authority to stop processing migrants altogether, he warned.
At present, Trump has been suggesting that impeachment is a "coup":
As I learn more and more each day, I am coming to the conclusion that what is taking place is not an impeachment, it is a COUP, intended to take away the Power of the….

— Donald J. Trump (@realDonaldTrump) October 1, 2019
Update: Trump tweeted a denial.
Now the press is trying to sell the fact that I wanted a Moat stuffed with alligators and snakes, with an electrified fence and sharp spikes on top, at our Southern Border. I may be tough on Border Security, but not that tough. The press has gone Crazy. Fake News!

— Donald J. Trump (@realDonaldTrump) October 2, 2019
---
QUICK HITS
Among other things, Rep. Nunes' latest defamation suit says a reporter "behaved like a sex offender or pedophile cruising the local neighborhood," apparently because he drove around and talked to people. It's …. not the kind of thing you see in a civil lawsuit every day. pic.twitter.com/hvsVNhVvqm

— Brad Heath (@bradheath) October 2, 2019
The House is launching a new investigation after a tip about a trade association and a foreign government booking a bunch of Trump Hotel rooms (but occupying few of them) surfaced.
The president's lawyer, folks:
Rudy Giuliani says he is looking to sue The Swamp. pic.twitter.com/3D65Mg6VaO

— Elaina Plott (@elainaplott) October 2, 2019
---
EVENTS
On Monday, October 7, Reason Senior Editor Jacob Sullum will argue in favor of abolishing all drug laws at the Soho Forum in New York City. You can get tickets here.