Whistleblower Report Alleges Trump Used Presidential Power for Personal Gain
Plus: how Paul Manafort may be involved, the Crowdstrike conspiracy theory, and more...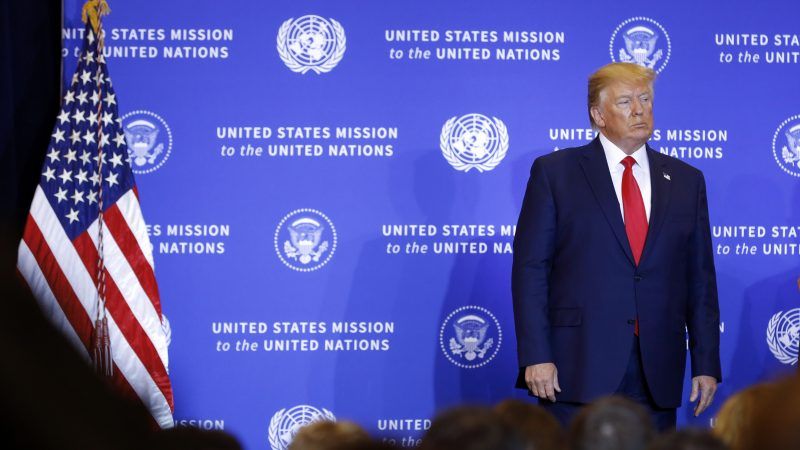 (CHINE NOUVELLE/SIPA/Newscom)
"I have received information from multiple U.S. Government officials that the President of the United States is using the power of his office to solicit interference from a foreign country in the 2020 U.S. election…" The whistleblower complaint against President Donald Trump that has fueled an impeachment inquiry was made public this morning.
"This interference includes, among other things, pressuring a foreign country to investigate one of the President's main domestic political rivals," says the complaint, dated August 12. The writer was "not a direct witness to most of the events described" but found colleagues' accounts "to be credible because, in almost all cases, multiple officials recounted fact patterns that were consistent with one another."
It goes on to state that there were about a dozen people on the July 25 call between Trump and Ukrainian President Volodymyr Zelenskiy. According to the complaint, this was expected to be a "routine" call and White House officials were subsequently instructed to "lock down" records of the conversation. It also says that efforts related to Zelenskiy and to digging up potential Biden dirt started long before July. (Read the whole complaint here.)
!!!! Buried in the appendix:

WB: "According to White House officials… this was 'not the first time' under this Administration that a Presidential transcript was placed into this codeword-level system solely for the purpose of protecting politically sensitive… information."

— Tim Mak (@timkmak) September 26, 2019
Records viewed by investigative journalist Murray Waas suggest that the initial impetus for Trump's interest in Ukraine was to suss out potential fodder for pardoning Paul Manafort and discrediting the special investigation being undertaken by Robert Mueller.
"Attorneys representing Trump and Manafort respectively had at least nine conversations relating to this effort, beginning in the early days of the Trump administration, and lasting until as recently as May of this year," Waas claims in The New York Review of Books. He continues:
Through these deliberations carried on by his attorneys, Manafort exhorted the White House to press Ukrainian officials to investigate and discredit individuals, both in the US and in Ukraine, who he believed had published damning information about his political consulting work in the Ukraine. A person who participated in the joint defense agreement between President Trump and others under investigation by Special Counsel Robert Mueller, including Manafort, allowed me to review extensive handwritten notes that memorialized conversations relating to Manafort and Ukraine between Manafort's and Trump's legal teams, including Trump's personal attorney, Rudy Giuliani.
As personal lawyer and all-around fixer, Giuliani fills roles Manafort and Michael Cohen previously filled for Trump.
"The new disclosures in this story underscore how this scheme originated in the long-running coordination between Trump, Giuliani, and Manafort to frustrate the Mueller investigation," Waas sums up.
THE DEMOCRATS ARE TRYING TO DESTROY THE REPUBLICAN PARTY AND ALL THAT IT STANDS FOR. STICK TOGETHER, PLAY THEIR GAME, AND FIGHT HARD REPUBLICANS. OUR COUNTRY IS AT STAKE!

— Donald J. Trump (@realDonaldTrump) September 26, 2019
Since yesterday, when a transcript of Trump's phone call with Zelenskiy was released, Zelenskiy himself has weighed in and more information about the scope of Giuliani and Trump's meddling has come out.
ABC reported yesterday that Serhiy Leshchenko, a former Zelenskiy advisor, said "it was clear" that Trump would only talk to Zelenskiy "if they will discuss the Biden case. This issue was raised many times. I know that Ukrainian officials understood." But Leshchenko apparently disputes this:
Setting record straight: @Leshchenkos confirmed to me what those of us in Kyiv already knew—he is NOT currently an advisor to Ukraine's Zelenskiy & wasn't at time of July 25 call. He said he DID NOT tell ABC insistence for leaders to discuss Biden probe was precondition for call. https://t.co/fNh5sMYj9i

— Christopher Miller (@ChristopherJM) September 26, 2019
For the Ukrainian president's part, he said on Wednesday:
I'm sorry, but I don't want to be involved in…elections of USA….We had, I think, a good phone call. It was normal, we spoke about many things, and you read it that nobody pushed it, nobody pushed me.
There's some room for interpretation in the summary of the Zelenskiy phone call that the White House put out yesterday, but it certainly isn't the good look that Trump seems to think it is.
So, this is the key statement near the start of the transcript. Note the Trump says Ukraine hasn't been "reciprocal" -- which is fine for presidents to say -- yet then the rest of the transcript lays out Trump's requests. /1 pic.twitter.com/23eaeSaqo8

— David French (@DavidAFrench) September 25, 2019
One element that peaked interest was Trump's seemingly random mention of the private security firm Crowdstrike ("I would like you to find out what happened with this whole situation with Ukraine, they say CrowdStrike…I guess you have one of your wealthy people….The server, they say Ukraine has it") and the company's subsequent insistence that it has no idea why it was invoked. Crowdstrike was the firm hired by the Democratic National Committee (DNC) to examine its servers, and the group that concluded "two separate Russian intelligence-affiliated adversaries" had been behind the infiltration and distribution of the DNC emails.
Trump's interest in Crowdstrike seems to be for basically bonkers conspiracy-theory reasons. First, he has repeatedly claimed the company is based in Ukraine when it's actually located in California, with no apparent connection to Ukrainians. Second, Trump appears to buy into a conspiracy theory surrounding Crowdstrike, the DNC emails, Seth Rich, and a secret server.
"Not only has he endorsed this nonsensical theory on Twitter and in press conferences," writes Andy Kroll, "but we now know he does it in private calls with foreign leaders and is using the power of the oval office to press for actual investigations."
In August, Texas financial advisor and conservative commentator Edward Butowsky filed a federal lawsuit against Crowdstrike, the Democratic National Committee, law firm Perkins Coie, and others. The suit alleges that the law firm was hired by the DNC to hide "the Russian collusion hoax" and that Perkins Coie in turn "retained CrowdStrike for the purpose of creating the false narrative that the Russian government had hacked the DNC's servers."
---
QUICK HITS
Just saying, in Arkansas it would be illegal to label this a burger. https://t.co/NmFePFENGI

— ACLU (@ACLU) September 25, 2019
The Washington Post's Glenn Kessler factchecks "Trump's repeated suggestions that Hunter [Biden] struck it rich with a sketchy deal in China."
Judge Andrew Napolitano weighs in:
President Trump asking a foreign government or any foreign national to get dirt on a political rival is an impeachable offense.
Judge Napolitano's Chambershttps://t.co/Fmko3KRjo4

— Judge Napolitano (@Judgenap) September 25, 2019
Rep. Tulsi Gabbard (D–Hawaii) continues to strike a different note on impeachment than her Democratic presidential competitors:
NEW: @TulsiGabbard joined @krystalball and me this afternoon. She tell us that the transcript does NOT show a "compelling case" for impeaching @realDonaldTrump https://t.co/Xyc39eQL2Z

— Saagar Enjeti (@esaagar) September 25, 2019
The Anti-Defamation league has

added

the "OK" hand gesture "along with several others on Thursday to its

longstanding database

of slogans and symbols used by extremists."

The vaping madness continues:
Let me get this right, you're going to rip away legal access to even mint/menthol ecigs while menthol cigarettes = still available? Are there no regulators with enough of a spine to openly reject what *they know* is manufactured hysteria? @FDACommissioner https://t.co/2xFAuYYiV3

— michelleminton (@michelleminton) September 26, 2019
If you're in D.C., come hang out with us tonight:
"The War on Whores" Documentary: Celebration and Panel Discussion