Tulsi Gabbard Warns Trump's Iran Actions Could Lead to 'All-Out Inferno of a War'
Gabbard has previously called the Trump administration "Saudi Arabia's bitch."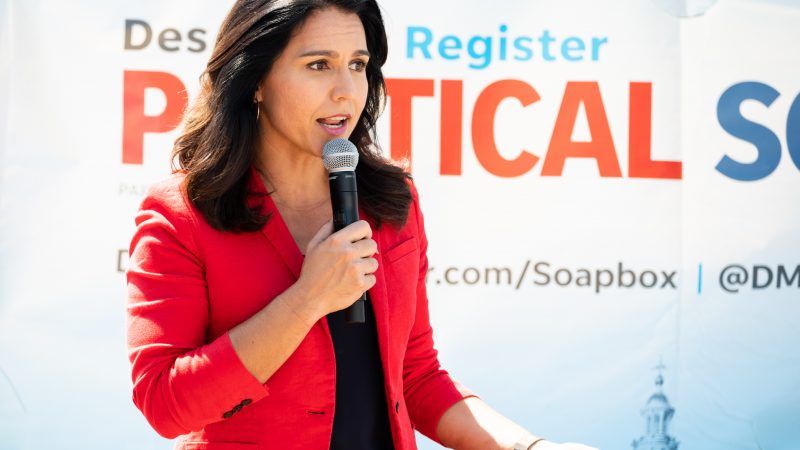 (Michael Brochstein/Sipa USA/Newscom)
Rep. Tulsi Gabbard (D–Hawaii) has come out swinging against President Donald Trump's plan to send more troops to Saudi Arabia.
"This is the wrong decision that is more catering towards the interests of Saudi Arabia than it is to the interests of the United States of America and the American people," the Democratic presidential candidate told the Washington Examiner, arguing that this cycle of escalation "will lead us to an all-out inferno of a war in not only Iran, but across the region."
On Friday, following an attack on Saudi oil facilities that U.S. officials blame on Iran, the Pentagon announced that hundreds of troops would be deployed to help provide air and missile defense against future attacks on Saudi oil facilities. The same day, the Trump administration announced it was imposing additional sanctions on Iran's central bank.
Trump framed these sanctions and deployments as acts of restraint, not escalation, on the grounds that it would be easy for him to just bomb Iran.
"Going into Iran would be a very easy decision, as I said before, very easy," Trump said during a Friday press conference. "I think I'm showing great restraint. A lot of people respect it. Some people don't."
Following the attack earlier this month on the Saudi oil facilities, Trump tweeted that the U.S. military was "locked and loaded" and ready to strike the culprits following instructions from Saudi Arabia. That prompted Gabbard to say Trump was trying to "prostitute" U.S. troops to handle Saudi Arabia's problems. "Trump awaits instructions from his Saudi masters. Having our country act as Saudi Arabia's bitch is not 'America First,'" Gabbard tweeted.
The Trump administration's announcement Friday is only the latest round of deployments to the region. For the past several months, the U.S. has been sending additional group troops, aircraft, missiles, and ships to the Middle East to counter the threat supposedly posed by Iran.
The administration has been ramping up sanctions on Iran following the U.S.'s withdrawal from a 2015 nuclear deal.
A number of these actions were initiated or hyped by former National Security Advisor John Bolton, who has long been an advocate for war with Iran. But Bolton is now gone. The fact that Trump continues to escalate tensions with Tehran suggests that he doesn't require hawkish advisors to take a hard line with the country.
Don't buy into the Trump-as-restrainer argument. Most of Trump's advisers actually opposed withdrawing from the JCPOA. Part of the reason he hired Bolton and promoted Pompeo was to get some hawks in there that agreed with him. Trump owns his Iran policy. https://t.co/282fAOzg65

— John Glaser (@jwcglaser) September 23, 2019
The fact that the president keeps pulling back from a military strike on Iran suggests that he isn't eager for an all-out war. Gabbard is right, though, to warn that this continual brinksmanship could easily escalate into a foolish armed conflict that few people want.