Is the U.S. Stumbling Towards an Accidental War With Iran?
Trump administration officials discuss plans to deploy 120,000 troops to the Middle East amidst rising tensions in the Persian Gulf.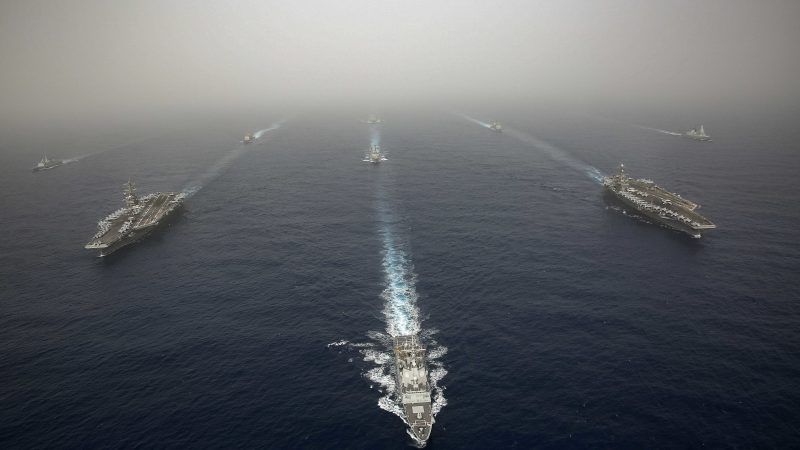 (Jeremiah Bartelt/US Navy / Polaris/Newscom)
Tensions between Iran and the United States have ratcheted up in the past two weeks, following a series of provocative actions and statements from the Trump administration, including news yesterday that senior defense officials are revising contingency plans to send thousands of troops to the Middle East to counter Iran.
On Monday, The New York Times reported that last Thursday senior defense officials reviewed plans to send 120,000 troops to the Middle East in the event that Iran attacks U.S. troops in the region or begins ramping up its nuclear program. The review of these plans, according to the Times, was initiated by  John Bolton, the national security advisor and a noted Iran hawk.

This was not the first provocative action taken by Bolton in recent weeks. Last Sunday, Bolton announced that an aircraft carrier, the USS Abraham Lincoln, and a number of bombers would be headed to the Persian Gulf in response to unspecified warnings that Iran and its proxies were preparing to attack U.S. forces in the region.
The Abraham Lincoln was already headed to the area but was ordered to skip several scheduled stops at European ports. Its expedited journey, along with the additional bombers, was intended to serve as "a clear and unmistakable message" of resolve from the U.S. to Tehran, Bolton said, according to Reuters.
This was followed by the deployment of even more U.S. forces, including another naval vessel and an anti-missile battery, to the Persian Gulf on Friday.
Iranian military officials have upped their rhetoric in response.
"An aircraft carrier that has at least 40 to 50 planes on it and 6,000 forces gathered within it was a serious threat for us in the past. But now it is a target and the threats have switched to opportunities," said Amir Ali Hajizadeh, head of the Iranian Revolutionary Guard's air force, to Al Jazeera on Monday.
The U.S. has assured the world that its intentions are peaceful, with the Department of Defense issuing a statement Friday saying that "the United States does not seek conflict with Iran, but we are postured and ready to defend U.S. forces and interests in the region."
Nevertheless, the threat of accidental escalation is real, says Emma Ashford, a foreign policy scholar at the Cato Institute.
"I don't believe either side really wants a conflict, but you put this many troops from both sides in a small area and raise tensions like this, there's always the risk that something happens accidentally that spirals into a larger conflict," Ashford tells Reason.
This risk, she says, is heightened by the possibility that militant groups aligned with Iran, but not directly controlled by the government, might stage an attack that leads to a U.S. response.
Over the weekend, Saudi Arabia and the United Arab Emirates, both rivals of Iran, reported that their oil tankers were sabotaged in the Persian Gulf. On Tuesday morning, Saudi Arabian officials also said that terrorists used drones to attack two oil pumping facilities in the country.
Pentagon officials revising plans to add additional troops to the Middle East to counter Iran is more routine, says Ashford.
"The Pentagon has a plan for everything, and these plans are constantly revised to deal with changing circumstances," she tells Reason.
Nevertheless, that it was Bolton in particular who's been pushing defense officials to revise their Iran plans may indicate his willingness to exploit any bureaucratic opportunity to raise tensions with the country.
That the Trump administration itself lacks a coherent Iran strategy only raises the possibility that it will stumble into a conflict it doesn't want, says Ashford. As she told Reason, "there's a real risk someone will take a step that ends up putting us in a conflict situation."