Bill Weld, on Trump's Ukraine Call: 'It's Treason, Pure and Simple, and the Penalty for Treason…Is Death'
That escalated quickly.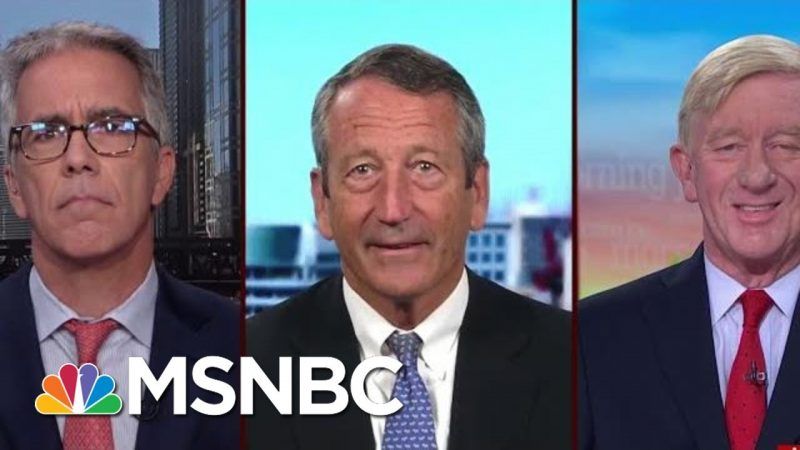 Today, the three candidates waging longshot bids to topple Donald Trump in the GOP primaries—Bill Weld, Joe Walsh, and Mark Sanford—appeared on MSNBC's Morning Joe to discuss the latest controversies swirling around the president.
You can watch the whole clip here. The shorter excerpt embedded below gets down to the bit making the most news: Former Watergate prosecutor, former U.S. attorney, former Massachusetts governor, and 2016 Libertarian Party vice presidential candidate Bill Weld is accusing Trump not just of impeachable crimes but of treason. Which, Weld adds, is punishable by death:
Former congressman turned talk show host Walsh, for his part, says Trump should be impeached. "He's a king, he's a would-be dictator," Walsh said, adding that the president is "unfit" and "a clear and present danger to this country." If Trump wins the nomination—a near certainty—the Republican Party "will be dead after 2020," Walsh claimed.
Sanford, the former South Carolina governor and congressman, stuck mostly to the theme that the three wrote about together in The Washington Post 10 days ago: that the state chapters of the GOP are being craven and cowardly in pushing to eliminate presidential primaries. On Saturday, Alaska became the fifth state to cancel out Trump's electoral competition, joining Nevada, Kansas, Arizona, and Sanford's home state. Nearly 8 percent of the total GOP delegate count is now off the table.
Walsh's reaction was colorful. "This isn't Russia, this isn't China, you can't just cancel elections in the United States of America," said the one-term Tea Partier from Illinois. "But that's what Donald Trump is doing. And make no mistake…this is Donald Trump telling the Republican Party bosses what to do, because the Republican Party bosses, the Republican Party establishment, all they want to do is wash their dictator's feet every doggone day."
In the handful of four-way GOP presidential polls taken thus far, Trump is obliterating his three challengers' combined total by an average of more than 70 percentage points. In the most recent Gallup presidential approval poll, the president's favorability among Republicans was at 91 percent, tied for the highest during his presidency. Trump has unprecedentedly merged his re-election organization with the Republican National Committee, and in the only apples-to-apples fundraising report thus far, outraised Bill Weld in the second quarter by a ratio of 150 to 1.
So Weld's rhetorical escalation is not particularly surprising, especially considering that he was stressing his former-prosecutor bonafides, his special relationship with Robert Mueller, and his critique of Trump's unfitness for office since even before officially jumping into the ring. But by playing loose with the T-word, the #NeverTrump candidates run the risk of succumbing to the same vein-popping hyperbole that they criticize the 45th president for. (Walsh, for his part, tweeted last year after Trump's press conference with Russian President Vladimir Putin that "Trump was a traitor today. I cannot & will not support a traitor.")
I for one am happy that Trump is facing a challenge from his own party, however distant, and I hope the exercise surfaces critiques that Republicans once made but have now abandoned on debt, deficits, spending, executive power, tariffs, and—yes—comportment. But I worry that noisy #NeverTrumper Rick Wilson's saying that "everything Trump touches dies" applies not just to the president's most obsequious enablers but to the very people willing to criticize the only evident power in GOP politics.