Compelling Testimony Against Michigan's Ban on Flavored E-Cigarettes Highlights the Deadly Folly of the Vaping Crackdown
The real "public health crisis" is not underage vaping but the one that Michigan, New York, and the FDA are about to create.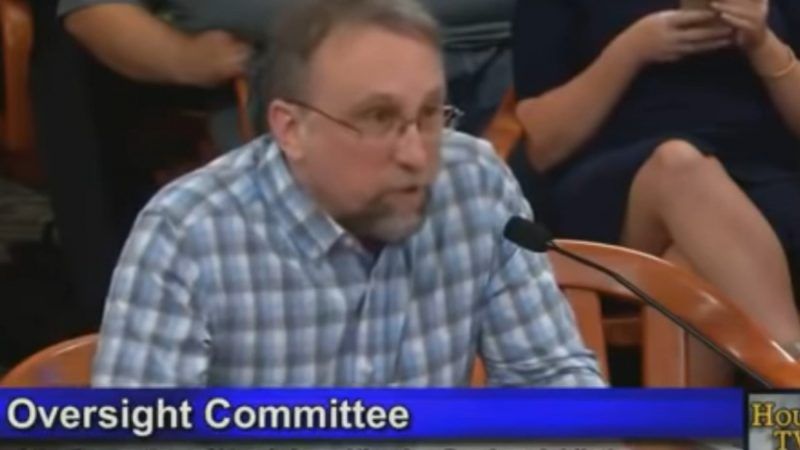 (Michigan House Oversight Committee)
Mark Slis, a 55-year-old father of three, smoked for 41 years and tried to quit for three decades with every method he came across, including hypnosis and various nicotine replacement products. Nothing worked until 2014, when Slis wandered into a vape shop in Houghton, Michigan. "Twenty minutes later," he told Michigan legislators last week, "I walked out a nonsmoker." A year and a half after that experience, Slis, who runs a geophysical consulting firm, bought the store. Since then, he said, he has helped about 1,000 other smokers quit by switching to vaping.
Slis drove 500 miles from Houghton to Lansing, the state capital, to testify against the ban on flavored vaping products unilaterally imposed by Michigan Gov. Gretchen Whitmer (D), which threatens to wipe out his business, drive his customers back to smoking, and prevent him from helping other people make a switch that could save their lives. If Whitmer's ban is allowed to stand, he said, "you won't just be banning flavors; you'll be banning a lifesaving industry from this state….That is absolutely unforgivable."
Slis tried to set the record straight about the e-liquid flavors that are supposedly designed to entice teenagers. "All my customers have three things in common," he said. "They are adults; they are desperate to quit smoking after years, if not decades, of failing; and they all use flavors….Ninety-nine percent of my customers use flavors. The flavors are absolutely necessary, and they are the key to quitting smoking." He described one customer, an 87-year-old grandmother, whose favorite flavor is the supposedly juvenile Fruity Pebbles. "I've heard people up there say that adults don't do these flavors," he said. "That's not true. I have 80 flavors chosen by adults. Not one of them chose tobacco flavor, the only one that will be left."
Slis also noted that Whitmer's ban, which makes possession of "four or more flavored vapor products" a misdemeanor punishable by up to six months in jail, will turn his customers into criminals. "All of my customers, every one of them, walk around with three or four bottles of different flavors," he noted.
Stephen Knight, owner of Vapejuice, an e-liquid manufacturer in Grand Rapids, echoed Sils' point about flavors. In a letter to House Oversight Committee Chairman Matt Hall, a Republican who represents parts of Calhoun and Kalamazoo counties, Knight said his company had developed more than 100 flavors, each of which has "helped tens of thousands of customers quit using combustible cigarettes." He said "less than 2% of our customers currently use our tobacco-flavored e-liquids"—the only kind that would be tolerated by Whitmer's ban, which was officially published yesterday and gives retailers two weeks to comply.
The committee also received letters from former smokers who used flavored vape products to quit. "Although wild speculation by anti-tobacco activists would have you believe that the range of flavors serves the sole purpose of enticing children, in reality, the variety of flavors plays a crucial role in helping people who smoke transition away from combustible tobacco," one said. "Prohibiting the sale of these products will discourage people who smoke from switching to safer alternatives."
Gregory Conley, president of the American Vaping Association, which supports vaping as a harm-reducing alternative to smoking, likewise emphasizes the importance of flavor variety. "There is a reason why the majority of adult ex-smokers who vape use fruit and sweet flavors, while only a very small portion use tobacco or menthol," he says. "Fruit and sweet flavors help adult smokers disconnect from the taste of smoking. Tobacco flavors, on the other hand, are actually linked to dual use, which is continuing to use both cigarettes and vaping products."
Sils' store, 906 Vapor, is one of more than 500 vaping businesses in Michigan, which employ thousands of people and serve tens of thousands of adults looking for an alternative to smoking. "If the governor's order stands and flavors are banned," he said, "I will immediately go out of business and file for bankruptcy. No question."
Similar results can be expected in New York, where the State Public Health and Health Planning Council this week approved "emergency" regulations backed by Gov. Andrew Cuomo (D) that prohibit the sale of vaping products in flavors other than tobacco and menthol. That ban will affect some 700 vaping businesses throughout the state and probably will force many to close up shop, depriving their customers of nicotine products that are far less dangerous than combustible cigarettes and nearly twice as effective in smoking cessation as conventional alternatives.
"Prohibition has never worked in this country, and it will once again fail miserably in the State of New York," Conley says. "There is blood on the hands of the unelected bureaucrats who fiddled with their phones while members of the public explained how this ban would cause disastrous public health consequences. Make no mistake about it, a flavor ban will send a significant number of adult vapers back to smoking."
Conley notes that the American Cancer Society, which is not keen on e-cigarettes, nevertheless worries about the consequences of banning them. "If that's what they choose, and they're not going to try any other way, then they should receive support and also be encouraged to stop using those products as soon as they're able, but never to resort to conventional cigarette smoking," Cliff Douglas, the organization's vice president for tobacco control, told Modern Healthcare this week. "If the result of stopping vaping is that people smoke Marlboros again, then that's a disaster. They're not equivalent."
The Food and Drug Administration (FDA), whose former commissioner called e-cigarettes "a tremendous public health opportunity," nevertheless plans to inflict this disaster nationwide by ordering the removal of vaping products in flavors other than tobacco. President Donald Trump explained that ban by saying that "we are going to have to do something" about underage vaping. "While I like the Vaping alternative to Cigarettes, we need to make sure this alternative is SAFE for ALL!" he said on Twitter last Friday. "Let's get counterfeits off the market, and keep young children from Vaping!"
Preserving the "vaping alternative to cigarettes" is plainly inconsistent with a ban on the products that former smokers overwhelmingly prefer. And such a ban has absolutely nothing to do with "get[ting] counterfeits off the market." To the contrary, it will be a huge boost to the black market, which offers e-liquids that "have no controls on them whatsoever" (as Cuomo puts it) and may be contributing to the recent cases of respiratory illnesses among vapers (although the vast majority of those cases involve black-market cannabis products).
As for "keep[ing] young children from vaping," selling e-cigarettes to minors is already illegal. Instead of enforcing age restrictions, Michigan, New York, and the FDA are bent on denying adults an opportunity to quit smoking the way Mark Sils did. This policy is logically analogous to banning all sales of flavored alcoholic beverages because teenagers have been known to drink them.
Results from the 2019 Monitoring the Future Study, which the National Institute on Drug Abuse (NIDA) released yesterday, indicate that 25 percent of 12th-graders had vaped nicotine in the last month, while 12 percent had vaped on 20 or more days in the previous month. NIDA Director Nora Volkow calls that "a public health crisis." The same survey indicates that 30 percent of 12th-graders are past-month drinkers, but state and federal officials are not planning to bring back alcohol prohibition.
It's true that vaping is on the rise among teenagers, while drinking has been declining in recent years. But given the relative hazards of alcohol and nicotine, that's a pretty good trade. More to the point, the Monitoring the Future Study and other national surveys show that smoking among teenagers has reached record lows, a downward trend that accelerated as e-cigarettes became increasingly popular. That's an even better trade, since e-cigarettes are indisputably far less hazardous than the conventional kind. To the extent that teenagers are vaping instead of smoking, that is an unambiguous public health win.
The real "public health crisis" is not the one perceived by Volkow. It's the one that Michigan, New York, and the FDA are about to create by denying smokers access to potentially lifesaving alternatives.