Planned Parenthood Succeeds in Getting Missouri's 8-Week Abortion Ban Blocked, but Rule Against Race- or Sex-Selective Abortion Remains in Place
Plus: North Carolina sues eight more e-cig companies, Tulsi Gabbard fails to meet debate threshold, and more...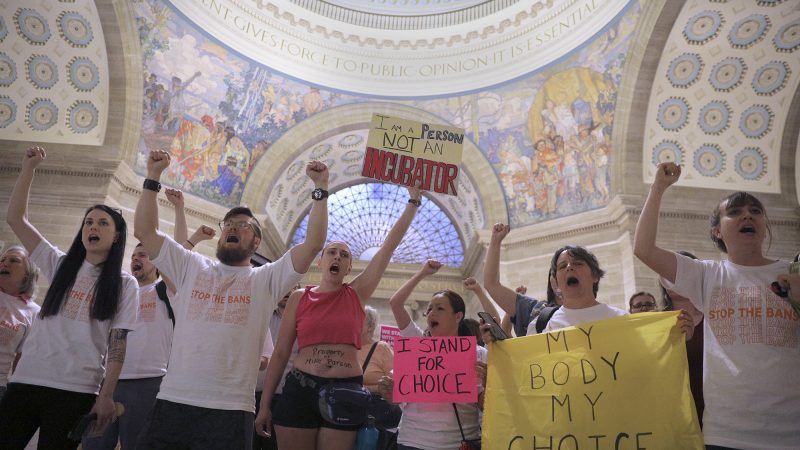 (Christian Gooden/TNS/Newscom)
A day before Missouri's ban on abortion after eight weeks of pregnancy was scheduled to take effect, the law was partially blocked by a federal court. In the decision, U.S. District Judge Howard Sachs chastised Missouri legislators for passing a law deliberately designed "as a protest" against Roe v. Wade and other Supreme Court decisions that support abortion access.
The new Missouri rule, signed into law in May, would have imposed criminal penalties on doctors who perform abortions after the eight-week deadline.
"While federal courts should generally be very cautious before delaying the effect of state laws, the sense of caution may be mitigated when the legislation seems designed, as here, as a protest against Supreme Court decisions," wrote Sachs in his Tuesday ruling.
The hostility to, and refusal to comply with, the Supreme Court's abortion jurisprudence is most obviously demonstrated in the attempt to push 'viability' protection downward in various weekly stages to 8 weeks.
Sachs is one of several federal judges to recently rule against states' strict new abortion regulations, sometimes called "heartbeat bills," which ban the procedure after just a few weeks. Ohio and Mississippi have had similar regulations preliminarily blocked in federal court (in July and in May, respectively).
The judge "denied a full preliminary injunction on technical grounds, but his ruling achieved what he called the 'desired result' sought by Planned Parenthood for now," reports NPR.
"What little abortion access in Missouri is left, will stay in place for the time being," said Alexis McGill Johnson, acting president and CEO of Planned Parenthood Federation of America, in a statement. "In the meantime, we cannot ignore the part of this law that remains in place, which allows politicians to interfere with the patient-provider relationship."
Sachs left in place a portion of the law that bans getting an abortion because of the sex or race of the fetus or because it has been diagnosed with a genetic disorder such as Down syndrome.
You can read the full decision here.
---
FREE MINDS
Follow the power. When looking at the current crusade against a law known as Section 230, Elliot Harmon of the Electronic Frontier Foundation, reminds us that it's important to note who's calling for the statute's demise:
The next time you hear someone call for Congress to gut Section 230, the law that shields online platforms from liability for hosting most speech created by others, ask yourself a quick question: Would the reform this person is asking for affect their ability to use the Internet? If the answer is no, then ask yourself who would be harmed. You'll start to notice that the marginalized communities affected the most are systematically excluded from debates over Section 230.
This isn't surprising, writes Harmon:
The entire history of censorship shows that it magnifies existing imbalances in society, sometimes intentionally and sometimes not. In the same way that a bill intended to fight traffickers made the problem worse, attempts by social media platforms to restrict extremist speech frequently silence the people trying to document and fight violent extremism. That's not a hypothetical: there are many, many stories of Facebook, YouTube, and Twitter taking down important work to document human rights violations under their anti-extremism policies.
People in power want to frame Section 230 as "a gift" to tech companies. But "Section 230 isn't a gift to big internet companies," notes Harmon. Rather:
It's a gift to rural LGBTQ teenagers who depend every day on the safety of their online communities. It's a gift to activists around the world using the internet to document human rights abuses. It's a gift to women who rely on dating apps to meet people more safely. Yes, Section 230 is the First Amendment of the internet, but it's also the Fourteenth Amendment of the internet. Section 230 says, "You are legal here."
---
---
FREE MARKETS
Following the filing of a lawsuit against Juul, North Carolina will sue eight more e-cigarette companies. State Attorney General Josh Stein announced the lawsuits Tuesday, accusing the companies of "aggressively targeting children" and not requiring "appropriate age verification when selling these dangerous and addictive products." Across the country, e-cigarette companies face increasing pressure to comply with the impossible standards of attention-courting attorneys general.
---
ELECTION 2020
Rep. Tulsi Gabbard, Tom Steyer out of Democratic presidential debates. "If the candidate they support loses, nearly four in 10 said they would have little or no confidence that the election had been conducted in a fair-and-square way," according to a new USA Today/Suffolk University poll. More findings:
Those expressing doubts crossed partisan lines – 30% of Republicans and 45% of Democrats – although they identified different threats to the electoral process.

In the crowded Democratic contest, former Vice President Joe Biden retained a wide lead, at 32%, up 2 percentage points from the USA TODAY/Suffolk poll taken in June. But Massachusetts Sen. Elizabeth Warren moved up 4 points to second place, at 14%, and Vermont Sen. Bernie Sanders dropped 3 points, now at third place with 12%. […] If the election were held today, 41% said they would vote for an unnamed Democratic nominee, 39% for Trump. Ten percent said they would vote for a third-party candidate and another 10 percent were undecided."
Neither Gabbard nor Steyer reached the 2 percent threshold in either this poll or a Quinnipiac poll released today, meaning neither has qualified to take part in the next round of debates.
---
QUICK HITS
There is simply no excuse for withholding DNA for 11 months while an innocent man sits in jail. None. https://t.co/36QEUYDvMQ

— Michael Bloch (@MichaelBloch15) August 28, 2019