A Man Spent 82 Days in Jail on Meth Charges. The Meth Was Actually Honey.
Government incompetence made an innocent man spend months in jail and lose both of his jobs.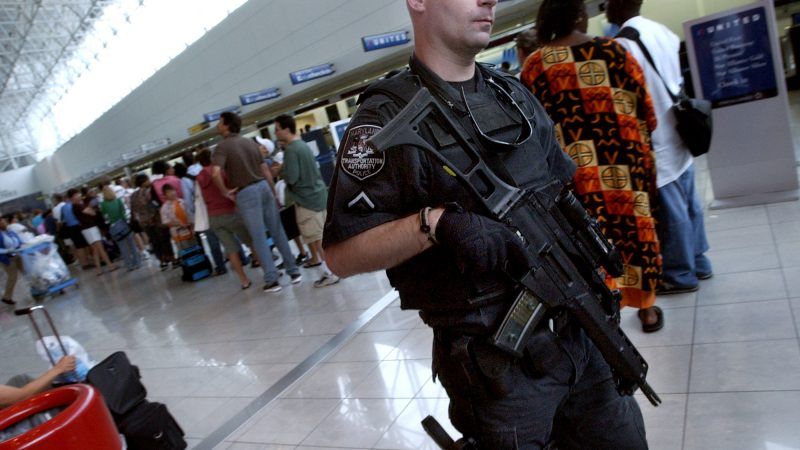 (Jed Kirschbaum/MCT/Newscom)
Leon Haughton, a legal green card holder from Jamaica who has lived in Maryland for almost 10 years, arrived at Baltimore-Washington International Airport on December 29 following his yearly pilgrimage back home. U.S. Customs and Border Protection detained him. For what, he wasn't sure.
Maryland Transportation Authority Police then arrested him, telling him that the bottles in his bag labeled "honey" had tested positive for methamphetamine. A police dog sniffed Haughton's bag raising suspicion that he had drugs, and a field test at the airport yielded positive results for meth. He spent the next 82 days in jail.
Except the bottles really were full of honey. Maryland State Police lab test results confirmed that on January 17, and prosecutors dropped three felony drug counts six days later.
Yet he stayed in jail. The state was still pursuing a misdemeanor possession charge, the lab results notwithstanding, because Maryland's lab is not fully equipped to test liquids. On January 24, Haughton and his lawyer sought his immediate release on bail. It was denied.
Citing the K-9 hit and the positive field test, prosecutors maintained the lesser charge while law enforcement sent the bottles to a Homeland Security lab in Georgia for more testing.
Normally, Haughton would've been released on his own recognizance since the charges levied against him had been whittled down to one misdemeanor. But the original felony counts triggered an active Immigration and Customs Enforcement (ICE) detainer—so if the state released him, the feds could arrest and deport him. Haughton's legal saga took place in the midst of the winter's lengthy government shutdown, meaning that no one could get in touch with the agency to have the detainer lifted.
"The ICE detainer is really prohibitive," said Laura M. Robinson, a U.S. District Court judge for Anne Arundel County, during Haughton's third bail review hearing on February 5, according to The Washington Post. "I'm kind of up against it on the ICE detainer."
Haughton would not go home until March 21, when the new lab results came in and the state finally dropped the remaining charge.
The case highlights a heap of inane government incompetence. Why would an immigration detainer remain in place for a misdemeanor drug offense, even after the government shutdown ended on January 25? Why was Haughton's honey tested at the first lab if that facility was not prepared to render a result? Why did it need to be tested three times to get an accurate result, and why did that take so many months to complete?
During the ordeal, Haughton lost both of his jobs, one as a cleaner and the other as a construction worker. He also has six children, and he says that their school performance suffered immensely while he was away.
"It broke me right down," Haughton told The Post. His children kept asking him, "When are you coming home?"