An $80 Fine for a Busted Taillight Ends With a Woman Being Tased
"I don't think that I deserve to pay $80 for something that is fixable — and I can fix it, if that's all you want me to do."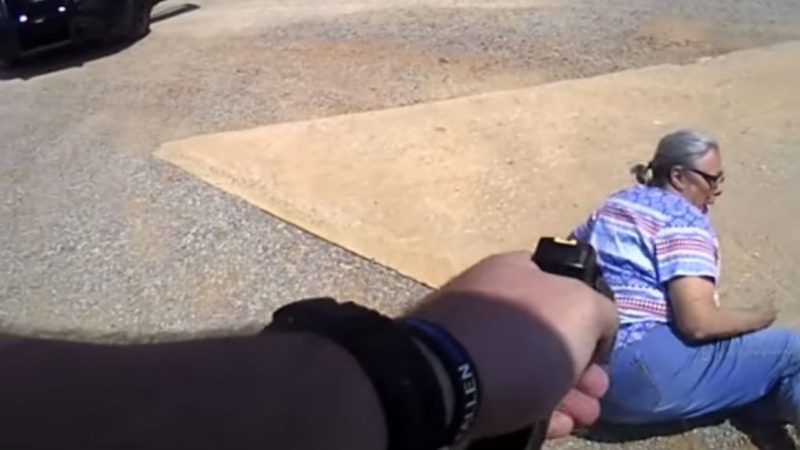 (Screenshot via Facebook/KOCO 5 News)
A disagreement over a busted taillight fine ended with an Oklahoma police officer tasing a 65-year-old woman.
Body camera footage shows an unnamed officer interacting with the woman, Debra Hamil, during the July 16 traffic stop. The officer presents Hamil with an $80 ticket and asks her to sign it. Hamil protests: "I don't think that I deserve to pay $80 for something that is fixable—and I can fix it, if that's all you want me to do."
The officer tells Hamil that she is under arrest for refusing the ticket and asks her to step out of the vehicle. Hamil says "no," rolls her windows up, and locks the doors before the officer can open them. Hamil briefly rolls her window down to tell the officer that he's "full of shit," then tells him to hand the ticket over so she can sign it. The officer says they're "beyond that." She drives off. The officer enters his vehicle.
The footage cuts to the officer approaching Hamil's truck. He's eventually able to pull her out of the truck and down the ground. After she refuses to put her hands behind her back and kicks the officer away, he deploys his taser.
Hamil is eventually handcuffed and placed in the back seat.
Hamil was later charged with assaulting an officer (felony) and resisting (misdemeanor).
When KOCO posted the video on Facebook, some of the comments supported the woman and some supported the officer. But one thing is certain: This situation was avoidable.
Traffic stops for busted taillights and other minor infractions just aren't worth the risks they generate, both for motorists and police officers. Often, the stops are really being used to generate revenue or as a pretense to search for contraband, such as drugs or guns, when an officer otherwise lacks probable cause. Even then, Berkeley law professor Christopher Kutz has argued, the few times police successfully find something "don't justify the enormous social costs of widespread police interventions." In the worst-case scenario, a traffic stop could result in death, as the surviving families of Philando Castile and Sandra Bland know well.
If police truly wish to continue to go after low-level crimes, they can cut down on interactions like the one seen in the video by reserving traffic stops for accidents and impaired drivers while using cameras and other technology to enforce minor violations. Though it's also worth asking how many of those minor violations are worth prohibiting in the first place. Such fines often amount to the criminalization of poverty, especially given that poorer Americans are more likely to drive older cars, which are at a higher risk for finable offenses.